This story was created by #ThisIsTucson and underwritten by Maya Palace, featuring Southern Arizona's largest selection of wedding dresses. Thank you for supporting the local organizations that support us!
---
In the last few months, the coronavirus pandemic has crashed weddings across Tucson. 
With gathering sizes restricted and uncertainty looming, Tucson couples with spring weddings canceled, postponed or pivoted quickly to smaller ceremonies. 
Tucson wedding planner Mollee Richey, the owner of Peace of Mind Event Design and Waitstaff, says she breathed a sigh of relief when her last May wedding was rescheduled. Because for Tucson, summer is not much of a wedding season (of course that also means vendors who lost income from postponed spring weddings won't be able to recoup those losses in the months to come). 
She says both the fall wedding season and the spring 2021 season are full, with already-scheduled weddings and those quickly moved in the wake of the pandemic. Still other couples may be hesitant to even plan anything at this point, she says. 
As a wedding planner, Richey is navigating the disappointment of her clients, the tension of trying to keep teams of vendors together as dates are rescheduled (ie: florists, bakers, venues, etc.) and her own struggles as an event planner and small business owner during a time when events look fundamentally different. 
"It has most definitely been stressful in the sense that we don't have a playbook for this," she says. "So many of us had certain things in our contracts if there were to be an act of God, but no one had thought of a pandemic clause. So it has been a challenge for us to rise to the occasion and continue to have grace and empathy with all of our couples." 
And yet she is balancing hope and care, encouraging the clients she works with to do the same as they monitor public health guidelines day by day. 
"My advice right now and my motto is that we're all staying cautiously optimistic," she says. 
Here are some of her thoughts on planning a Tucson wedding during the time of coronavirus. 
A backup plan is a must
As couples with spring weddings have learned, it's important to be ready to pivot, even if your venue of choice is planning to be open.  
Richey says communication between couples, wedding vendors and family members is crucial as plans move forward and backup plans are formed. She also points out that having a wedding planner can help facilitate some of this communication and schedule changing. 
"How can you still move forward with parts of your wedding?" she says. 
She also says if perhaps you had to cancel a spring wedding, and fall and spring 2021 dates are full at your venues of choice, you might consider getting married on an off date, like a weekday. 
"Vendors have been asked if we can hold dates as potential backup dates," Richey says. "We'll do all we can to work with couples."
Our #ThisIsTucson Wedding Guide is organized by vendor to help you find venues, wedding planners and other vendors if you need to pivot. 
Consider a micro wedding
Richey says vendors will likely be willing to help you scale down the wedding while keeping it special. 
Richey partners with a few local venues that are already working on creating specialized experiences — think a small, socially distanced ceremony with photos in Saguaro National Park and then a small meal afterwards. 
Some venues — like Park Avenue Event Center and Kingan Gardens— are already creating COVID-specific wedding packages for small gatherings.
If you decide to go for a micro wedding, think creatively about where to hold it. You could opt for a beautiful backyard or a space you love. 
"I did have a bride go through with her wedding on May 16," Richey says. "She got married at a Catholic church and had 10 people, including the photographer, set up with multiple cameras and Zoom, and it was great." 
Plan to party later
For couples who want to keep their original wedding dates but need to scale down the size, Richey suggests planning a small, meaningful ceremony now and saving the big reception for later. 
"You just pick your immediate family members, if possible, and a couple of close friends and invite them, keeping in mind that you can have that celebration and reception at another date," she says. 
This is also a good option if you have a number of wedding guests who won't be able to travel to Tucson to celebrate with you on your original wedding date. 
"Tucson has become such a destination wedding spot over the last few years, so it's been even more difficult for couples who don't live here or for whom the majority of their guests are asked to travel for the wedding," Richey says. 
Divorce Pinterest
OK, not really, but even in the best of times, most weddings aren't Pinterest-perfect unless you're ready to spend thousands and thousands of dollars, Richey says. 
"Realize that your day might not be exactly how you envisioned it, which is hard when you live in the world of Pinterest..." Richey says. "Hone in on what inspired you and focus on what is most important, especially if your budget does end up taking a hit. No one is going to miss the bottle opener favor." 
Just get creative — we managed to create a pretty Pintererst-worthy bouquet out of a few succulents and grocery store flowers a few years ago. 
Remember what it's all about
Richey says she tells couples it's OK to grieve the celebration you lost, take some time, let it go, and then get excited about what you can do. 
"I keep telling my couples, in the end, the result is the same, no matter what your wedding looks like, whether it's 150 people or 5 people in your backyard," she says. "You're married and you get to continue your lives together ... It takes it back to a simpler time, when weddings were cake and punch and didn't have a florist and all of those things that are super fun. But this does bring you back to the meaning of a wedding and why we're all gathered here in the first place." 
---
Maya Palace: Locally-owned bridal shopping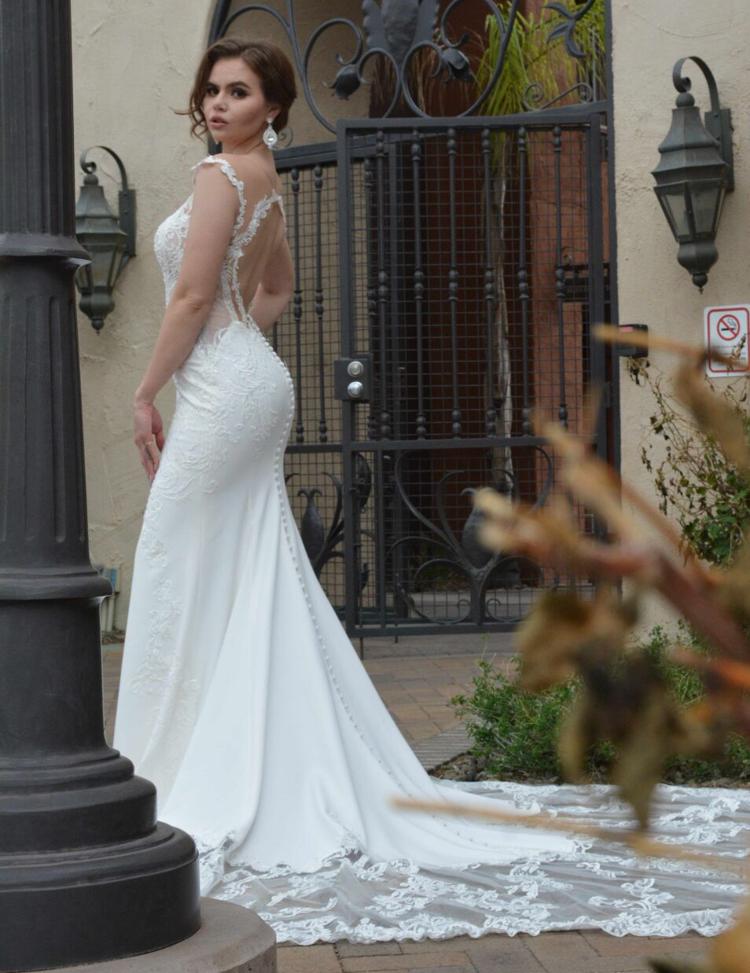 Locally owned Maya Palace is a one-stop bridal shopping destination with the largest selection of wedding dresses in Southern Arizona.
Make an appointment with a bridal expert who will guide you to your perfect dress by calling 520-748-0817 or go to www.mayapalace.com.