We are all children of the corn. Whether you believe the Mayan myth or you just love eating healthy vegetables ... When you consume maíz, you carry on a Tucson tradition that's been going strong for thousands of years.
Today, you can find corn creations at your local raspados shop, where you can drink the kernels in a buttery broth or snack on whole cobs smothered in chile and fresh cheese. Mexico has dozens of takes on the sacred snack. We are lucky to have many of them here in Tucson, and a few new ones as well. So without further ado, I present to you ... AN ARTICLE ALL ABOUT CORN!!! 
🌽 Elote cocido at Elotes el Frida
South Twelfth Avenue just south of West Nevada Street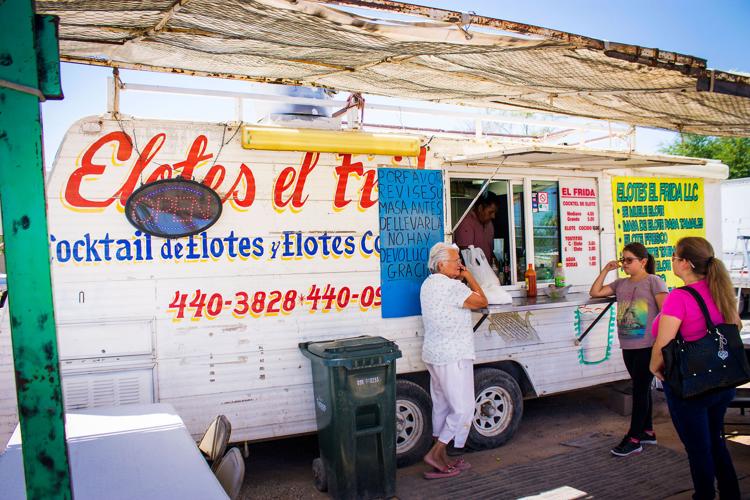 Tucson's South Twelfth Avenue is dotted with elotes shops, which sell fresh ears that are brought up from farms in Sonora. Many of them, like this little truck, will also grind your corn and make it into masa. (While we were waiting, we spoke to a woman named Guadalupe who prefers to use only masa from raw corn in her tamales.) Lucky for us, Elotes el Frida also serves prepared snacks like the elote cocido, pictured up top. It's basically a corn on the cob rubbed in a slurry of butter, Mexican cream, chile powder, queso blanco and lime juice. They don't mess around here.     
🌽 Coctel de Elote at Sonoran Delights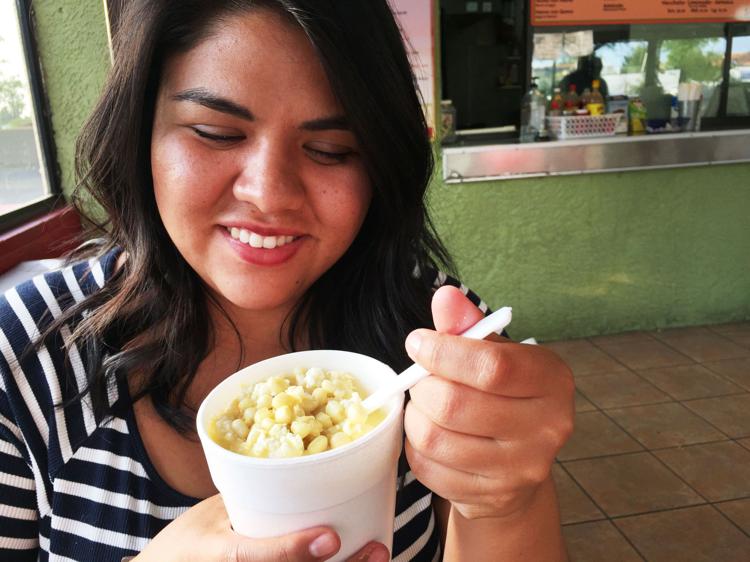 I tried several of these corn cups during this project. Sonoran Delights on the west side had my favorite, because the kernels were plump and the queso was plentiful. The name "coctel de elote" translates to corn cocktail, but that isn't quite what you might think. It's not a drink, first of all. It's more of a soup, made from a broth of water, butter and mayo. Sometimes the vendors will add a little Valentina hot sauce on top, which turns the whole thing a swirly red. I actually preferred these cocteles to the whole corn cobs, because each kernel was just so juicy and sweet. We both love soup!    
🌽 Tostielote at Raspados El Paraiso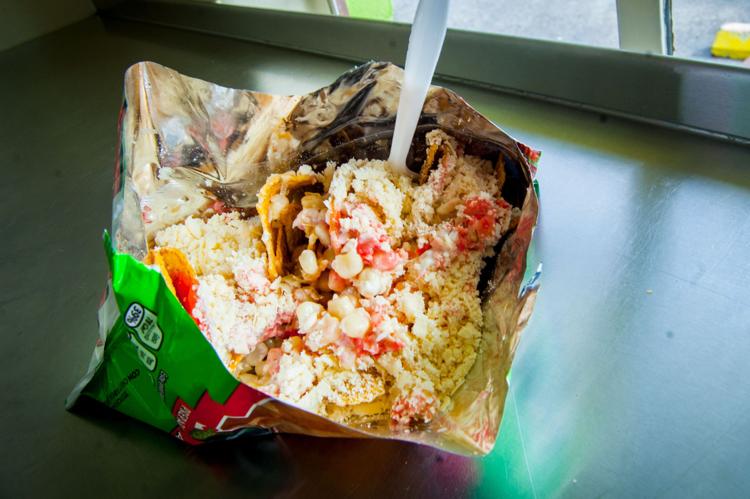 Take the soup from the last picture. Get rid of the water. Throw it all in bag of Tostitos. Done!!! For some reason that defies every expectation, this snack is amazing. (It was the favorite of my Tostilocos expedition last summer.) "Despite the fact that it's basically corn on corn, the mixture actually felt like a natural choice for the Tostitos, rather than a bunch of random stuff shoved in a bag," I wrote. Perhaps that was callous. Have I offended you, Tostilocos devotees? Try this one at Raspados el Paraiso, and then get back to me. 
🌽 Elote pizza at Empire Pizza and Pub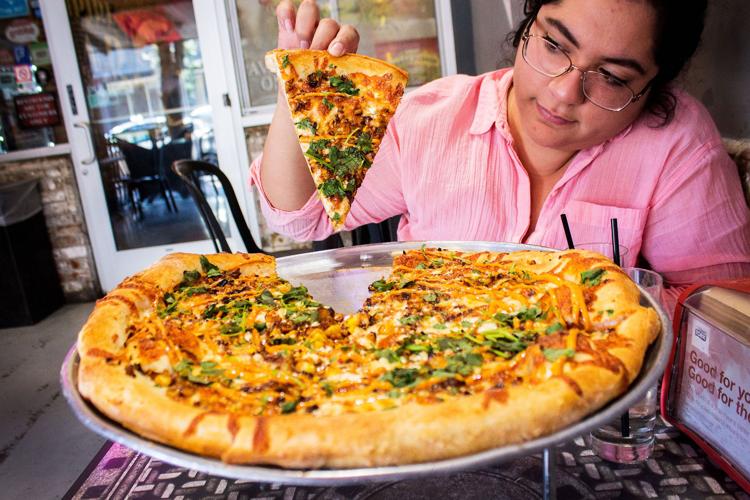 Now we come to the crazy corn stuff. The most notable of these is the elote pizza at Empire, immortalized in this spellbinding Tucson Foodie video. There is no tomato sauce here. But wait, you should still order it!!! The zingy chipotle mayo takes its place. And the grilled corn kernels are crunchy and sweet. For a second I thought the charred bits might even be bacon. Goat cheese was a nice tangy touch as well. I don't usually like to add carbs to my pizza, but this gets a C+. (Get it? That's a perfect score in cornland.) 
🌽 Elote de la Calle cocktail at Elvira's
Check this out on the new cocktail menu at Elvira's. The base is a sweet syrup of charred corn kernels made by bar manager Eric Harding. You get a little smokiness too from the mescal, and some spicy from the Ancho Reyes poblano chile liqueur. With the limey finish, it reminded me of a margarita, but a little richer in flavor. I know it's $13, but I loved it so much I'd get it again. Now you can have your corn and drink it too!