At first glance, La Garrafa looks like it could be a trendy new raspados shop. The menu's got all the familiar fixings that made my coworker Alicia smile; spicy candies, green snacky bags that will soon become the wonder that is Tostiloco, etc. 
But when we peeked into the case, behold!!! There was no fruit, and no syrup ... What there was, appeared to be ice cream?
But like, there was no mint. And nothing that even remotely resembled Rocky Road. Instead, there was soursop, corn, and something called Mazapan???!!!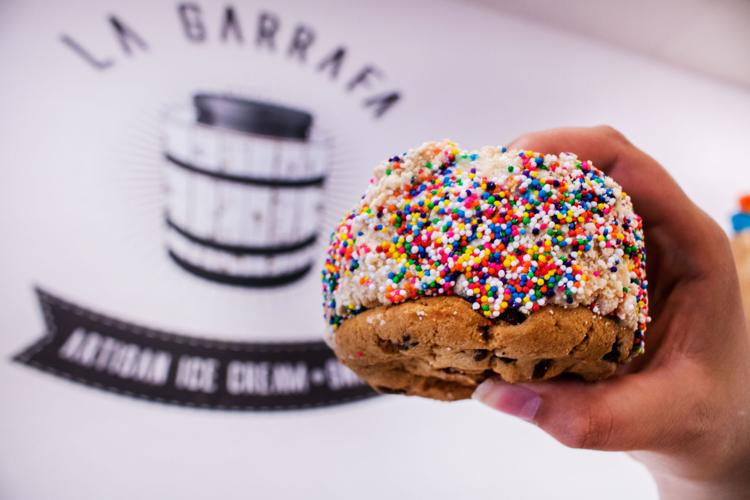 The owners of this northside shop, Monica Gonzalez and husband Diego Ascencio, are from Guadalajara, Jalisco. Down in central Mexico, this style of frozen helado is super popular: It's called Nieve de Garrafa, which refers to the big wooden tub it's traditionally made in.   
Nowadays, lots of shops have mechanized ways of doing it. But to make Nieve de Garrafa the old school way, you mix fruit with a basic mixture of sugar and water, and put it in a steel tub lined with ice and salt. Then you churn it by constantly spinning the bucket around inside the wooden tub.   
Down in Mexico, they have all sorts of crazy flavors like nopales cactus and even mole, Monica told me. She features two basic varieties at her northside shop, the fruity sorbets made with water and creamier "ice cream" varieties made from milk. Most of the recipes are typical flavors of Monica's youth, but she also does her own thing ...  
Nieve de Garrafa is usually just the sorbet, nothing on top. But Monica decided to add a little something because up here by Sonora, "people like toppings." The chalkboard menu features 10 different combo ideas, like the Diablito with hibiscus sorbet, spicy Rielito candies and sour Chamoy sauce.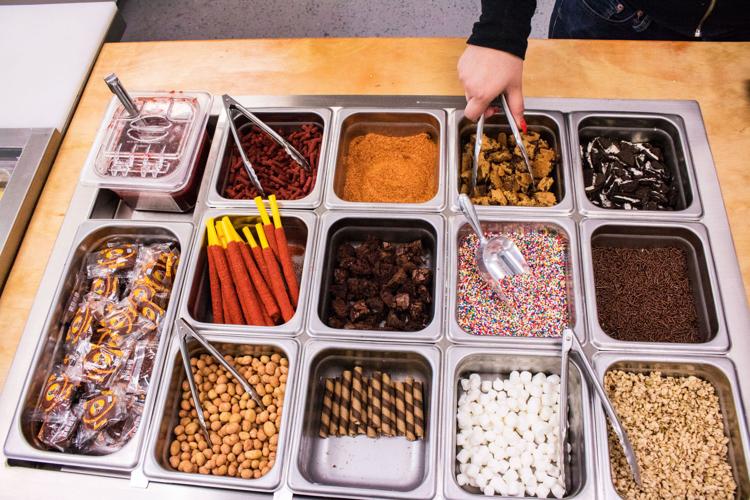 We started off with a large scoop of Margarita-flavored nieve (Yup! It's boozy!). The ingredients are simple: just tequila, lime juice, sugar and a little salt that Monica gets special from the central Mexican state of Colima because she likes the flavor of it. The scoop tasted like a really-well made frozen margarita, but less sugary and not watered-down.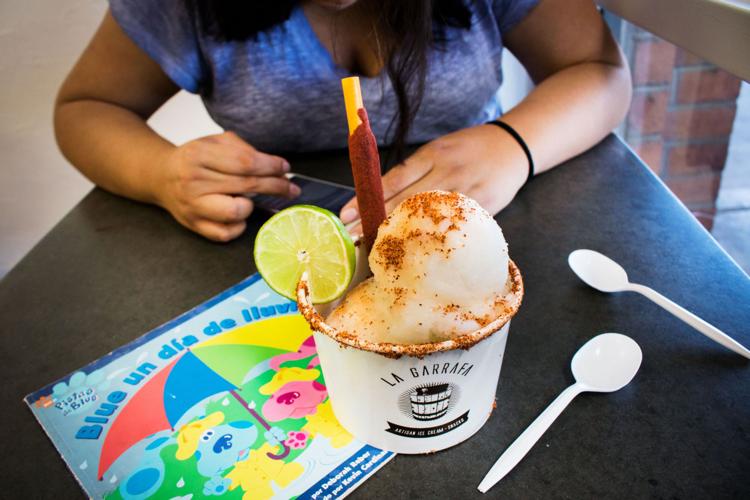 Alicia was really jazzed about the Mazapan flavor, so we tried that too. In case you didn't know, Mazapan is the iconic Mexican candy with the rose on it, that crumbles into sugary peanut dust when you take a bite. Our helper Valeria made us up an ice cream cookie sandwich called a Galletoso, rolling the outside with sprinkles and more Mazapan crumbs. (Pictured above.)
It tasted distinctly like the peanut snack, but the texture was something between a sorbet and a gelato. It was incredibly smooth and creamy, and to be honest a little too soft for the cookie. Next time I'd get it in a cup by itself. It's so nutty and delicious, you really don't need anything else.   
La Garrafa has a storefront up at 6781 N. Thornydale Rd., but you can also catch them at their food truck. I've seen it down on South 12th Avenue near B.K. Carne Asada, but it also does farmers markets and local foodie events. To find the latest location, hit them up on Facebook.