The first time I ever heard the word Hermosillo, I was watching a dude pour nacho cheese onto a hot dog. It was a slimy day outside what used to be the Jett's Wildcat gas station, and as I realized the dog also had beans and fatty bacon on it, I remember thinking, "Who would make something like this?"  
So I asked the guy ... and that's what he said: Hermosillo.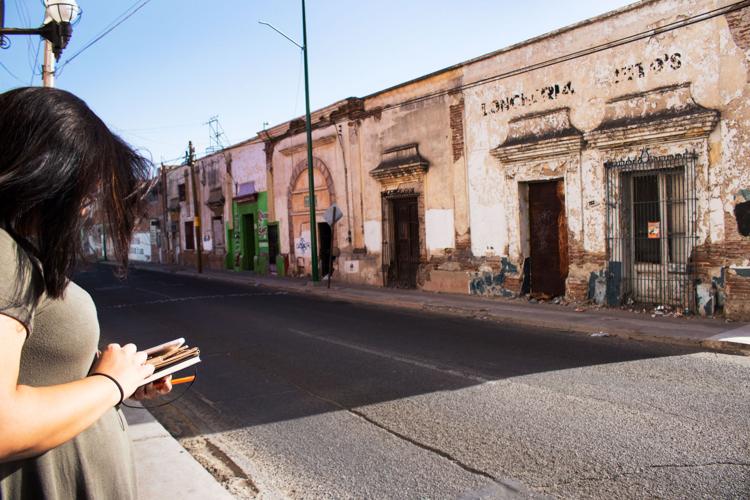 I'm embarrassed to admit, it took me ten years to get there. In the meantime, I read about fresas and upscale Italian restaurants and sizzling platters of juicy steaks. Then I saw an ad for this food festival, and the stylized portrait of the chef holding a massive decapitated fish head.
Festival del Chef was advertised as the premier food festival in the state, one that would introduce the world to the wonders of Sonoran cuisine. It brought in famous chefs from Mexico's biggest cities like Tijuana and Guadalajara, with food and craft beverages from close to a hundred Hermosillo restaurants.
It all seemed very gourmet, which was incredibly fascinating to me. As we know, the concept of fancy Mexican food has always been rather taboo around here. Why pay 20 bucks for a plate of flavorless gringo stuff, when you can get the real deal for cheap?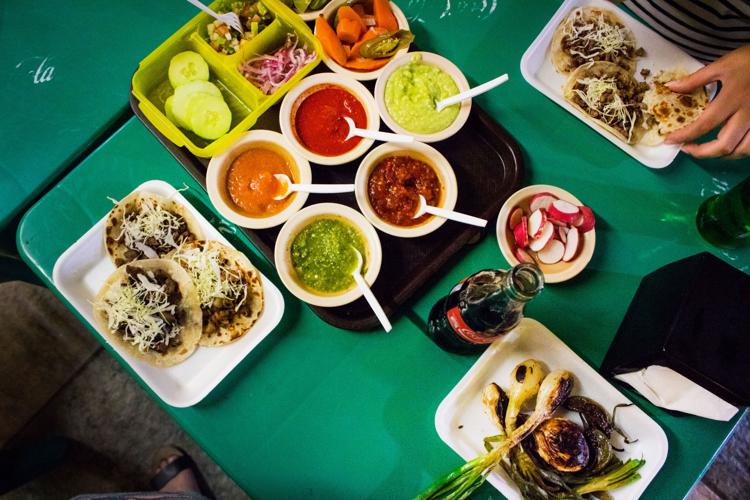 Of course, this kind of thinking has its issues. The bias toward cheap Mexican food has been outed for its xenophobic assumptions about Mexican people, that they're poor, or somehow lesser. A new generation of chefs in places like Mexico City are showing that Mexican cuisine can be anything it wants to be. And it can still be true to itself, in theory. 
My coworker Alicia, who's lived in Ciudad Obregón in the southern part of Sonora, told me she's always been a little suspicious about fancy Mexican places. Where she grew up, that just wasn't part of the culture. It's something that white people do in the Foothills, etc. But what does gourmet Mexican food – made by Mexican people, in Mexico – look like? We both wanted to find out ...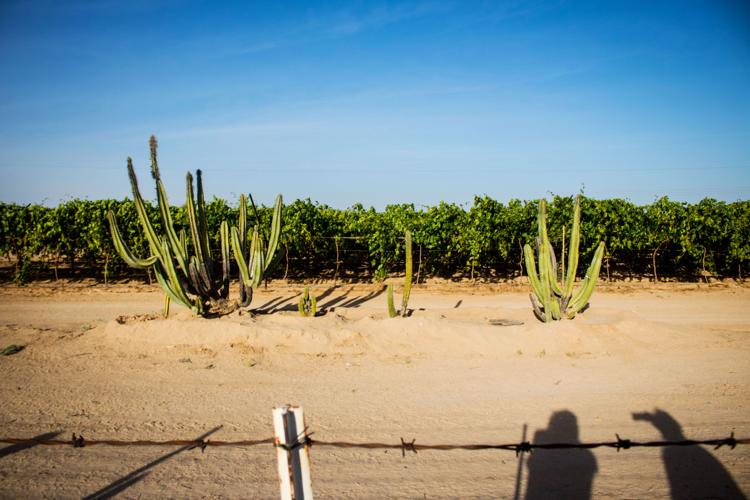 On the road ...
We ate chimichangas! This is not a joke. I'm working on a separate project right now about the origins of the iconic dish, a border food that's equal parts Mexican and American. We found it in Imuris, a small agricultural town that's well-known for its disks of melty queso that vendors sell from the middle of the highway.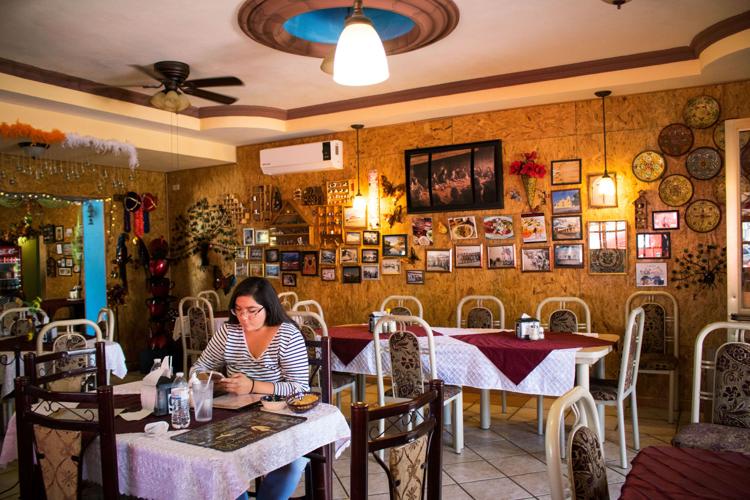 The attendant at the gas station tipped us off to Restaurant Tradicional, a homey cafe that dates back to 1954. The chimichangas here were unlike anything I've ever seen: boxy little things, stuffed with shredded beef and just lightly crisped, rather than deep-fried. They were actually rather delicate, and topped with a fresh cloud of local queso fresco. Alicia was perplexed by the mayonnaise though. Kinda tasty, I thought.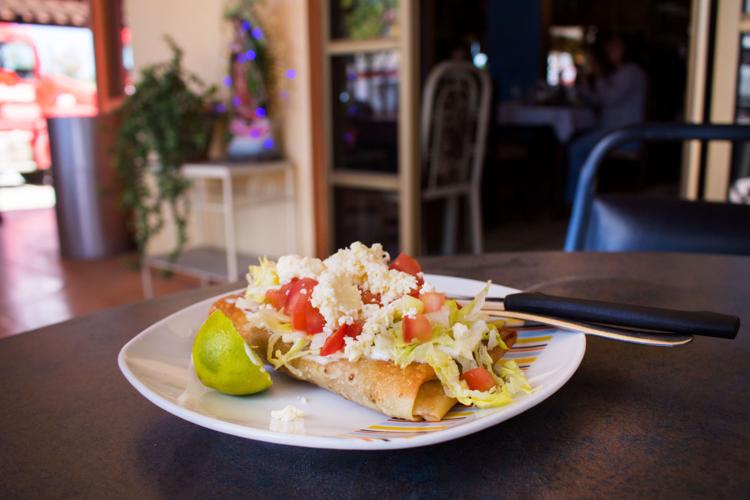 Across the parking lot at another restaurant inside a bus station, we found a "comida corriente" version of that same chimichanga. The cook had made them earlier in the day, and simply crisped one up for us on the flattop. She showed us the tortilla it was made from, about 15 inches in diameter. Not very big at all. Unassuming. 
Showtime 
Soon after we dropped off our bags at the budget Hotel Kino, which dates back to around the time of the Civil War, we took an Uber to the festival. It was in one of those sprawling expo centers with no windows and a dizzying layout plan. There must have been a quadrillion people there. 
After we passed through the "indigenous foods" corridor we spotted what looked to be the biggest booth at the entire festival: Visit Tucson? The folks at Casino del Sol were among the legion of people, pouring cocktails with Cielo Rojo bacanora. My pal Mike Mallozzi who owns Borderlands Brewery downtown handed me a beer with a squirt of watermelon syrup, and recommended I check out the folks at Buqui Bichi Brewing, a newish microbrewery in Hermosillo. "I always end up there" when I'm drinking in Hermosillo, he said.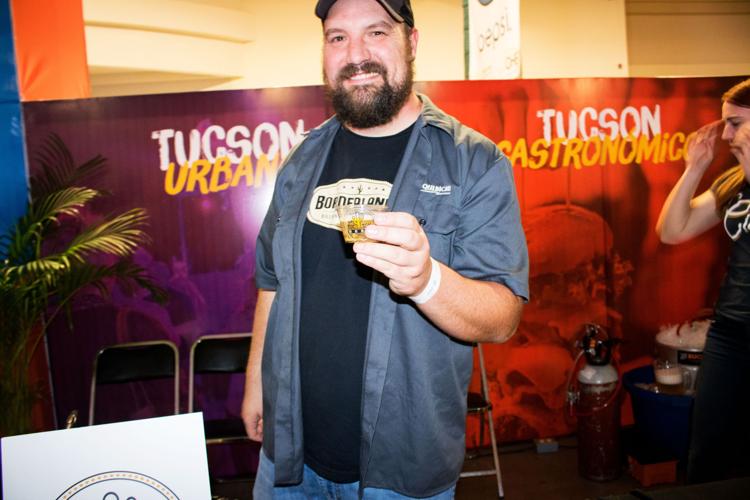 There were a ton of people queuing up for Buqui Bichi, so I hit up the folks at Ocotillo Cerveza in the next booth over. There are 18 different breweries in Hermosillo, the woman told me as she handed me a cup of Cerveza Irish Red, which had a touch of piloncillo sugar to give it a caramel taste. She told me she's part of a drinking group called Mujeres Catadoras de Cerveza en Mexico, which sounded a lot like Girls Pint Out here. They also had a porter brewed with more bacanora. (Pretty hip now I guess, 'cause it used to be a moonshine and stuff.)
We spent a little while surveying the scene. Elaborate cakes, everywhere. Mediterranean restaurants serving couscous? Hipster sandwich joints with portable gardens of microgreens. Dudes weaving through the crowd with wooden boards of freshly-baked pizza. Tacos, anywhere? Ah there's one! Would I like the spinach tortilla? "It's healthy." Okay sure, with carne asada and the red salsa please.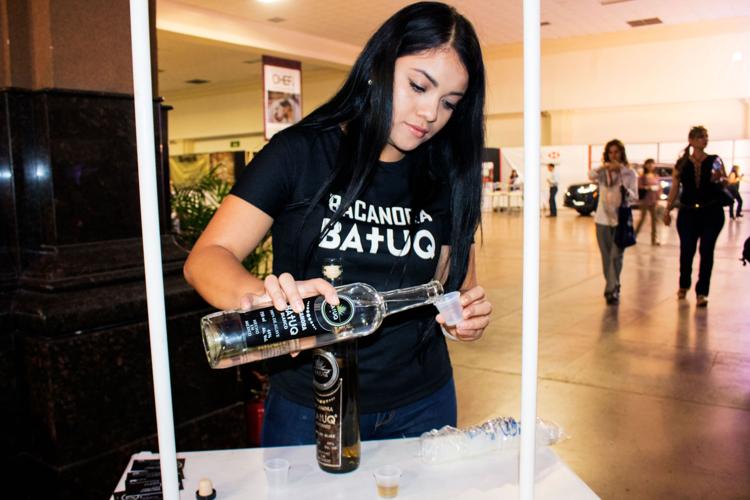 Most of these restaurants weren't exactly high-end gourmet. They had the sort of casual artisan vibes that are so hip nowadays. It was all really familiar ... except for the bacanora aisle, and the exhibition display with a bunch of guys dressed in black, ceremoniously hacking up a cow. That was definitely Sonoran. 
Then we came upon the Callejón Condesa, by chef Antonio Amavizca. Now here's what I'm talking about. The stylish booth was marked with a crown, and had a big team of chefs pushing out colorful plates of fancy bites. There were three options, and the chef named so many ingredients I had trouble keeping them all in my head. (Although when I asked the lady prepping the tamales what kind she was making, she simply said "elote.")
I brought my dishes over to an empty stool to photograph them. A tower of meat and cheese adorned with a raw shrimp. A veggie taco with a bulb of guac and crispy kale. And what is this? A tamal topped with ... smoked salmon? Alicia scoffed.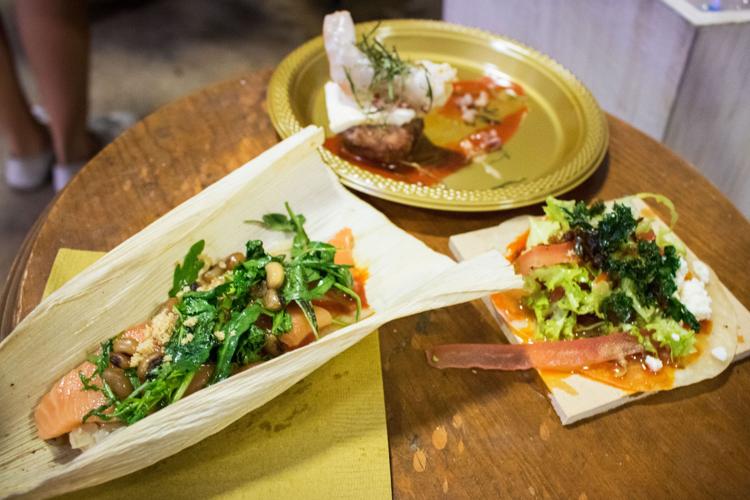 It was definitely, not bad. The salmon had a nice buttery sashimi texture, but not much flavor to it. It wasn't as strange a combo as you might think though. Salmon is pretty versatile, and it can go with most anything. But I dunno, why? Maybe the chef had been to Seattle recently, and really liked it?      
A couple random observations  
— The longest line: strangely, at a Japanese restaurant serving what looked like fried strips of katsu? 
— The best bite: a standard cup of shrimp ceviche from a seafood joint called Sr. Fresh. (Apparently Hermosillo is well known for its mariscos.)  
A tomar ...
After Alicia and I checked out the wine tunnel (with close to a dozen vineyards from the emerging Valle de Guadalupe in Baja California), things seemed to be wrapping up. The pastelería booths were handing out cups of carrot cake crumbles, and the Yaqui women at the front were out of everything but horchata. I felt defeated. Like I hadn't actually experienced enough, learned enough, to really understand what fuels the gourmet food scene here. Maybe I should have, I dunno, gone to a restaurant or something.
It was our only night in Hermosillo, so Alicia and I decided to hit the town. Our next Uber driver took us to a place in the old neighborhood near our hotel called La Barra Hidalgo. You could tell the building was really old in a Bisbee sort of way, complete with high ceilings plated with decorative tin panels. Someone had put a lot of money into the place, cause it kinda looked like a Cheers exhibit at Disneyland. The room was packed with people eating popcorn and drinking giant frosty mugs of Tecate, listening to crooning sounds of Joan Sebastian.
We capped off the night at Buqui Bichi, the microbrewery that Mike had told me about earlier. It was in the parking lot of a supermarket, and there were trendy murals depicting native people on the wall outside. When we walked in, I thought, "Where the hell are we?" It looked like Tucson. The room was industrial chic with stylish barrels on view and a Venn chart with all the beers of the world. We sat there, drinking our Sahuar-IPA and snacking on bacon cheese fries, when it happened. They started playing "Wonderwall." 
That's when we realized we were at the after-party. Half a dozen chefs in black clothing walked in, the same guys that were carving up that massive cow earlier in the day. They looked jubilant, accomplished, super cool, untouchable ... They sat down in the seats next to us, and I stole little glances of them as we were all drinking our beers together. 
"And all the roads we have to walk are winding
And all the lights that lead us there are blinding
There are many things that I would like to say to you
But I don't know how ..."