You may be wondering whether that is cheese. (And more generally, what the heck that entire thing is.) 
Answers: No it is not cheese. And the thing is chaat, a popular street food in northern India that features fried bread or crackers topped with a slurry of sauces like yogurt, curry, etc. On top they sprinkle a layer of yellow chickpea noodles called sev. They're not melty and cheesy. They're crackly.
I have never eaten this thing before, but I am now obsessed. Chaat has a rather commanding presence when it comes to the table. It is big, and colorful, and you have to eat it fast. (Otherwise it gets salty and soggy, our server told us.) He said this to us in the back room of a neighborhood market on Stone, the kind you usually just drive by. Make your way past the wall of spices and you'll come to an airy cafe with a small buffet flanking the back door. The place is called Yogi's Indian Cafe and Market.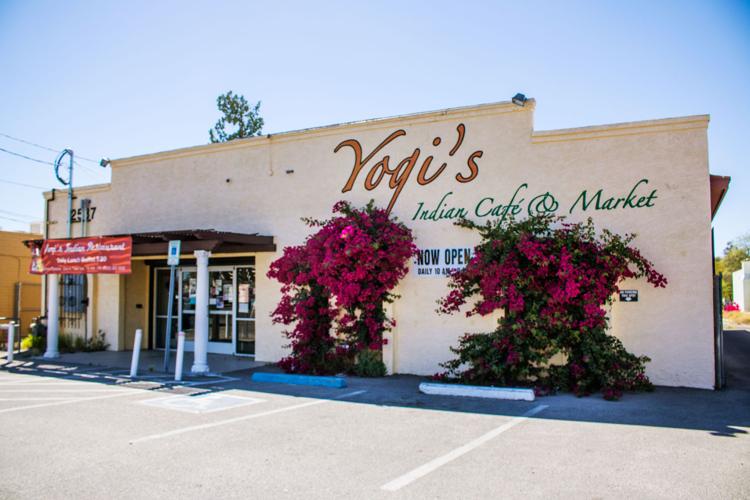 The buffet looked decent, but we skipped it. You want to order off the menu here, because the first page is filled with Indian street foods you won't find anywhere else in town. The main deal is probably the "Indian burritos," but unfortunately they were out during our visit. Kathi rolls from the city of Calcutta are basically tikka masala stuffed into a tortilla-like flatbread called a paratha. (More on that later, if I get lucky!)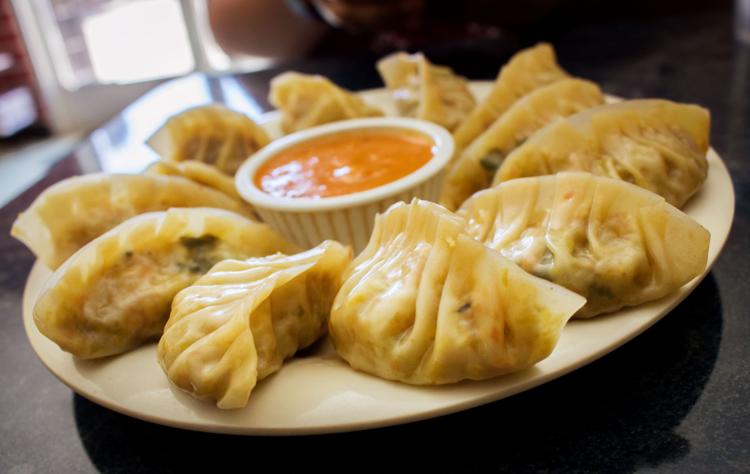 I was also surprised to find dumplings on the menu. The manager, a young guy from Boston named Dhwanit Paul, told us that most of the kitchen staff are from Nepal, a landlocked Himalayan country that borders China. These dumplings are their specialty. They are called momos, $8.99, and they're made from scratch, with a dough that's just a little less puffy than your typical freezer dumpling varieties. 
They were filled with delicate shards of veggies and some springy clear noodles. We dipped them in a vibrant tomato sauce that was sweet like a chutney. (Paul just called it "tomato sauce," but I found this recipe online.) Everything else on the menu is from Northern India, particularly the state of Haryana where Paul and his family are from.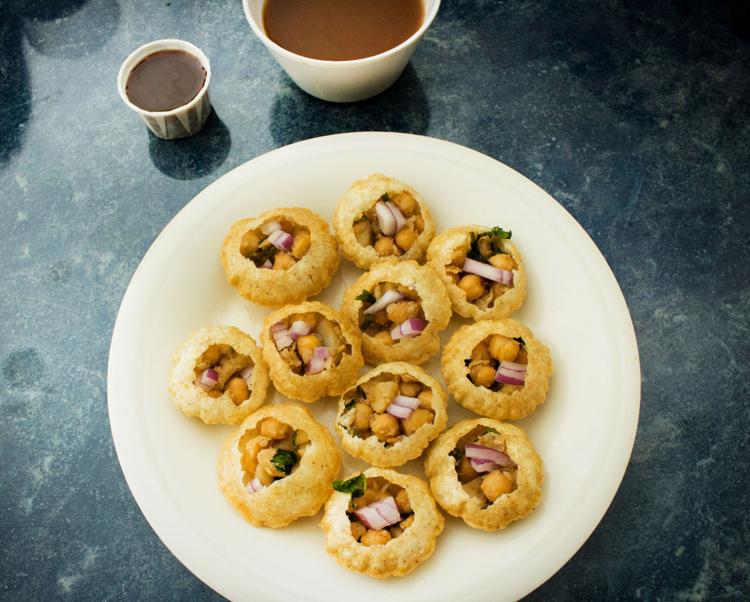 Check this out. These whimsical little things are pani pooris, $5.99. You take a spherical wheat flour cracker, hollow it out and fill the inside with chickpeas, potatoes and red onions. You prepare a cold broth of water and various Indian spices. The diner then fills each cracker with broth and tamarind sauce, taking a bite of sweet herbal crunch. How did all these snacks make me full? I am not sure, but a dinner of appetizers sounds pretty good right now ...