---
Carlos reached into the bucket and pulled out an acorn, holding it between two fingers like a gemstone or a pretty shell. He popped half of it in his mouth and started rotating it while he chewed around the perimeter. Within a second he had removed the husk, revealing a little brown nut not much bigger than a grain of rice. 
"Es como un pistachio," he said, and then popped it into his mouth and ate it. 
Most acorns are full of bitter tannins and need to be cooked or processed, but down here in the roadside town of Cibuta, Sonora, you can buy a bagful of these bellotas and eat them raw. (According to Carlos.) Following instructions, I clumsily removed the shell with my teeth and tried it myself. The meat had a dark and bitter roasty flavor, like you'd dug deep into the ground and pulled out a piece of caked mud, and then baked it in butter for awhile.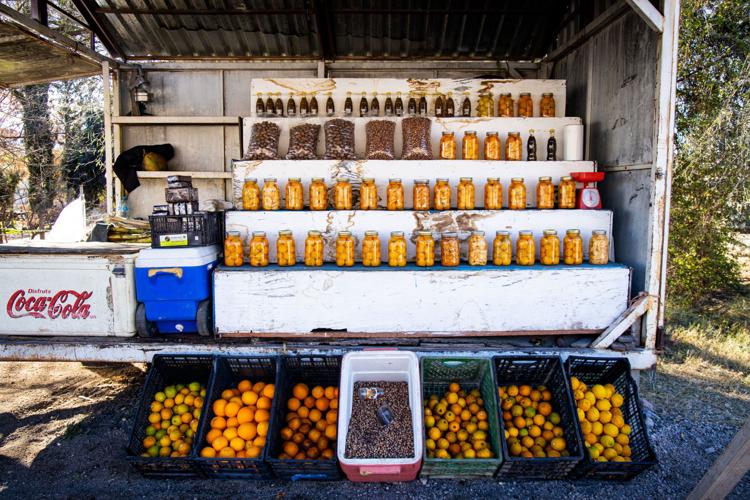 Carlos José's little stand had fresh citrus that was picked somewhere in the leafy vista below, shelves of jarred quince and peaches preserved in honey, and bags of walnuts in the shell, which he just referred to as "nuts" like they were so common there was no need to discriminate. He also had a separate cart where he'd hack open a coconut or sell you a bag of raw sugarcane to chew on. 
Out here on the open road just south of Nogales, the air felt light. You become aware of how high you are, perched up on the hills looking out onto an expanding world of green fields and gentle mountainscapes. You're struck by the wideness of it all, like it could go on forever. But it doesn't, for you at least.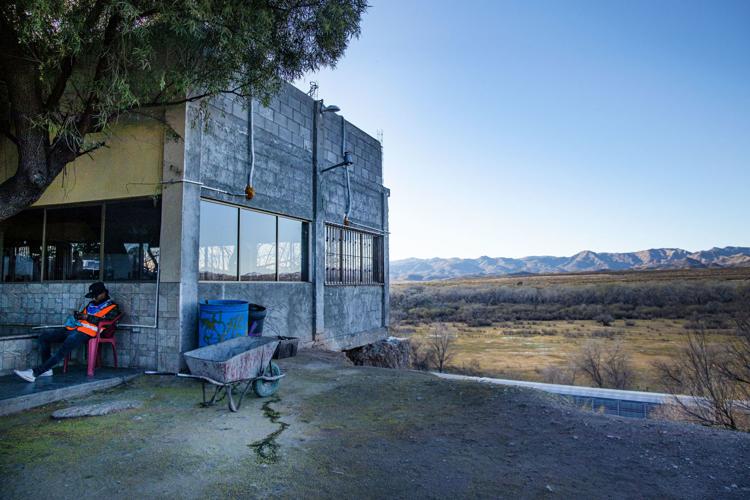 For this trip it's best to stick to the 175 miles of main highway that stretch between the border and the capital city of Hermosillo. They'll take you safely and quite deliciously through the agricultural corridor that is Sonora: Mexico's second biggest state. Take your time. These ranchlands and colonial pueblos are the beating heart of Sonora, its spiritual center. And you may find your spirit here too, driving down the highway with the windows open to let it all in. 
After my first nutty adventure I got back in my car and drove past several more of these produce stands, not minding the fact that the arrows on the lanes point in the opposite direction. Before long I was in the small agricultural town of Imuris, la "Ciudad de las Quesadillas" as it's affectionately called by residents. In the past I'd traveled to Imuris for a 65-year-old restaurant that served square-shaped "chivichangas," a footnote in the mysterious origin story of our favorite fried burrito. 
But the town is actually known for its melty cow's milk cheese, which you can find in the markets of larger cities like Nogales, Sonora. Here in the city where it's made, sellers line up along the highway and catch you as you drive by.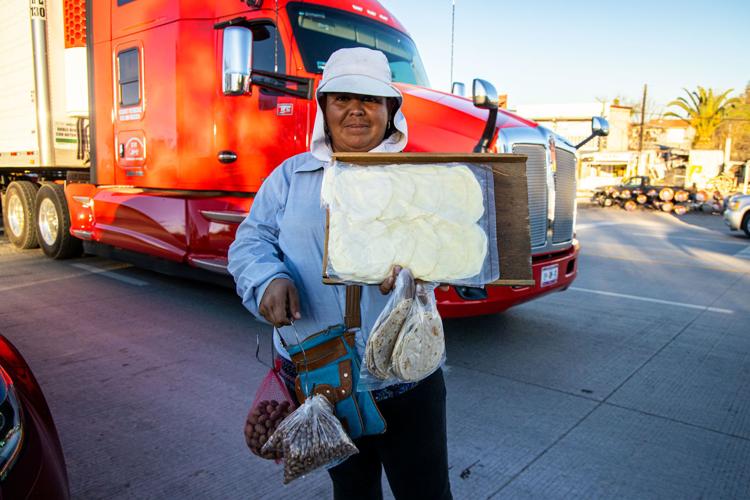 That's where Camila Isela has been working for the past 15 years, selling sheets of the round flat cheeses that Sonorans refer to as quesadillas. This is because the cheeses melt perfectly into a taco-sized flour tortilla. All you do is put the them in the pan together, and the two become one. You don't even need butter, Camila said. She told me she buys her milk from a local seller and makes the cheese rounds by hand every morning in her kitchen. 
But one cannot live on raw acorns and cheese alone. Fortunately, Imuris' location about an hour south of Nogales makes it a natural stopping point for lunch. And there is no better place to stop than Asadero Leo's, the main game when it comes to tacos around here.
There's no need to give you specific directions for this place; You'll know you're there when you see it from the main road. It's the restaurant with the plumes of smoke pouring off the grill onto the street ... and the traffic situation that borders on state fair status, with guys in orange vests directing traffic AND washing your windows at the same time.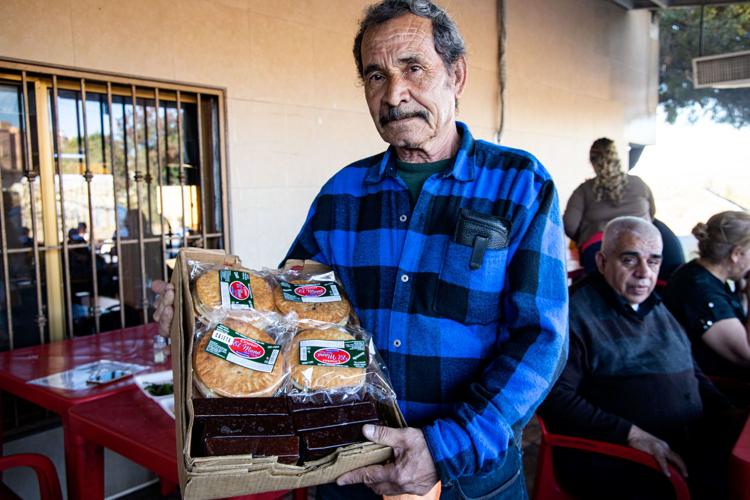 I'd been craving Leo's for about two and a half years now. It's the pinnacle of Sonoran taquerias in my mind, but that opinion does have a lot to do with crunchy logs of milk tripas. The cow intestines slide into my mind sometimes, the few bites of them I had during my first visit to Leo's back in 2017. When it's grilled just right, cow tripe has all of the appeal of a salty chicharron: The crunch dissolves into a rich beefy flavor that coats your entire mouth.  
At Leo's you can choose to sit in the bustling dining room overlooking the fields below, but I took the closest seat to the outdoor grill. That way you can see your steaks being made and then cut up on a wooden block. Chop chop chop, carne asada!
Even if you're just getting a few tacos, the servers bring out a whole tray of salsas for your table. I was ready to ruin myself that day, so I poured a crap ton of that bright red salsa made with pica de pajaro chiles. The avocado sauce calmed it down, but the heat was still there, zinging me on.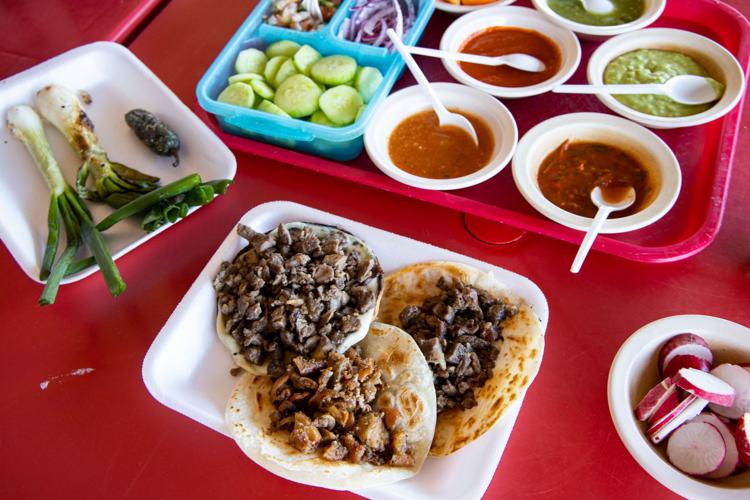 Now we've come to the part of the trip where the narrative breaks down, and I must use my literary powers to craft a story that breaks through the barriers of space and time. The truth is, I did the next part of this article the following day, on my way back into Tucson. (I have many desirable qualities as a person, but getting up early is not one of them. After Imuris, I was running out of daylight so I decided to haul ass to Hermosillo.) For your sake though, I've arranged the stops by their location, not my Andication. 
Shortly after you leave Imuris, you begin to descend from those airy green hills back into a comforting landscape of red rocks and brown brush. Saguaros pop up again and welcome you with outstretched arms, saying "Bienvenidos! Me extrañaste?"
This idyllic desert landscape is where you'll find the colonial hamlet of Magdalena de Kino, which has been recognized as one of two Pueblos Mágicos in the state of Sonora. (The other city that carries this recognition is the UNESCO heritage site Álamos, on the southern end of the state.)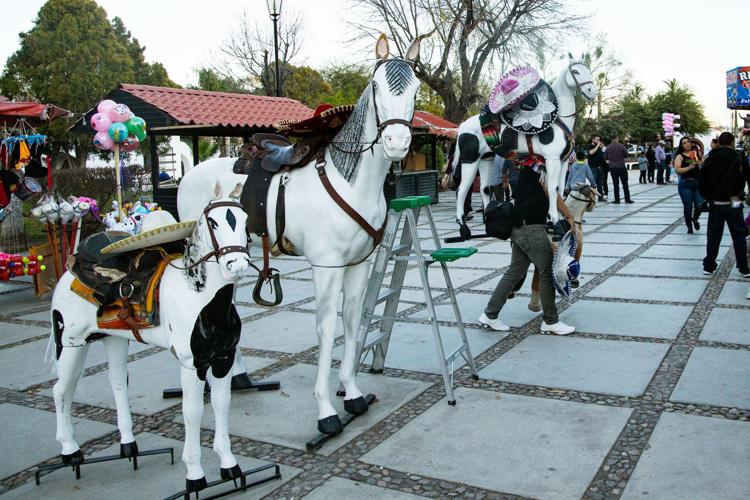 Unlike the other towns along the 15 South, Magdalena de Kino is tucked back a bit from the main highway and requires a few more navigation skills. But once you're in the Plaza Monumental of the old city, you'll find this short detour very worth it. Colorful candies, balloons, horse pictures, little plastic rosaries, a whole world of stuff and the people who sell it. 
The focal point of the square is the Temple Santa Maria Magdalena, a 19th-century church built on the site of a Father Kino mission. Nearby, there's a mausoleum that holds the Jesuit missionary's remains. Shockingly, they are in full view, shaded from the sky by a magnificent ceiling mural of his life.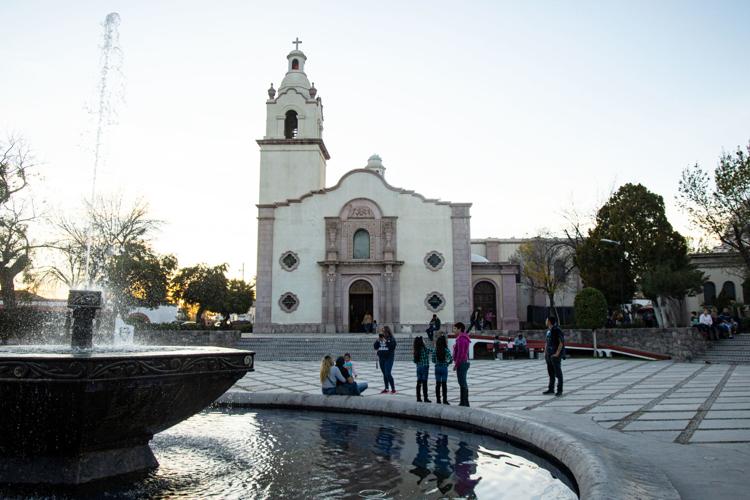 Every October, hundreds of Tohono O'odham and other faithful make the journey to this town by foot, walking along the highways all the way from Nogales and Agua Prieta to the east. After days of traveling, these pilgrims pay their respects to a life-sized statue of San Francisco Javier, lying on his back in a nearby room. I was able to walk into the shrine and watch people lifting the patron saint up from his pillow, but during the yearly fiesta this line can stretch on for hours. 
It all sounds so stoic. But wandering down past the square at sunset, I stumbled upon a completely different scene entirely. Hundreds of people were crowded along the Magdalena River, drinking beers and bouncing in jumping castles and standing on a random bridge. What were they looking at? Big trucks and SUVs everywhere, decorated with colorful neon lights, all taking their turns to drive through the muddy river.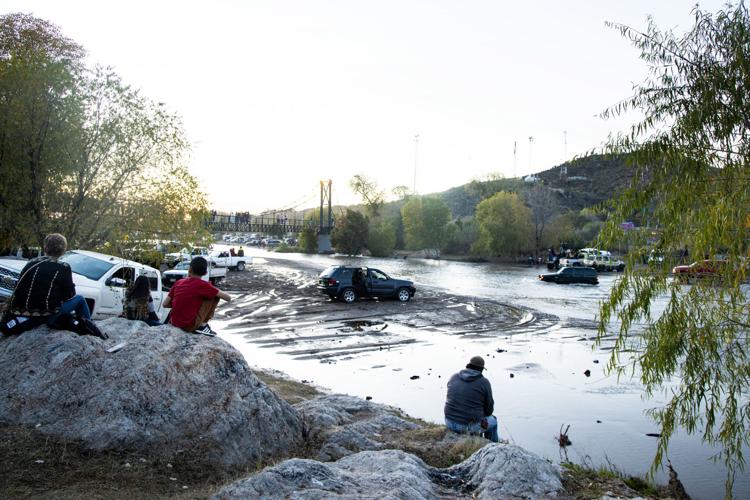 The improvised splash fest might seem bizarre to any Tucsonan who has lived through the dangerous traffic nightmare that is the summer monsoon, but a lady assured me, "It's OK, they do this every Sunday." While they part the Sonoran sea with their tires and drink Tecate in the streets, I sit at home and make pasta by myself. Who's winning again? It gets hazy. 
There is one more place I'd like to mention before we arrive at our destination. And that is a diner known for serving elephant ears. Wut?! I don't speak lies. The "oreja de elefante" is a local specialty found in the small town of Santa Ana, Sonora.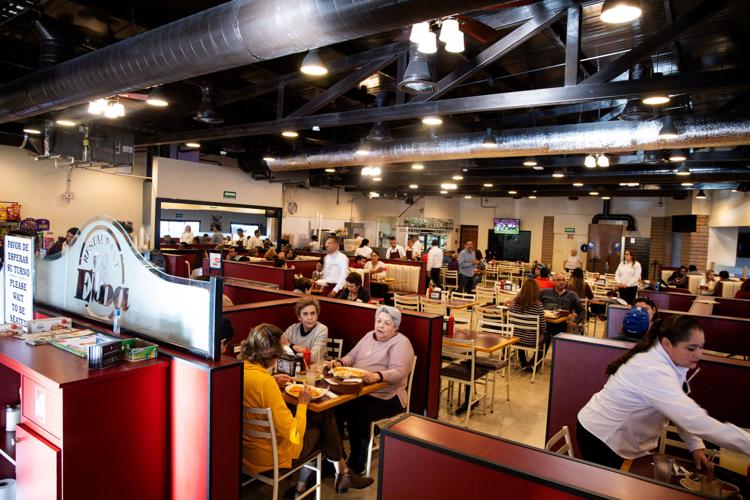 Aside from its busy honeybees, Santa Ana is a sleepy place that centers around the 50+-year-old Restaurant Elba and adjoining motel. Their menu boasts proudly that they are the original creators of said "elephant ear." It's not actually an African pachyderm, but a thin piece of meat that's been battered and fried into a crunchy patty the size of an entire pizza. (I've been told they actually put it in pizza boxes to-go.) "No te puedes perder." 
Less common in the United States, the milanesa is a breaded meat patty that was spread throughout Mexico and Latin America by Italian immigrants in the late 1800s. The preparation is similar to schnitzel, but the dish can be made with chicken or pork or even vegetables depending on where you are. In Sonora, the carne asada capital of Mexico, that baby's all beef!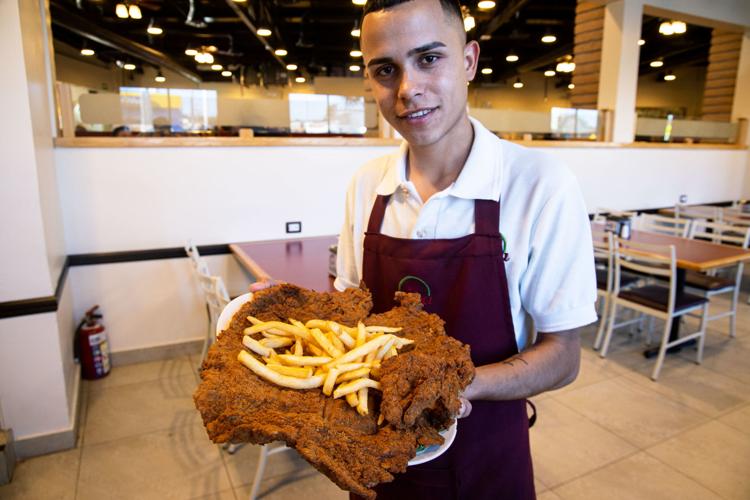 At Elba you can get your milanesa topped with fried shrimp or smothered in Velveeta cheese, but I got the big size: a whole pound of steak adorned simply with French fries. As if that weren't enough, they also give you flour tortillas on the side, as well as a bowl of mild tomato salsa and pickled jalapeños. It tasted like chicken fried steak. That's all I can say. 
Be careful though because after Santa Ana, it's still two more hours until you get to Hermosillo. Unfortunately there aren't too many stops down here, unless you count a bunch of grape fields. With almost a million people, Sonora's capital city is a sprawled-out metropolis of food, bookstores and fashionable nightclubs. It may remind you of Phoenix, seriously. In the summertime, this place gets HOT. But right now the city is very pleasant and cosmopolitan.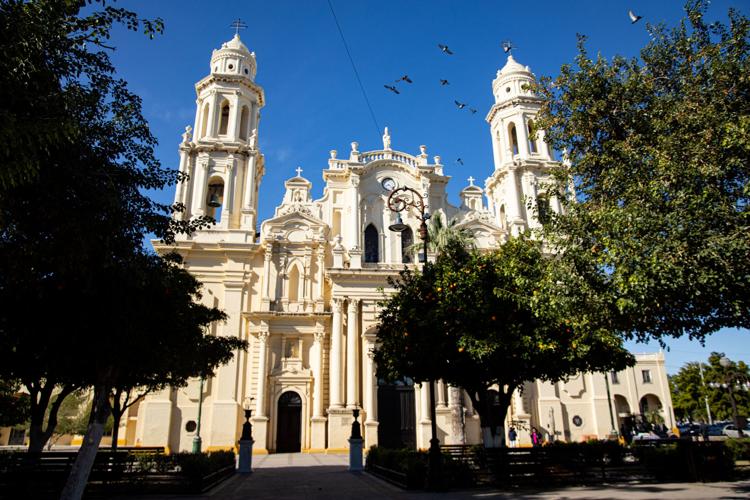 If you're going to make the trip, make sure to stay overnight so you can visit the poppin' outdoor food hall Parque La Ruina for cocktails, live music and a random airplane. That's where I heard about Taqueria Chino Mario, which is apparently the best restaurant in Hermosillo (according to a random group of people who thought I was the singer in the cover band).
The next morning I walked there from the inexpensive Hotel Colonial, past the landmark Catedral de Hermosillo and the chic Scottsdale-like Hidalgo Boulevard complete with garden cafes and gourmet Italian restaurants. Taqueria Chino Mario is just the kind of place I like though: The walk-up shop serves six different varieties of gnarly beef parts: eyes, brains, cheek and more, all slow-cooked to juicy perfection.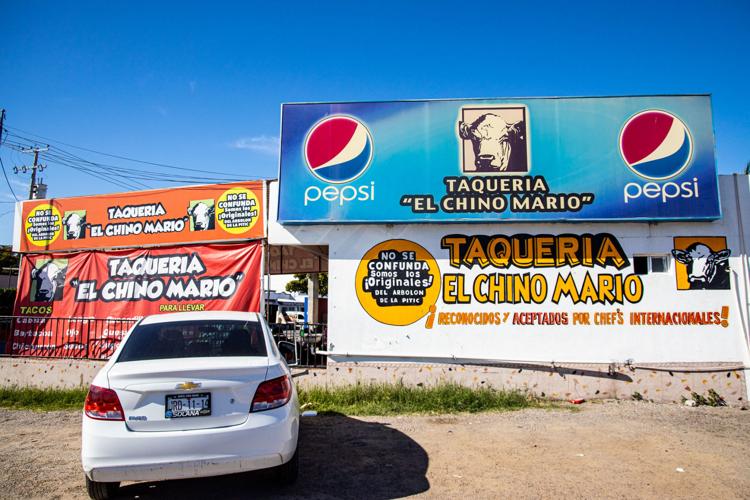 When I sat down on the patio to eat my tacos, I encountered the biggest challenge of my trip. First off I couldn't tell the difference between any of them. Barbacoa, lengua, cabeza ... They all tasted like spicy beef stew.
And worse, the meat gave off so much juice that it ran down my arm as I lifted up my Styrofoam plate to take a picture (photo up top). To to be frank or Francisco, it was getting everywhere. This was not going to work. I had to keep my shirt clean for the rest of my highly-publicized journey back home, and I was beginning to think this Chino Mario thing was a bad idea. Thanks a lot, drunk revelers!
It was at this point that I looked over at a man in his cyclist clothing sitting next to me, and realized how it's done. In front of everyone and God he just picked up his tray and put it directly to his mouth, sucking the juice up like a bowl of miso soup. That's how he did it. Every last drop until the tacos were dry, and he was ready to roll. "Okay," I thought, "here goes ..." I lifted up my tray, and drank those tacos like there's no tomorrow. 
---

Before you head down the road, take your car to Jack Furrier Tire & Auto Care to get it Road Trip Ready with 50 percent off services that will get you where you need to go. Click here for more info or call 520-547-5005. With 14 locations around Tucson, you'll find one near you.