It's 9:30 a.m. in Barrio Hollywood, and the dogs know something is up. They're running out from under shaded porches to the edge of chicken-wired lawns, barking at the pedestrians mulling about their sidewalks. The overflow parking in the nearby church lot is full and cars are spilling onto nearby streets. It's Saturday morning, and there's a homecoming at 901 N. Grande Ave.
The Azteca dancers are here: mothers, holding their children, alongside rainbow-haired teens. Some dancers are wearing sandals, some are wearing Nikes, some are wearing no shoes at all — but everyone has bells around their ankles. A man wearing a halo of enormous feathers is keeping tempo with a huehuetl (drum). Next to the huehuetl is a pink stroller.
The dancers are bestowing a blessing on the new business. The building here was the cradle of La Estrella Bakery, which opened their flagship bakery on South 12th Avenue in the 1980s and recently expanded to this spot — their third location — on Tucson's west side.
Before the Franco family created the institution that La Estrella has become, they learned how to make pan dulce while working at El Rio Bakery, under the guidance of their uncle, Sabino Gomez. A half-century later, they bought El Rio's old building to serve as their third storefront. The location's grand opening this morning celebrated where the bakery has come from as much as where it is going.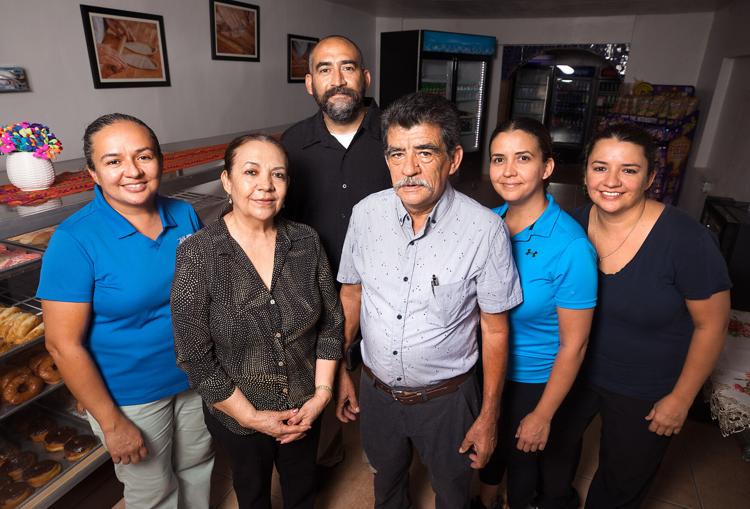 The La Estrella logo, painted in blue onto the whitewashed storefront, looks over the ceremony. Grande Avenue offers a break in the squat skyline of single-story buildings, revealing the ancient Catalina Mountains to the north.
A crowd of spectators is huddled under the shade of two mesquite trees — from bucket hatted white teens to entire families, mothers holding babies for tios to admire. La Estrella employees in blue polo shirts are scurrying from a pop-up tent to the assembly, passing out branded reusable bags and prickly pear lemonade, water and folding chairs.
Other tents offer an information booth for Justicia Para Todos and a table where people can decorate cookies with frosting. A third setup is guarded by a tween wearing a La Cochito shirt — a Lotería card emblazoned with a gingerbread pig — and offers free samples of mini conchas and banderas in clear plastic bags.
Nearest to the entrance is a DJ booth with an emcee switching effortlessly between Spanish and English. He'll narrate the day, giving the mic to the leader of the dancers, letting the owner of a silver Infiniti know they're blocking someone's driveway, playing music and giving it up for the live mariachi to come.
Now the ceremony is coming to a close, and some of the teenage dancers have exhausted themselves in the heat. I watched one young woman ramp up her performance — articulating each kick, lunge or jump with devoted force — before sidelining herself for a beat, sweat reflecting the sun off her skin.
A single Monarch butterfly floats through the air.
When the dance ends, the community organizers start reaching out to the crowd. Some sign their names and addresses, and most will cross the boundary, exiting the world's relentless sunshine to enter the shelter of the store.
The interior is covered in spotless white plaster, but the walls are the last thing you're paying attention to. Five women staff the counter, voices projecting bright and clear through their masks and the din of excited voices.
We wait in line underneath a blue tile mosaicked arch, buttressed by columns of saltillo. Families and friends are greeting, hugging each other. Fridges in the back room — which will one day be a seating area and currently where the line snakes into a tightly-curled U — are filled with cartons of ready-to-whip topping. Pastry filling, electrolyte drinks, and aloe vera juice fill another fridge closer to the counters, alongside more common beverages like milk and fruit nectars.
I pick out half a dozen glazed donuts, which I'll eat too slowly as they get stale over the weekend, but I absolutely will not waste. I'll order, and immediately take bites out of a cajeta-filled churro and a danish that looks like a pain au chocolat but instead contains yogurty Bavarian cream.
A mom wearing a lilac Aaliyah shirt runs her family's order, while her mother gets a dozen and a half rolls. The abuela finds out they're selling menudo and tries spiritedly to order some. It takes her a few attempts to get the attention of the counter attendants, who, despite a coherent system, are operating at full capacity. "Blanco?" the worker asked. The woman shakes her head. "Rojo?" A quick nod. She's wearing a mask but I would like to believe she was smiling.
We leave the store and the line is just as long as it was when we came in. Every single customer is purchasing a bounty of baked goods that will make this weekend a special one. The abuela is toting a small paint bucket full of precious soup as she crosses the threshold into the late morning sun. I like to think she'll go home and share it with her family.