For more than 20 years, Rigo's Restaurant was a fixture of South Fourth Avenue and a haunt for local politicians who "chewed the fat" over plates of refried beans and Sonoran carne asada. But the restaurant is now permanently closed, after owner Rigoberto "Rigo" Lopez says he was forced out by a private lender.
Known for its mariachi performances and daily Mexican buffet, the South Tucson restaurant suffered hard when the COVID pandemic hit and was unsuccessful in its attempts to transition to takeout. It served its last meal Jan. 8 when private lender Patty Kunz took possession of the building during the early lunch service, Lopez says.
The property was foreclosed and sold in a public auction that day for almost $194,000, data from the Pima County Recorder's Office shows. Kunz successfully bid on the property at the foreclosure auction.
A sign on the door posted Jan. 10 said the restaurant was "temporarily closed for two weeks," but the restaurant has not reopened and Lopez says he no longer has access to the building. Attempts to reach Patty Kunz, who Lopez was paying mortgage to, were unsuccessful.
Lopez says he fell three months behind on mortgage payments after having to close for three months during the pandemic. The restaurant shifted to takeout-only in April, but Lopez says that was not a viable strategy for Rigo's, where 80 percent of the customers would go for the buffet.
"I sold about $65 worth of food each day," he said. "And I had a person on the phone taking orders and two people in the kitchen and I couldn't even pay them their hours."
Once Lopez was able to reopen in July, county regulations capped his capacity at 50 percent, affecting his business significantly, he says. He didn't bring back the buffet until September, adapting it to CDC guidelines by adding plexiglass around the buffet and having an employee serve customers at a six-foot distance.
But none of the adjustments were enough to save his restaurant. He says he owed Kunz $9,000 for the months of October through December.
In January, Lopez owed less than $88,700 of the property's $180,000 mortgage.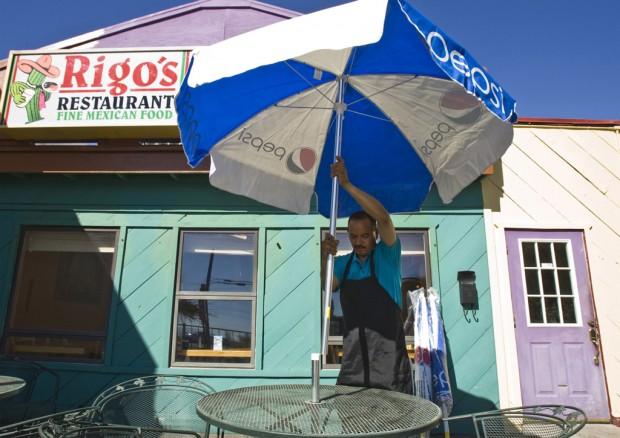 Lopez had been running the restaurant at 2527 S. Fourth Ave. since 2000, and said he was on track to pay it off in seven years. As business grew over the years, he opened two more Rigo's locations in Benson and Tucson's northside. He had to close the northside location this summer after a decade of service at 5851 N. Oracle Road, and now Lopez is currently making the trek out to Benson six days a week to work the kitchen at his remaining restaurant.
Lopez moved to Tucson 35 years ago from San Miguel de Allende, Guanajuato, Mexico. He started working as a dishwasher at another South Fourth Avenue staple Micha's and moved his way up into the kitchen. Before opening his own restaurant, he also managed the original location of Sonoran hot dog masters El Güero Canelo.
"I've worked really hard, really hard here in the United States," he said.
On the day Kunz forced him out, he says he lost thousands of dollars in food costs because he had just received his product shipment for the weekend. She seized everything in the restaurant, including the furniture and cooking equipment. He says wants to hire a lawyer, but doesn't have enough money.
"I was left with nothing," he said. "And in debt."
Lopez isn't sure he'll ever open another Rigo's in Tucson, but whatever he decides, he says he's going to have to start from the bottom again, whether it's in finding a job like he did when he first moved to the U.S., or starting his own business.
"I'm going to start from zero," he said, adding that he's going to take a break before he plans his next move.
He says he's been stressed and depressed since he lost his restaurant, but he's also grateful he had the opportunity to serve people from all walks of life in his 21 years running Rigo's.
"I'm so thankful to all of my clients at Rigo's who did me the favor of giving me the opportunity to serve them," he said.
He's also thankful for his employees, some of whom have worked for him since 2000 when it opened.
From its beginning, the original Rigo's location played an informal but important role in Pima County politics. It was a haunt for local democrats like U.S. Rep. Raúl Grijalva, former Arizona governor Janet Napolitano and former County Supervisor Ramón Valadez, who even had a plate named after him on the menu. Up until the time of COVID, various politicos would get together every Wednesday for lunch in a group hosted by Rigo's enthusiast and South Tucson politician Dan Eckstrom. Over the years, attendees included names like Sharon Bronson, Richard Elías and Regina Romero, Eckstrom said.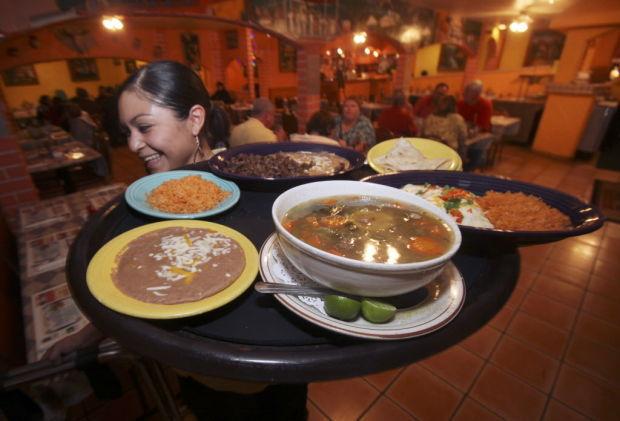 "There was never an agenda. We just sat there and BS'ed. It was just a friendly get-together, we never talked policy issues," Eckstrom said. "I bought (lunch) the first time, and then the new person bought, and then we'd rotate through the group. Sometimes somebody would be there having lunch and they saw us, and we'd invite them to join us. And they didn't know they were going to have to pay."
The former mayor of South Tucson and longtime County Board of Supervisors member ate at Rigo's so much, he was immortalized in the Dan Eckstrom special, which was a "massive salad" with carne asada, chicken or even tuna. (Eckstrom said he ordered it once while he was trying to eat healthy, and soon afterward people started going in there and asking for it.) For Eckstrom's retirement party at Rigo's in 2003, County Administrator Chuck Huckelberry created a fake movie poster of "The Godfather" with Eckstrom's head over Marlon Brando's body. The poster was then hung on the wall at Rigo's.
"I feel pretty bad for Rigo and his family, because he's a tremendous guy, a very caring, a very giving person. I remember being there when somebody would come outside and they were hungry. He never let them go hungry, he always gave them something to eat," Eckstrom said. "But I think Rigo will make a comeback because his heart is in the right place. And I'm hoping that when he does, that all the friends that he befriended when he was in that business will come back to him. … He's a bright guy, he's a good businessperson, and unfortunately he was a victim of this pandemic. Good people get hurt in this thing, and he's one of them."
Eckstrom also remembers one fateful day in January of 2012, when "a miracle happened at Rigo's." The Mexican restaurant was a popular event space for the community, and Eckstrom was helping to organize an event with the-then UA Athletics director Greg Byrne and UA baseball coach Andy Lopez.
"We used to have a lot of people from the faith community. I called up a sister and asked her to give an invocation, just a little blessing. And she said this year, Coach Lopez is going to win the College World Series. That was in January of 2012. In June of 2012, he went to the College World Series and he won it … There was a lot of good that came out of (Rigo's), a lot of information. And I think that's something that the community is going to desperately miss."