Four months ago, as we began our stay-at-home journey, Tucson rallied. 
Businesses innovated, coming up with creative ways to continue serving customers despite physically closing their doors. 
Neighbors mingled — from a safe distance, of course — chalking messages of encouragement onto driveways and hiding teddy bears in windows. 
And volunteers organized, launching mask-making efforts and collecting supplies for at-risk communities. 
It warmed our hearts. 
In many cases, these endeavors are still going on. But we have seen much in these last few months, from rising cases of COVID-19 to ongoing protests for racial justice to a devastating fire in our own Catalina Mountains. 
It's a lot to take in. And our community could use some love. 
Thankfully, there are so many simple ways to do that. Here are just a few ideas. 
Volunteer for the food bank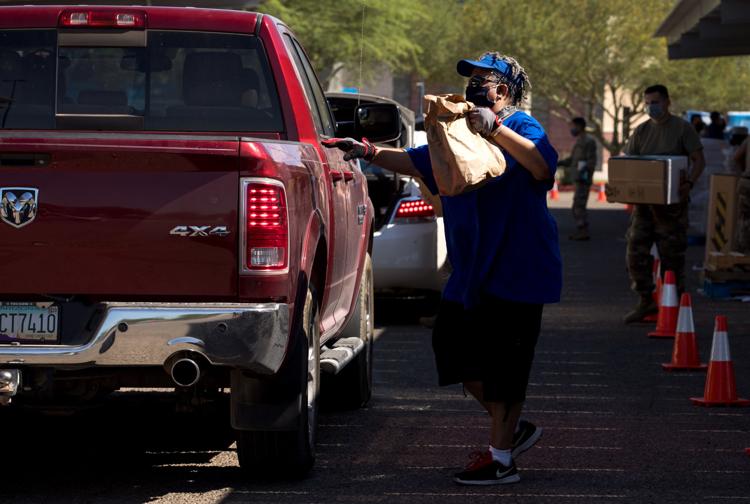 The Community Food Bank of Southern Arizona needs volunteers. 
"After the pandemic started, we realized that we had a lot of elderly volunteers who needed to be safe," says Michael McDonald, the CEO of the Community Food Bank of Southern Arizona. "We asked people to stay home, and we were able to do that when the National Guard came to provide services to the food bank." 
But volunteers are needed now to step in when that changes. 
The food bank is asking for groups of volunteers to help distribute food outside the Kino Sports Complex, 2500 E. Ajo Way. Food is distributed drive-thru style from 6:30-10:30 a.m. Tuesdays and Thursdays. 
"Five hundred to 1,000 households show up in that four hours, and there's just an unprecedented amount of need," McDonald says. "We have an abundance of food to share with people." 
Because the food bank needs 50 people to work the four-hour shifts, working with groups is easier than individuals. 
Volunteers will help signal directions to approaching cars, unpack boxes and bags of food and load food into trunks. Masks are required and the drive-thru is set up to support physical distancing. Volunteers must be age 16 and older.
If you can't volunteer but want to help, financial donations are being used to purchase food, protective equipment and support staff. The food bank plans to begin taking some food donations again in August, McDonald says. 
To learn more or sign up to volunteer, visit communityfoodbank.org. 
Write a note to an isolated senior
For months, those living in longterm and assisted-living facilities have had no visitors due to coronavirus safety measures. That means that for months, those residents have been unable to see their loved ones. 
In response, the Pima County Health Department launched Pima Love Notes, a project to send positive notes and cards to the residents and staff in those facilities. 
"Seniors and staff are experiencing increased isolation, so the community can reach out and let them know we still think of them and we miss them and just want to brighten up their days with a nice note and some positivity," says Cecilia Nguyen, volunteer coordinator with the Pima County Health Department.
So far, 55 facilities are signed up to receive the love notes, Nguyen says. 
The Pima Love Notes project website has addresses of each of the participating facilities (you send your note yourself), along with guidelines for preparing your note. Wash your hands before you start, get crafty and keep your note general — these go to both residents and staff. The project page even has some card templates you can print and use. 
Nguyen also suggests including some coloring pages for some extra cheer. Why I Love Where I Live has some lovely pages with art from local artists that you can print. 
"It's something so small and simple, and yet it has a great impact," she says.
Shop at Black-owned businesses
Supporting Black-owned business is really about shopping at those businesses and sharing them with your network, says Ashley La Russa, the owner of Roux Events and a creator of the Blax Friday project. (Ashley La Russa runs events for #ThisIsTucson.)
Since June, Blax Friday has grown from a hashtag to a website, app, live event and even a pitch competition. And there's still more to come, with a Resiliency Plan that includes Black business mixers, business resources and industry partnerships. All of it spotlights and supports Black-owned businesses in Tucson. 
"We do not have a Black chamber of commerce, so a lot of Black-owned businesses get lost in the shuffle when it comes to recognition," La Russa says. 
The Blax Friday project is changing that, starting with an online list of more than 300 local, Black-owned businesses.  
The other community leaders spearheading the Blax Friday project are — Seanloui Dumas of Black Renaissance, Khailill Knight of KPMADMAN/BLAX, Shannoah Green of Curated Colour, Terrell Henry of Creative Collabs, Aquil Joel Hameed of Pinnacle Marketing Consulting, Robert Johnson with Apple and Cruiz of Cruiz Photos. 
And just like this team has plans for continued growth and community building, La Russa points out that supporting Black business owners is not a one-time shopping trip. It's a continual intention that helps these local, small businesses thrive — especially during a pandemic that has forced many entrepreneurs, but especially Black business owners, to close their doors. Supporting these small businesses then contributes to Tucson's economy, she adds. 
"This is just a spotlight," La Russa says of Blax Friday. "These individuals have not received as many resources and access ...  and now we have the opportunity to patronize these businesses and shop at these locations. Now we should be able to do better."
For that list of more than 300 Black-owned businesses in Tucson, visit blaxfriday.com.  
Plant a pollinator garden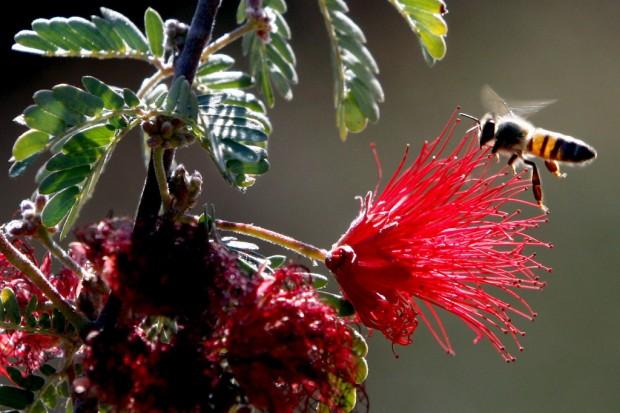 These gardens can provide food, shelter and a place to breed for native pollinators, including butterflies, hummingbirds, bats and bees. 
"Pollinator gardens are essential in an urban area like Tucson, because they connect the small, otherwise isolated pockets of habitat across concrete oceans," writes Adam Grams, a horticulturalist for the Arizona-Sonora Desert Museum in an email. "The small pockets of pollinator-friendly plants help support wildlife on its journey through an urban area, and small, isolated pollinator gardens can even support an entire ecosystem and life cycles of their own in an urban environment." 
Pollinator gardens may be even more important now, following the destruction of some habitats by the Bighorn Fire in the Catalina Mountains, says Jo Falls, the director of education and visitor services at Tohono Chul. 
"Ninety percent of all flowering plants depend on some kind of animal pollinator to help them reproduce," she says. "And that includes 35 percent of the world's food crop." 
Both Falls and Grams say it's important to research your area before you start planting. Resources include the Pima County Cooperative Extension and Tohono Chul's guide to pollinators. 
When planting a pollinator garden, Grams says you should consider what time of year you want to attract the pollinators, what you are trying to provide them (food, shelter, breeding area) and what kind of pollinator you want to attract. That will help you pick your plants — whether you have a big backyard or pots on a patio. Grams says some of his go-tos include: Fairy dusters, chuparosa, creosote and mistflower. 
Falls adds that you should also avoid using pesticides and consider whether you have water sources anywhere near your garden. 
"It's a good thing to do and it helps the environment and native pollinators," Falls says. "And it makes your garden beautiful." 
Donate blood
Historically, blood donations drop during the summer, says Courtney Slanaker, the executive director of the Southern Arizona chapter of the Red Cross. 
"We're not seeing that right now, but there is an urgent need for blood because we want to make sure we prevent a shortage," Slanaker says. 
She suspects that the free COVID-19 antibody tests accompanying successful blood donations have something to do with that. (Please note that this is not a test that will tell you if you currently have COVID-19.) Donors will get the results from their tests in 7-10 days.
In addition to the different types of blood donations the Red Cross accepts, the organization is also working with the U.S. Food and Drug Administration to accept donations of plasma from those who have fully recovered from COVID-19, Slanaker says. 
"We ask people who are feeling symptoms to not come in and wait to donate until they have been symptom-free for 28 days," she adds.  
Temperature checks for staff and donors, physical distancing, mask requirements and careful disinfecting processes are all in place at blood drives. Donors are asked to make an appointment online before arriving. 
She adds that the local chapter of the Red Cross is continuing to see blood drives canceled as businesses and nonprofits remain closed. That means if you are part of an organization that can host a blood drive, the Red Cross wants to work with you. 
To donate blood or organize a blood drive, visit the Red Cross website. 
Tell health care workers you appreciate them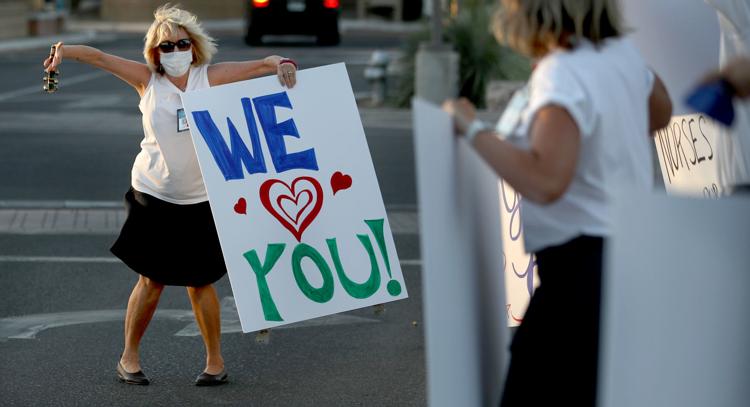 There are lots of ways give some love to the health care workers who are so diligently caring for our community. 
"Our staff puts its whole heart into caring for patients day in and day out, so when the community puts its heart into giving them encouragement, it is so meaningful," says Julia Strange, the vice president of community benefit for TMC HealthCare in a statement. "Every thank you, every kind word and every donation goes such a long way toward making them feel appreciated and supported — you can literally see their faces light up and their spirits soar." 
Community members can send cards and notes of encouragement to health care workers at Tucson Medical Center by mailing them to TMC Communications at 5301 E. Grant Road, Tucson AZ 85712. 
You can also donate meals, gift cards and other items through the TMC Foundation by emailing foundation@tmcaz.com or calling 520-324-3116.
If you'd like to support staff at Banner-University Medical Center Tucson, you can donate through the hospital's Banner Health Care Heroes Give Campaign. Banner will then use those donations to provide salon services from UR Salon and meals from the Parish and Guadalajara Grill to health care workers at no cost to them, according to press materials. You can donate to Banner here. 
To write cards for health care professionals at Oro Valley Hospital, mail to 1551 E. Tangerine Road, Oro Valley, AZ 85755. To mail notes to Northwest Medical Center, address to 6200 N. La Cholla Blvd., Tucson, AZ 85741. 
Support local artists 
Art makes Tucson, well, Tucson. 
And if there is an artist, musician or theater company you have been following, now is the time to show your support. 
"Money from ticket sales has vanished," says Chad Davies, the managing director of the Winding Road Theatre Ensemble and a member of the leadership committee for the Tucson Alliance for the Performing Arts. 
And even as some theaters experiment with live, physical distanced performances and others take their productions online, that revenue doesn't match pre-pandemic income, Davies says. 
He suggests following your favorites on social media, making an effort to watch their performances, share their work and donate when possible. 
The Southern Arizona Arts and Cultural Alliance can help you do that. SAACA's website has a resource listing live performances, art classes and other Tucson events you can join safely in-person or digitally. 
Kate Marquez, the executive director of SAACA, also suggests taking in the public art pieces along the Loop or purchasing artwork locally at Tucson Shops Tucson, a virtual marketplace. 
Sew cloth face masks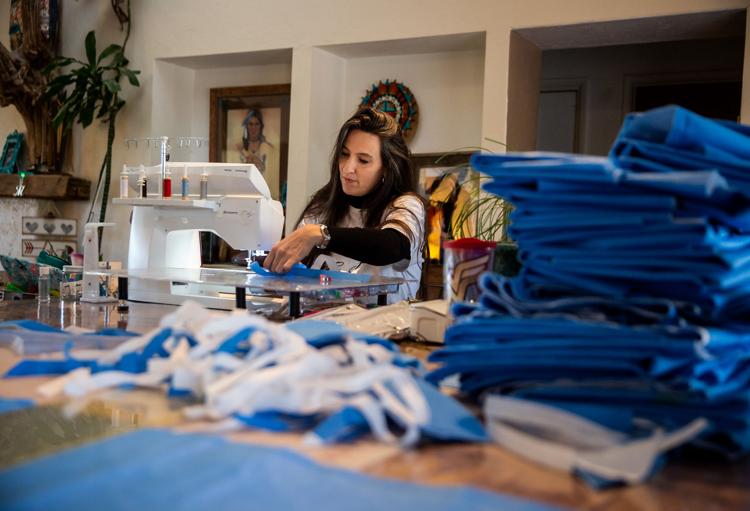 In June, both Pima County and Tucson passed resolutions requiring people to wear face coverings in public to help slow the spread of COVID-19. That means that, when in public, everyone over the age of 5 has to wear a face covering if 6 feet of physical distance cannot be maintained.
And so with everyone from bus drivers to nonprofit workers in need of masks, many volunteers have chosen to wield a needle and thread to battle COVID-19. You can join them. 
The International Rescue Committee, an agency that resettles refugees in Tucson, needs volunteers to help make masks that are then distributed to refugee families around the city. 
"Refugees who have resettled in Tucson face special challenges when it comes to COVID-19 with language and cultural barriers," says Stanford Prescott, the community engagement coordinator for IRC Arizona. "Information is being published in English and Spanish, but not necessarily in Arabic and Swahili. We are trying to translate and distribute it." 
To help, the agency has been delivering care packages to families that include masks and instructions about wearing them. Community members can help by sewing cloth masks. The IRC's website has specific instructions, reminders for mask-making volunteers and where to send completed masks. The organization particularly needs kid-size masks, Prescott says. If you'd rather purchase masks for the organization, check out their Amazon wishlist. 
Another group, Sewing Masks for Tucson, has distributed more than 17,000 cloth face masks to a variety of Tucson nonprofits, assisted living facilities, health care organizations and more. On Saturday, they handed out homemade masks to the public. 
Volunteers are needed to sew masks, cut cloth and drive to deliver supplies or pick up completed masks. The group is also asking for financial donations to help purchase supplies, says organizer Andrea Rodriguez. To get involved, visit masksfortucson.org. 
You can also make masks with Mending Souls, a nonprofit with volunteers who have made more than 84,000 cloth face masks, says Mending Souls president Michelle Don Carlos. The organization distributes materials at drive-thru events and is in need of volunteers to cut, sew, count and bag up completed masks and work the drive-thrus. Donations of fabrics, particularly bed sheets, and funds for materials are also in need. Get more information at lovemendingsouls.org.
Support local restaurants
Our food writer Andi Berlin just wrote about eight Tucson restaurants that have closed permanently since the coronavirus pandemic began. 
"Unless there's action from a state and federal level in the next three months, I'd imagine there will be an absolute tidal wave of restaurants going out of business," bartender Aaron DeFeo, co-owner of the buzzworthy Little Rituals bar in downtown Phoenix, told her.
Since the bar closed temporarily in March, the former Tucsonan has been pouring more of his time into restaurant advocacy work for a group called Thirst, which is lobbying lawmakers to hold insurance companies accountable for business interruption claims. 
DeFeo told Andi that while getting takeout from your favorite local restaurant is helpful, the restaurant industry needs legislative help. Check out her story for more ways you can get involved. 
The Southern Arizona Arts and Cultural Alliance is currently promoting its $20 for 2020 Summer of Support for local restaurants. At least 20 restaurants, coffee shops, breweries and catering companies have joined the campaign, offering specials for just $20. For example: Get a medium pizza and bottle of wine for $20 from Fresco Pizzeria and Pastaria. Some specials are takeout or dine-in only and some restaurants offer both options. 
Visit saaca.org/20-summer-dining-promotion for more information. 
Buy a T-shirt
The Playground Bar and Lounge, the Hub Restaurant and Ice Cream Factory and the AC Hotel Tucson Downtown by Marriott have partnered to launch a 10 Weeks, 10 Ways to Love our City campaign to give back to organizations that are serving in Tucson. 
Basically, you buy a $25 T-shirt with an image of Jessica Gonzales' Tucson Together mural. Then, 100 percent of your $25 goes to one of 10 organizations that you choose. If you buy more than one shirt, you can pick multiple organizations to support.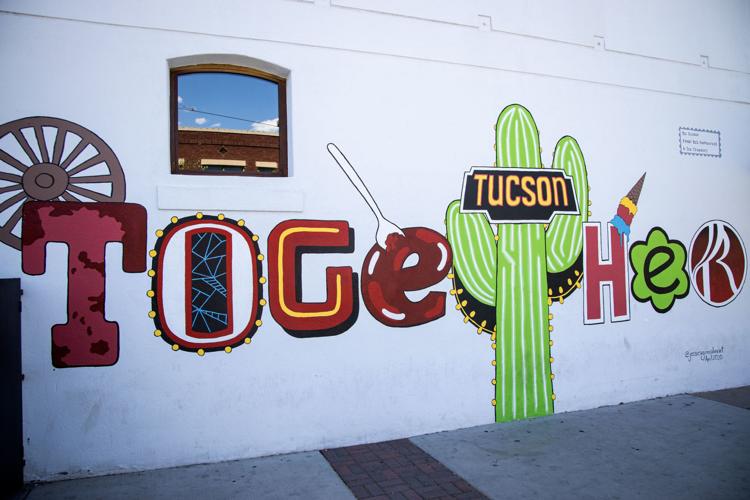 Proceeds will support: 
• Arizona Trails Association
• Ben's Bells
• Blax Friday
• Casa Maria Soup Kitchen
• Community Food Bank of Southern Arizona
• NAACP Tucson
• Primavera Foundation
• Sister Jose Women's Center
• Tu Nidito 
• YMCA of Southern Arizona. 
Shirts can be picked up at the AC Hotel Tucson Downtown, 151 E. Broadway. To purchase a shirt, check out the hotel's Facebook page for more information and to order, email ccabacungan@cimahotels.com.