Through poetry and photography, a new exhibition at the Tucson Museum of Art will take you on a journey through traditional territories of the Tohono O'odham on both sides of the border. 
You'll also see pieces by Tohono O'odham and Hia-Ced O'odham poet and photographer Amber Lee Ortega and traditional Tohono O'odham pottery by Reuben Naranjo. 
All of it reminds you to look at the borderlands as traditional, Tohono O'odham territory.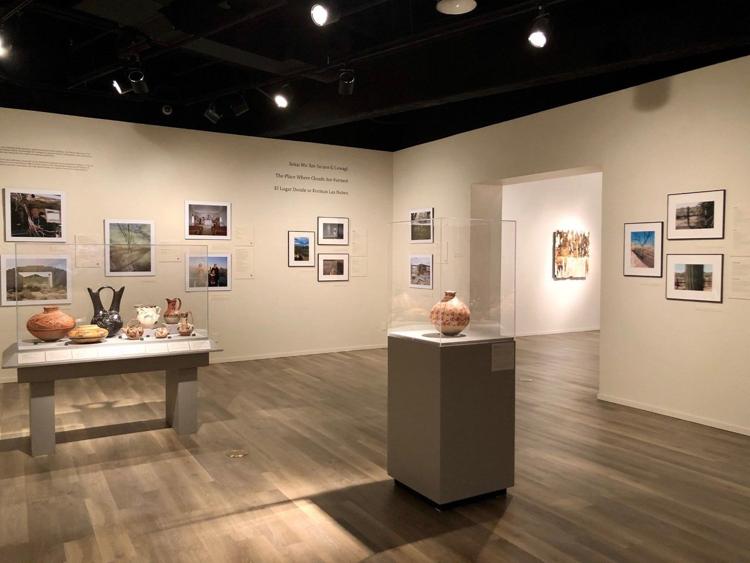 Installed in the back of the museum's Native American art gallery, the new exhibition tells the story of the desert and an ancestral land now divided by the U.S.-Mexico border. Photographs show an abandoned Mexican town, stark desert landscapes and the faces of those who call this region home. Poems written in English, Spanish and O'odham ponder migration, community and faith.  
"We're an institution built on their traditional territory," says Marianna Pegno, the museum's curator of community engagement. "We wanted to represent and include more holistically those communities and stories." 
Pegno says the project began in 2018 with the artists, not the museum, with a Magnum Foundation Grant and subsequent exhibitions in Tohono O'odham communities. The Tucson Museum of Art learned about it through some separate work with Zepeda and expanded the project with support from the Institute of Museum and Library Services.
QR codes accompany the poetry, so you can listen to Zepeda or Zícari read the poems to you. The exhibition runs through August 9. 
"You're able to see both the people and the places," Pegno says. "It's impactful." 
---
If you go
What: "The Place Where Clouds are Formed" at the Tucson Museum of Art
Cost: Admission to the museum is $5 through the end of February. Regular admission for adults is $12.