Neither of us were quite prepared for the noise the huge, silvery fan-shaped palm fronds were going to make when they were cut free from the taut tie that held them upright.
"I didn't know it was gonna make that sound," says Adam Farrell-Wortman, the horticulture manager for the Tucson Botanical Gardens, where we stood on a gray, drizzling day last week.
It was kind of like a cork popping mixed with a whoosh that was so unexpected the only thing we could do was chuckle at the surprise of it all.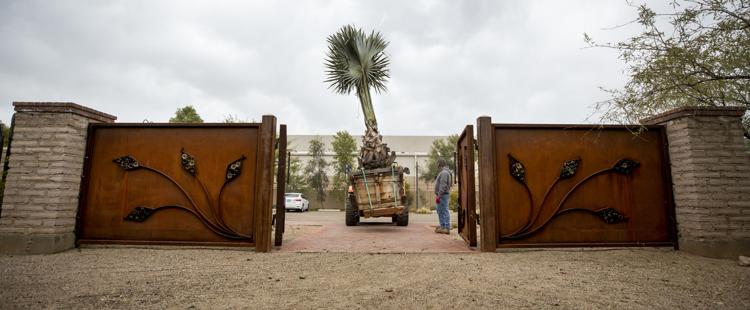 The massive Bismarck palm, a tree native to Madagascar and unlike any of the other palms on the grounds, seemed to be announcing its arrival after its 42-inch box was driven in on a boom fork, planted, positioned and freed from the bind with a quick snip by Farrell-Wortman allowing it to unfold into its full shape as if to say "I'm heeere!"
"Here" is its new home in the Exhibition Garden, a 2,000-square-foot space in the Tucson Botanical Garden's grounds. It's a space that's been in transition for the last three weeks in preparation for the special exhibit "Beautiful Marvelous! Brazilian Modernism & Roberto Burle Marx" which is opening on Saturday, Jan. 25.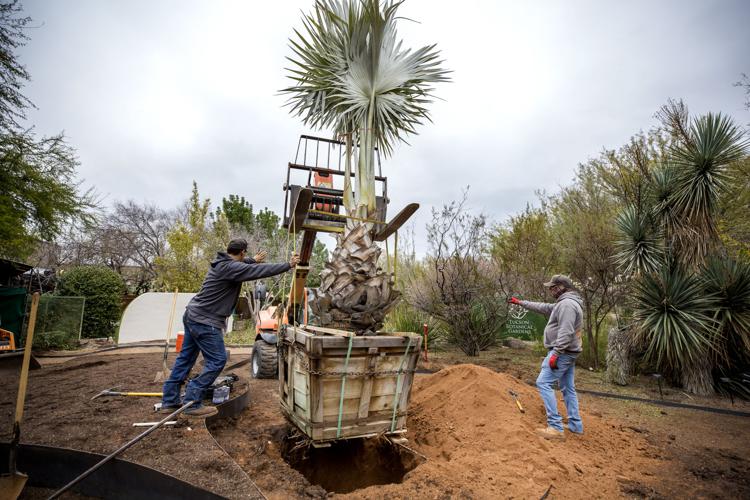 Staff from all areas of the gardens operations have been working to transform the Exhibition Garden and other spaces within the naturalistic oasis into a modernist garden inspired by renowned Brazilian architect Roberto Burle Marx, an undertaking unlike any other the museum's history.
So how does a desert environment get transformed into a lush tropical oasis?
As I got to see a bit over the last couple of weeks, it requires a lot of planning, some creativity, flexibility, and a little bit of theater trickery. 
"This (exhibit) we created ourselves within a very short period of time so it's left its own challenges — but in a way it's actually been better than we imagined because we were able to pull in members of the community, members of the staff, outside interests that came to us with ideas on how to make it even better and it's just been so much fun," Michelle Conklin, executive director of the Tucson Botanical Gardens shared with a room of about two dozen garden docents who gathered for a training about the new exhibit earlier this week.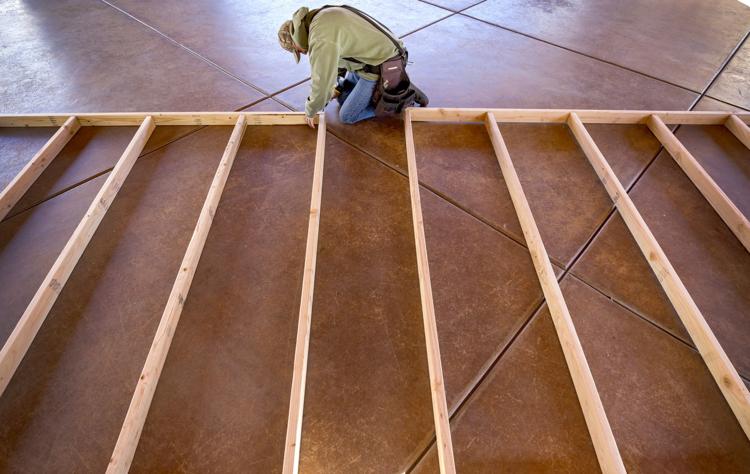 First things first: Who is Roberto Burle-Marx?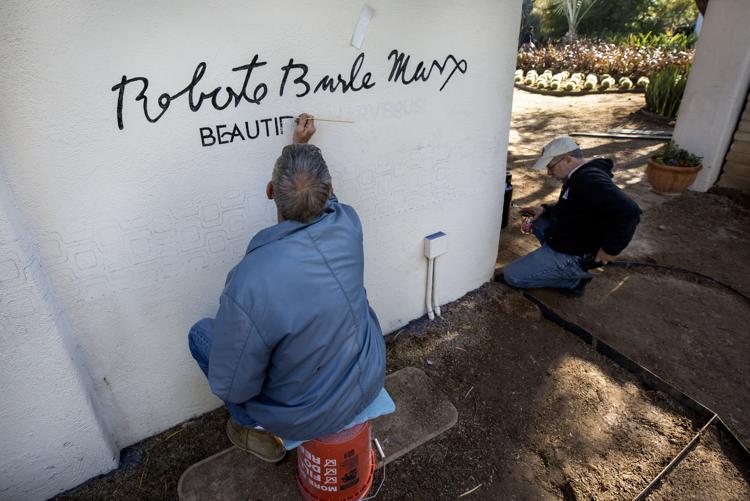 The last time Tucson Botanical Gardens presented something on a similar scale was in 2016 with the "Frida Kahlo: Art, Garden and Life" exhibition, which has been referenced quite a bit by the museum staff and partners working on the Burle Marx exhibit. They refer to the exhibition solely by the iconic Mexican artist's first name, as if she's part of the team, as in "with Frida we did this…" or "this is the busiest we've been since Frida."
Roberto? Roberto Burle Marx? That name might not have the same kind of recognition for most folks. 
"I'm guessing, no he's not a household name, generally speaking, certainly not in this country," says Jason Isenberg, owner and principal designer of REALM, the landscape design company the gardens worked with to create the modernist garden inspired by Burle Marx's work. 
"But I think his work, some of the sites, some of the landscapes, some of the paving and flatwork and designs are very recognizable and would be easily and quickly identifiable to the general public," Isenberg says.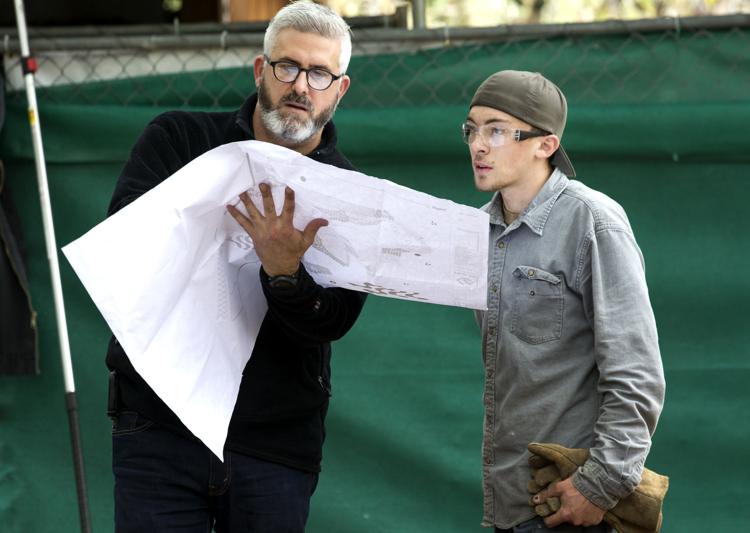 Burle Marx is most well known for being a landscape architect who created modern gardens and landscapes influenced by cubism and abstract art that showcased the tropical plants native to Brazil throughout his 60-year career spanning the early 1930s to the early 1990s.
His distinct style included large groupings of native plants (with no intermingling of species), water features, asymmetrical design and colorful pavements. Maybe you've seen photos or walked across the black and white wavy Copacabana Beach promenade In Rio de Janeiro, that's Burle Marx's work and one of his most iconic designs.
He was also a painter, an explorer, and a conservationist — he's noted as one of the first people to call for the conservation of the Brazilian rain forest and spent a lot of time discovering and collecting new plant species, more than 50 plants are named for him.
"I knew his work and his patterns, I knew his plant palette but I was unaware of what drove him really to make the choices that he made to break away from highly symmetrical spaces, to break away from that older world influence," Isenberg says. "He was essentially saying, 'Everybody, these are plants from our homeland, let's use our plants, let's embrace our plants and celebrate our plant material and if we're gonna do it let's go big.'"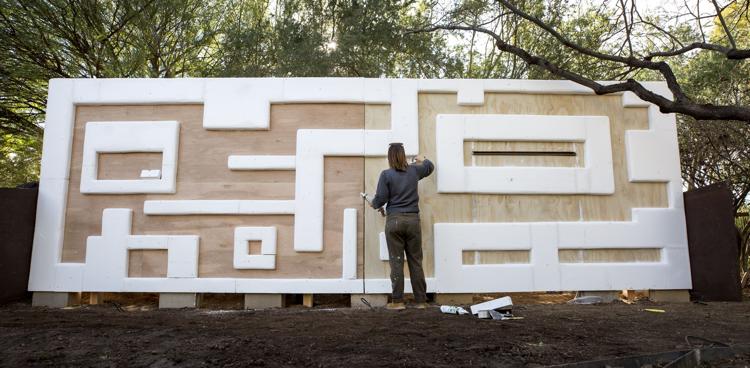 In that same spirit, the Tucson Botanical Gardens has gone big on Burle Marx. In addition to the Exhibition Garden, other spaces in the Tucson Botanical Gardens have been curated to reflect his style and wide-range of interests. Several pieces of art by Tucson artist Kyle Johnston are hung in Porter Hall, his use of bold colors, geometric shapes and modern style are reminiscent of the art created by Burle Marx.
The Legacy Gallery has an exhibit about Burle Marx as an explorer and botanist featuring many panels with his own writings and observations and photos of his travels. 
The Friends House Gallery has been turned into a version of Burle Marx's studio where visitors can make designs on blue post-it notes to stick on the walls, creating a large mosaic, similar to the blue and white tiles that filled the walls of Burle Marx's studio.
And a few species of plants discovered by and named for Burle Marx can be viewed inside the greenhouse.  
"This Burle Marx exhibit is an institutional-wide exhibit created by the Tucson Botanical Gardens. We've never done that before," Conklin says.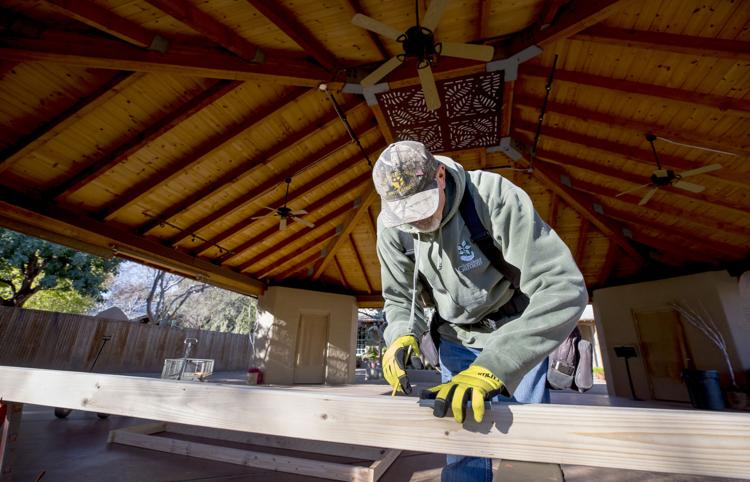 Recently the New York Botanical Garden hosted its own Burle Marx exhibit, one that Conklin attended and which inspired the decision to host a similar show in Tucson. 
"I was just really inspired by the story, the fact that he's this artist, this landscape designer and had such a major influence on landscape design and on conservation especially with what's going on right now in the Amazon, it just felt very timely," she says.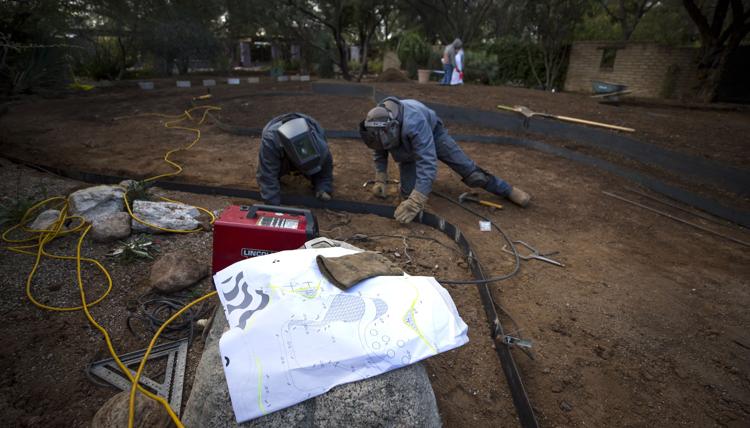 Isenberg created the design for the 2,000-foot Exhibition Garden — the centerpiece of the Burle Marx exhibit — that is influenced by his design but also makes sense for its place.
Essentially it's an idea of what Burle Marx might have done if he created a garden in the desert. 
It's filled with a mix of both tropical and desert plants with striking colors like deep purple and golden yellow and whimsical shapes including an undulating center island and pathways. 
"I would say it's impossible to do in Tucson what Roberto Burle Marx did in Brazil, and so our approach was to honor his philosophies, his fierce loyalty to his country, his region, the plants and also his interest in veering from old world European influenced gardens," Isenberg said while taking a break from overseeing the placement and planting happening in the garden earlier this week.
"But it's still important for it to work like a Roberto Burle Marx exhibit. I think it's really important that we stay true to the overall intent and that is to asymmetry, that is to tropical plants, at least plants that look tropical, behave like tropical plants or perhaps even are tropical plants that can survive in Tucson," Isenberg says.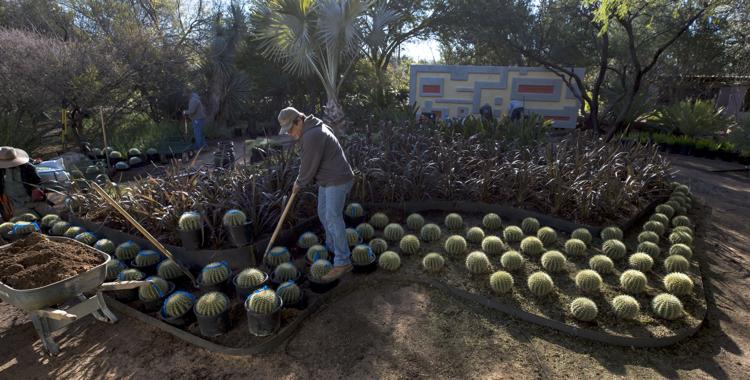 There are several factors that have to be considered for an exhibition like this including the designer's vision, the sustainability of the plants and of course— the budget.
And over the course of time from the rendering to execution and particularly what I observed the last couple of weeks, the process is ever evolving.
After the initial concept and design is made there's some fine tuning that takes place between the design team and the gardens' staff. 
"I'm not the one designing, but my input goes in in terms of what can we keep alive? What do I think will work for the space?" says Farrell-Wortman, the gardens' horticultural manager. "So there's a lot of back and forth with the designers sussing out … what makes sense for the theme and the place." 
Then there's some decisions that have to be made about the plants that already occupy the Exhibition Garden.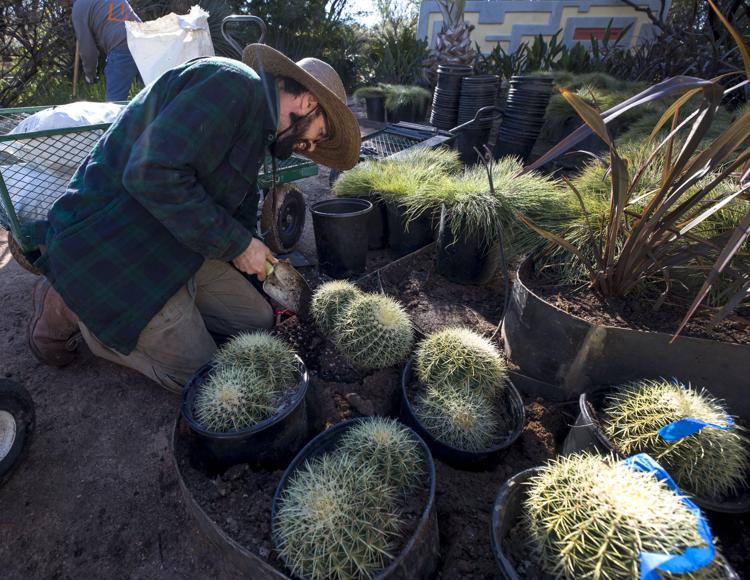 "We decide we want to keep that are in the space now, what plants we're gonna leave in the space, what plants that are in the space now that we want to keep but we don't want to keep in the space so we'll have to transplant those and then which ones we're just gonna let go of," Farrell-Wortman says.
Several factors are taken into account for this.
"I'll assess plants based on their value in terms of monetary value, reproducibility, whether, they're rare or I can find them anywhere. That sort of thing," he says. Some plants are moved elsewhere in the gardens and some are removed entirely.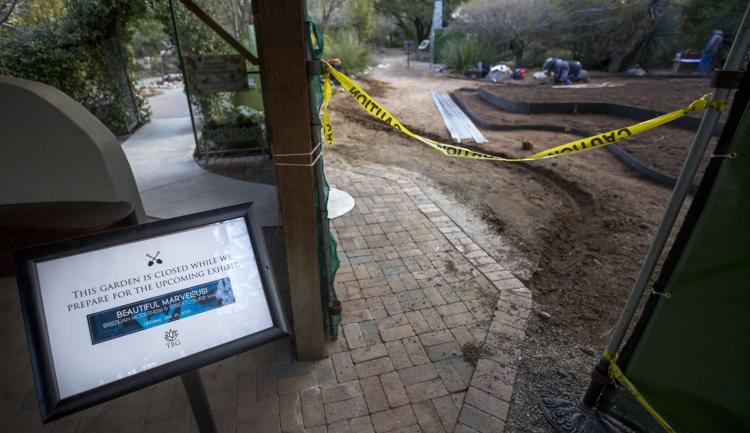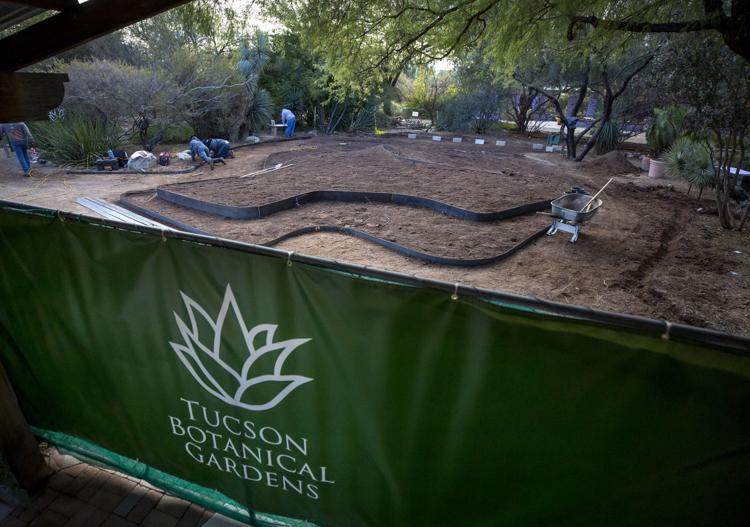 Once there's agreement about what stays, what goes and what's coming, the garden gets as clean a slate as possible.
Many plants were cleared away from the center of the garden leaving an expanse of dirt, then the exhibit was built from the ground up. Literally. Like, even the soil has to be changed to have the right conditions, nutrients and texture for each type of plant going in to each part of the garden. 
Before that giant Bismarck Palm arrived last week, that's what Farrell-Wortman was working on —adjusting the soil in a portion of the garden where the existing native desert plants and the newbies, fortnight lilies would have to co-exist together. 
"We're putting in arid-adapted plants, but they're not from the desert so they need a different type of soil," Farrell-Wortman says. "It's sort of (like) the ground is the pot, so I'm adjusting the soil just in the front space where that planting is going and I'm leaving the soil alone on the other side of that."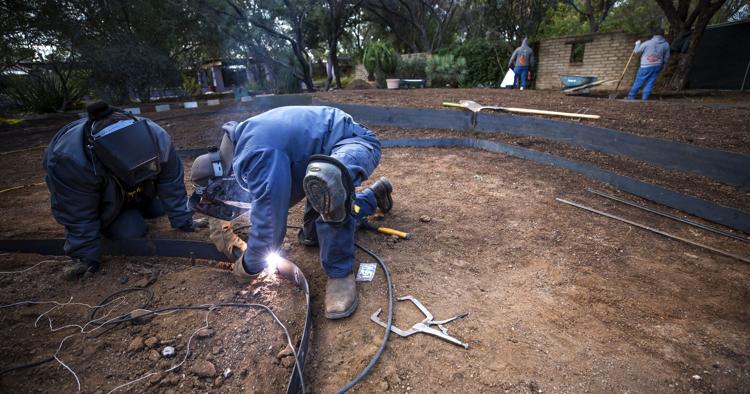 The team from REALM welded a two-tiered curvy center island to display large arrays of plants including more than 100 golden barrel cacti, 120 rich purple New Zealand flax, 70 tropical bird of paradise and that towering palm. Other whimsical plants with interesting textures on display in the garden include sansevieria, foxtail fern, shaggy fescue and cycads, an ancient plant species that looks straight out of Jurassic Park. 
The REALM team also created curving pathways leading in and out of the exhibit inspired by the designs and colors Burle Marx used in his pavings. Instead of using tiles or concrete and contrasting black and white colors like Burle Marx, the team is going with a more temporary solution of compacted gravel in shades of tan and deep red. 
"You're gonna walk across a promenade that will be gold and deep terra cotta that is evocative of Tucson," Isenberg says.
And because a garden isn't actually a Burle Marx garden without some sort of water feature, one of the other major focal points in the exhibit is a huge, colorful 24-foot by 12-foot wall with geometric designs reminiscent of the carved concrete relief walls found in some of Burle Marx's designs. Water spills out of the wall and into a basin.
This is where some of that theatrical magic comes into play.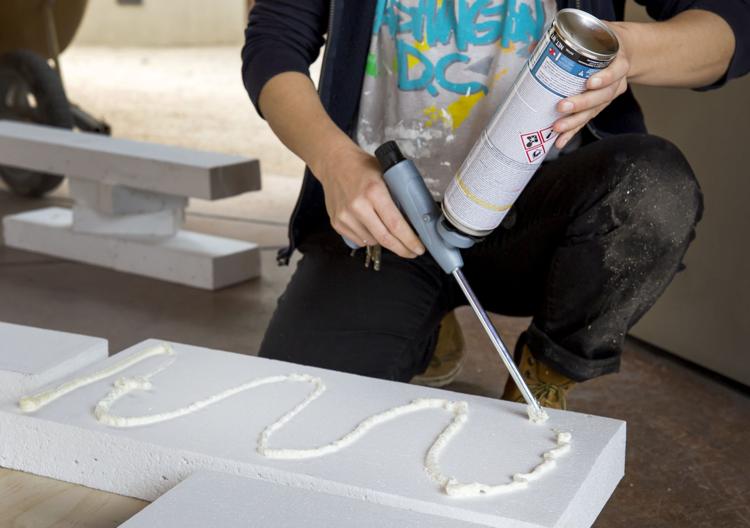 After seeing the final product you'd probably never guess that it's actually made from more than 40 styrofoam rectangles adhered to a piece of plywood and layered with Elastoplast.  
The plywood base for the wall was made by Rob Egan, a facilities employee at Tucson Botanical Gardens and the design and finishing was created by Wesley Creigh, who has worked as a set designer for several years and is in charge of installation work at MOCA. 
"I've done fake adobe walls for plays and stuff in Styrofoam, but I haven't done anything like this," Creigh says. 
Conklin sent her examples of Burle Marx's walls and dimensions for the structure and Creigh went to work figuring out the sizes and layout of the styrofoam pieces she'd need to get the look she wanted. 
Creigh used a heavy-duty adhesive and screws to adhere the foam to the plywood and then heavy grit sanding blocks to round out the sharp edges. 
"It's going to look more like a cast or poured concrete," she said while assembling the wall last week. "We're just gonna push it further and further away from looking like what it is into looking more like something else, something that's more consistent with the materials (Burle Marx) worked with." 
Each person who's had a hand in creating the new exhibit — from the designers, to the gardeners, operations team, gift shop employees and outside partners has had to delve a bit into the world of Burle Marx, learning about his style and life, to make this tropical vision come to life in Tucson. 
Conklin, the gardens' executive director hopes that same excitement and inspiration is also felt by the visitors who come see the exhibit.
"We hope that they get so inspired they want to do gardening in their own homes or become environmentalists through the stories we tell about Roberto being one of the most avid rain forest conservationists ever." 
What: Beautiful Marvelous! Brazilian Modernism and Roberto Burle Marx
When: Exhibit runs from Jan. 25 to May 31. The gardens are open Monday, Tuesday, Wednesday and Saturday from 8:30 a.m. to 5:30 p.m. and Thursday and Friday from 8:30 a.m. to 8 p.m. 
Cost: Admission is $15 for adults; $13 for students, senior, military; $8 for children ages 4-17 and free for members and children under age 4. 
More information: The gardens will be hosting lectures, special events and family-friendly activities as part of this exhibit. Go here to learn more.