Chances are, when you hear the word jazzercise, you picture women from the 1980s dancing around in pastel leotards. 
Those ladies might now be your mom, your aunt, your grandma, so you probably associate it with workouts for an older generation.
Plus, the older ladies who ARE going to jazzercise are badasses because this class is tough.
Jazzercise has been around since 1969 and was super popular in the 80s. But it has left the 80s behind — at least the class we took did. No leotards or legwarmers. Just updated music, heart-rate spiking moves and plenty of sweat.
The hour-long workout is a fusion of hip-hop dance, kickboxing, weight lifting and pilates moves set to top-40 dance music. 
It attracts people of ALL ages. 
We (Johanna and Angela👋) tried a Dance Mixx Jazzercise class Thursday evening so we could tell you all about it. We danced, sweated and definitely felt the burn.
Some background
• Angela is a fairly active mama in her early 40s. She tries to hit the gym at least three times a week (ok, ok, it's usually like once or twice) where she runs on the treadmill, lifts weights and takes classes. She loves the post-workout zen she feels after a good sweat session.
• Johanna is in her late 20s and gets by with 20-minute workouts every morning. Don't be too impressed. She keeps her pajamas on and lunges and crunches to YouTube videos while binge-watching Netflix. Every now and then she goes for a run and remembers she hates running.
On the studio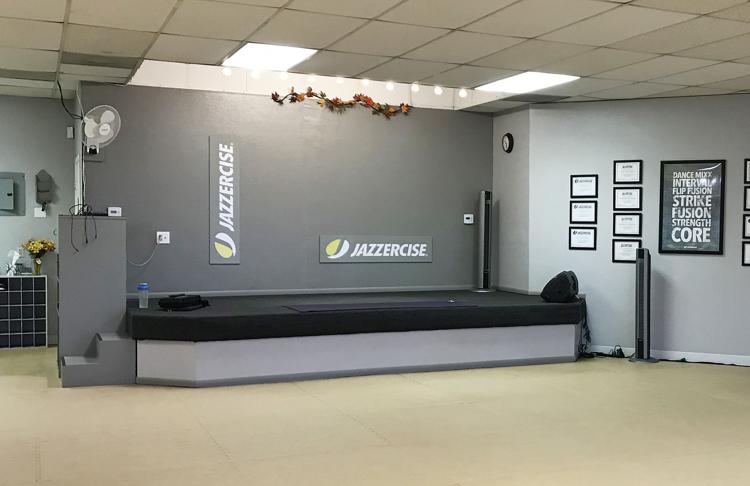 Johanna: We got to the Jazzercise Tucson Central Fitness Center late, so I was thankful for the large studio — it made it easy to find a spot. The studio is stocked with range of dumbbells and plenty of yoga mats for the strength and stretch portion of the class. As an uncoordinated dancer, I appreciated the lack of mirrors in the room. It made it easier to dance like no one (or at least myself) was watching. 
Angela: The space is clean, airy and roomy enough for a largish class. There's a stage in the front where the instructor teaches, which is nice because you can see her even if you're in the back of the class. 
Also, no judgmental mirrors!!!
On the class
Johanna: Just a few minutes into the first song, I knew I loved this. The music makes you want to dance anyway and the moves weren't so difficult that I couldn't get them down after a few repetitions — a big deal for someone lacking in grace and coordination. 
Every song had a different set of motions that our instructor walked us through and mirrored on stage. The music never stopped and neither did the movement. My heart was pounding just a few songs in, which I love. If I'm going to pay for a workout, I want it to kick my butt. 
The class was full of women ranging in age — from 20- and 30-somethings to an older woman in a wheelchair. The ladies made us feel welcome from the start, including the owner, who told us when we arrived to just pump our arms and march if we got lost and to have fun.
This was not what I expected when we signed up for a jazzercise class. I had vague notions of 80s music and corny moves. Instead, the workout was hard, the people were lovely, and we didn't do jazz hands once. 
Angela: I want you to think about everything you've ever associated with jazzercise and delete it from your mind. This is a GREAT workout. It's fun and challenging and you'll leave feeling amazing.  
I was definitely a little grouchy about going because I was tired from a long day, but it was exactly what I needed. 
I really liked the instructor, too. She was super buff, which makes me think I need to go to jazzercise more 😉. She definitely makes you work hard and keeps you motivated throughout. Don't plan on slacking in this class because she won't let you. 
Also, when we first got there, we were greeted by the owner. She was really sweet and welcoming. So were the ladies in the class. Everyone made us feel like we belonged there. It seems like a good place to meet new friends and to be part of a community. 
Would you go again?
Johanna: YES! I can seriously see myself jazzercising it up on a more regular basis. It was the kind of workout where the fun cancelled out the dripping sweat, gasping breaths and burning muscles. ❤️
Angela: Yes! I'm a fan of dancey workout classes. They're a great way to get your workout in while having fun. I seriously loved this one. 
Class details
Cost: $15 for one class or you can buy 10 classes for $120. There's a fall sale where you can start for $10 and then pay $55 a month starting in October for 12 months.