The building between Lemongrass and Moon Smoke Shop on the historic Fourth Avenue has been a lot of things over the years.
The spot, at 340 N. Fourth Ave, was once a poutine restaurant, a doughnut shop and even a marijuana-friendly art venue.
But its newest occupant is bringing something to the avenue (and Tucson) that hasn't been seen here before — a restaurant and nightclub inspired by the timelessness of the 1950s and edginess of the 1990s.
Blush Restaurant and Blush After Dark — Tucson's only vintage-inspired restaurant and nightclub — opened its doors on Aug. 18. Blush is open from 11 a.m. to 10 p.m., Tuesdays, Wednesdays and Sundays; 11 to 2 a.m. on Thursdays, Fridays and Saturdays; closed on Mondays.
"The idea for Blush and Blush After Dark was to create a space that's very nostalgic-based yet very much present-day focused on reminding people how times were, from the music to just having a great area where everyone is welcome," said owner Jonathan Homan. "It doesn't matter who you are. … Blush is kind of like stepping into a time capsule."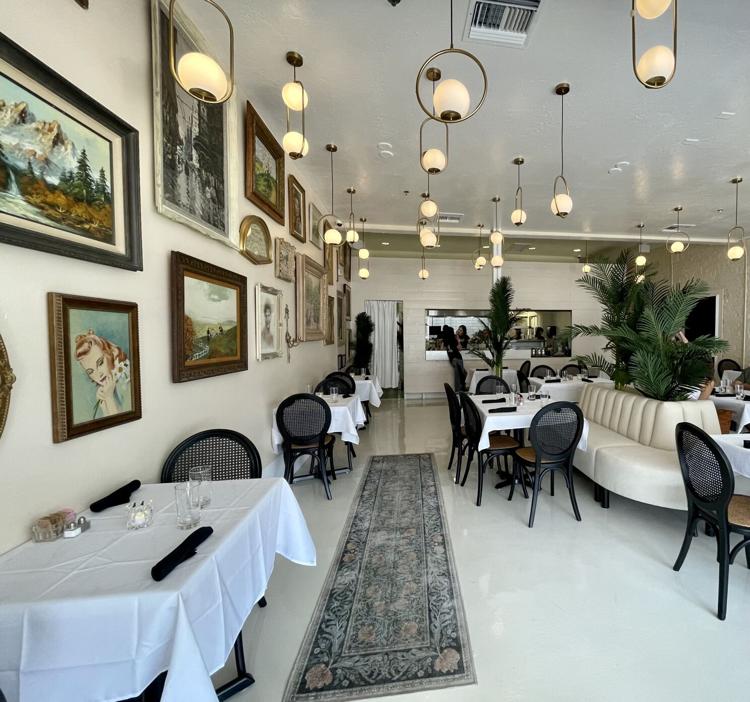 When coming up with the concept for the space, Homan had one word in mind: timeless.
You won't find red leather booths, checkerboard floors and a lunch counter like a typical 1950s-inspired diner at Blush. Instead, you'll find soft beige walls, framed paintings of landscapes and women in historical clothing and white tablecloths atop every single table in the main dining area.
As the room fills with 1950s music from the likes of Elvis Presley and Jerry Lee Lewis, it feels as if you're transported to a simpler time.
Flipping through the magazine-style menu, the 1950s inspiration is even more prominent in the food selection with choices like deviled eggs and pigs in a blanket for appetizers. Entrée choices include a club sandwich, a cheeseburger and a chopped salad topped with edible flowers — typical 1950s-style foods but with an elevated twist.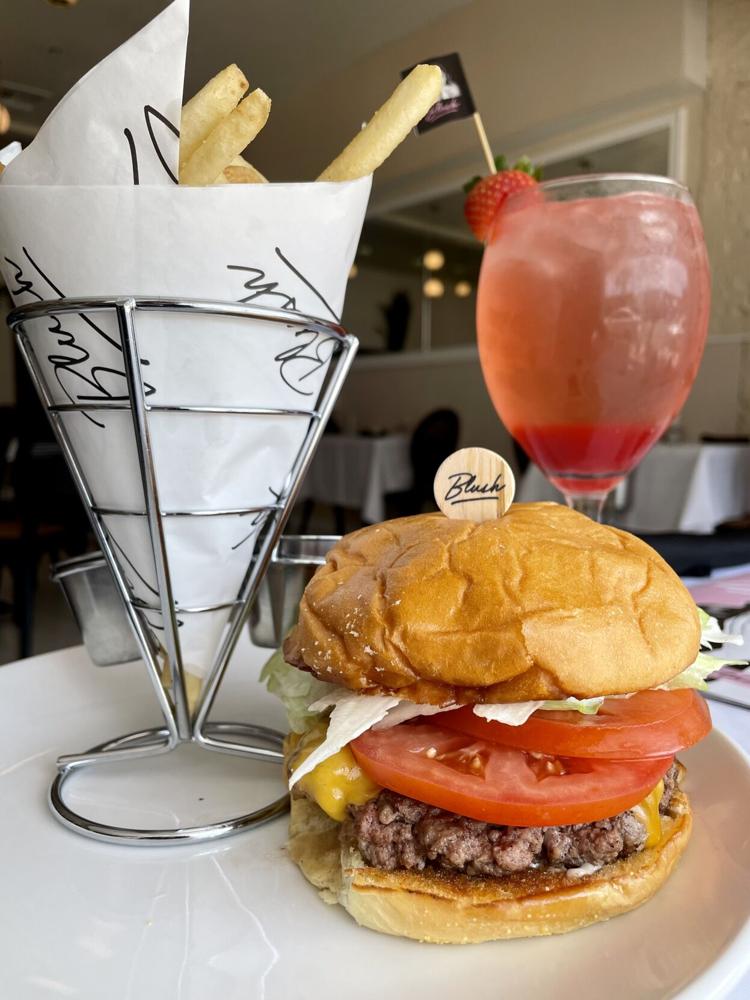 And yes, you can get an old-fashioned ice cream soda, root beer floats and Coke floats at Blush — all served in thick, vintage-inspired glasses.
For a more modern approach, they offer their take on the viral TikTok chopped grinder sandwich. 
"The best way to describe Blush is it's a vibe," Homan said. "It's (about) creating an experience in an atmosphere where if you're looking at a pie graph, 20% is the food, 20% the drinks, 20% the music, 20% the decor, 20% is customer service. So, instead of a restaurant where maybe 80% of the focus is on the food, I look at it as a lifestyle play where you can come here for a couple of hours and have amazing wine spritzers, amazing cocktails."
Down the hall, the 1950s vibes carry over into the Blush After Dark nightclub where large canvas prints of old Hollywood starlets and framed vintage Playboy magazines grace the walls.
Vibrant pink neon lights around the club's stage and bar break through the all-black interior design. 
Despite the 1950s touch, Blush After Dark has a different feel from its pastel-colored counterpart up front. The club feels like a vintage supper club but with a more edgy, modern approach.
Even the name Blush After Dark is a subtle reference to the original "Beverly Hills, 90210" where the main characters would often hang out at a vintage-inspired restaurant called the Peach Pit and its neighboring nightclub, Peach Pit After Dark, according to Homan.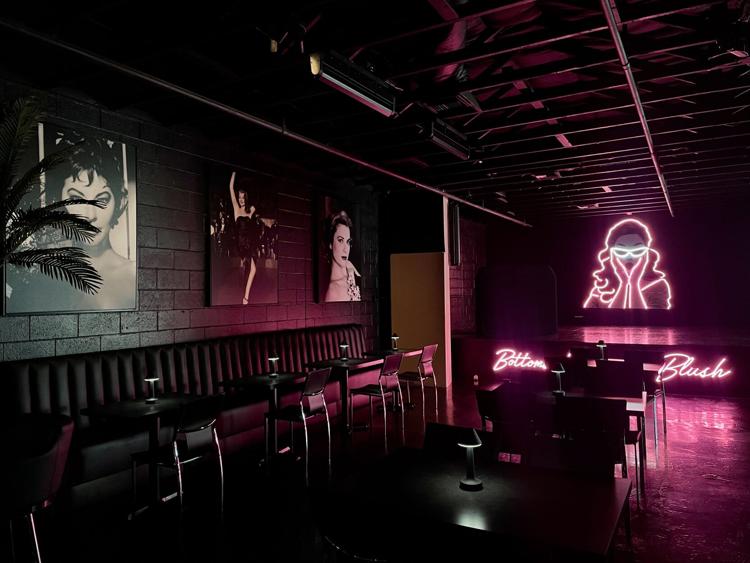 The club's bar offers signature cocktails with names inspired by '50s and '90s pop culture references such as "The Cat's Meow" a popular phrase in the 1950s and "Just A Girl" a nod to the song by No Doubt. 
In true vintage style, Blush After Dark also offers various classic cocktails that the younger generation may overlook at other clubs and bars, such as a Negroni, Vesper martini or a martini with a blue cheese stuffed olive.
"These are things that have been around forever that, to me, not many people know or maybe kids (college students) don't order," Homan said. "Getting a Vesper, which was James Bond's drink, or getting a Floradora, these are classic drinks that nobody knows to order, but they're really good. And it was like, 'Why don't we put those on the menu and show people what it's all about?'"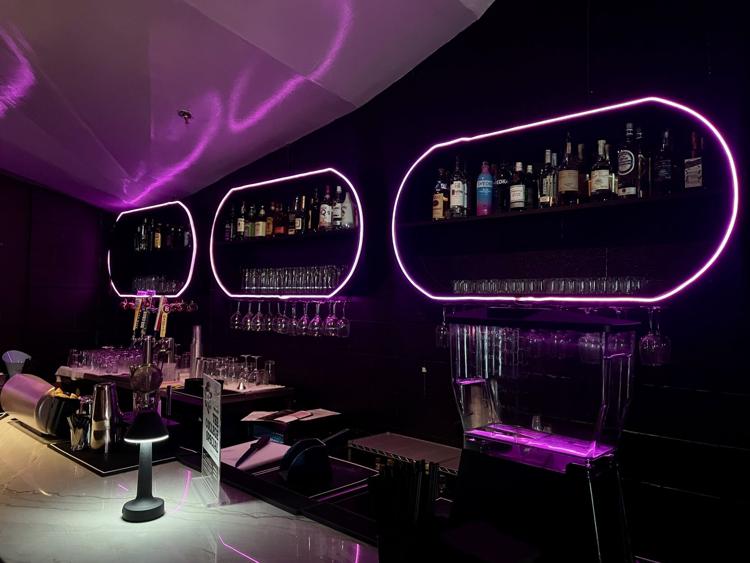 As day turns to night, the music within Blush and Blush After Dark transforms from the sweet serenades of the 1950s to the edgy snappy tunes of the early 1990s to match the darker vibes of the evening.
In addition to the music played through the space's speaker system, the club will also host DJs and other live entertainment.
"We are catered very much to the college crowd for Blush After Dark," Homan said. "When you walk back there, it's like walking into a 1950s nightclub with a modernized look. We have an amazing photo booth experience where you can share straight to your Instagram from the actual device. At the end of the day, it's just this really kind of fun, exciting nightclub."
Keeping up with Blush
Blush is Homan's stepping stone into restaurant ownership. 
The first-time restaurateur has a diverse background including 15 years of experience in the media and entertainment industry where he worked for People Magazine, Playboy and Esquire.
More recently, he worked as the vice president of sales and marketing for Kourtney Kardashian's lifestyle brand, Poosh. (Yes, that Kourtney Kardashian.)
Homan has lived in Southern Arizona for over five years, including in Douglas, where he owned a chicken ranch with 10,000 hens, he said. The California native first came to Tucson in the  mid-2000s to complete his undergraduate and graduate degrees at the University of Arizona.
Since his move back to Southern Arizona, Homan has found a passion for preserving historical homes which helped fuel his inspiration for Blush.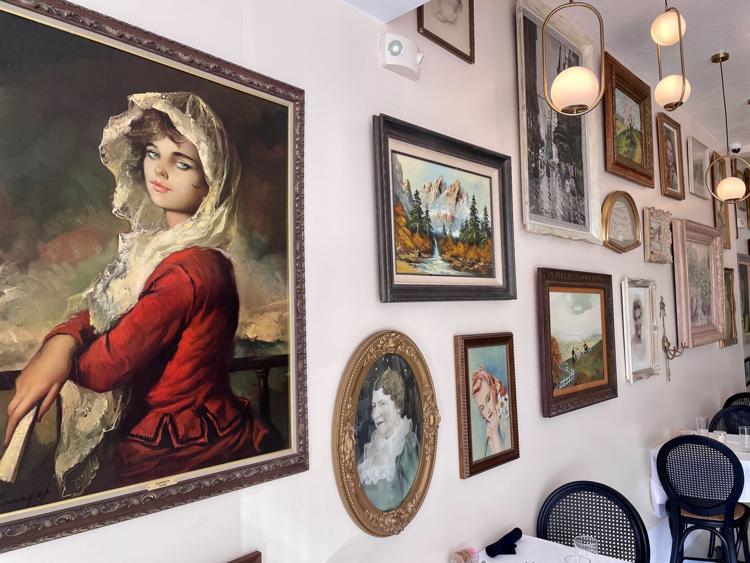 "I've done a lot and I don't know what the next thing would be after a restaurant or a nightclub," he said. "And here we are trying it. So, I've been in agriculture and commodity sales and media work for the Kardashians. I reported to Kris Jenner and now I'm in hospitality and trying to run a kitchen which has proven to be very difficult. So now I bow down to all restaurateurs. No joke I'm like, 'Wow, it's a beast.'"
Homan says a lot of the inspiration for the '50s-'90s hybrid approach comes from '90s movies that were influenced by '50s fashion such as "Jawbreaker," "Cry-baby" and "Romy and Michele's High School Reunion."
"(In these movies) all the outfits they're wearing are leather jackets and cherry earrings (and ascots) and all that was a lot of '50s inspiration," he said. "Now when you go back and look, you'll notice they drive vintage cars from the '50s. So it's similar to how we now love the '90s and in the '90s they loved the '50s because it was 20, 30 years prior."
Homan developed the idea for Blush around a year ago, initially as a wine bar, but then decided to go all in when he found the space on Fourth Avenue.
"I found this space and I was like, 'You know what? Why don't I just go in and put caution to the wind and just go crazy?' I was already risking a lot of money," he said. "But I felt Fourth Avenue needed something a little more on the higher end of experience. … Really we just need something a little different on this avenue."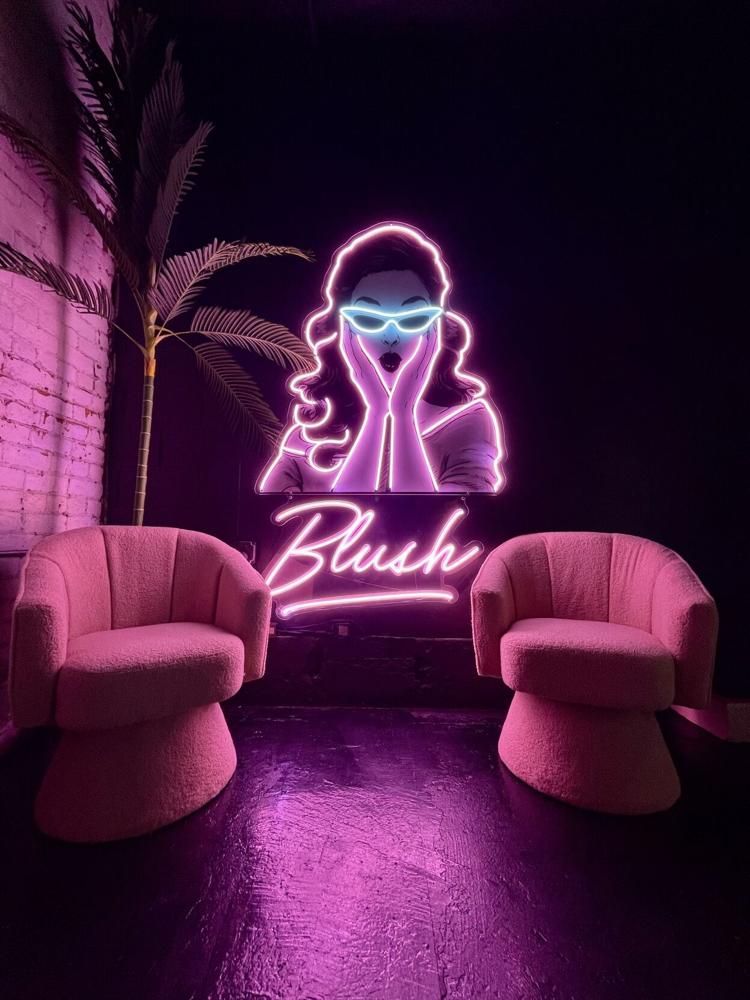 After signing the lease in mid-May, Homan spent the last two months fully renovating the space into the vintage-inspired hub it is today — a space he hopes he can bring to other places outside of Tucson.
Eventually, Homan wants to expand Blush's market into the Phoenix area, possibly making it an Arizona and college town staple.
"I want something that we can all sit around and have a good time and not feel like anyone's left out or that we're catering to one certain demographic," he said. "That's what I've kind of created with Blush. I just want everyone to have a good time. No matter what or who they are, everyone's welcome. We all get along. We can all cheers, you know what I mean? That's how I look at it."