The prevalence of marigolds, and images of calaveras and sugar skulls means that Día de los Muertos, an annual celebration of life and death, is drawing near. 
Día de los Muertos, or Day of the Dead, is a joyful Mexican tradition celebrated annually Oct. 31 through Nov. 2, but local events start as early as this weekend. 
During Día de los Muertos, celebrants welcome back the spirits of loved ones who have died, by gathering to share memories, decorating and cleaning grave sites and building altars or ofrendas with photographs, mementos and food to offer the spirits. 
While COVID-19 safety precautions have halted large group gatherings, there are still ways to learn about this celebration and join the festivities at smaller community events and from home.
---
Presidio Museum Día de los Muertos Ofrenda Exhibition and community events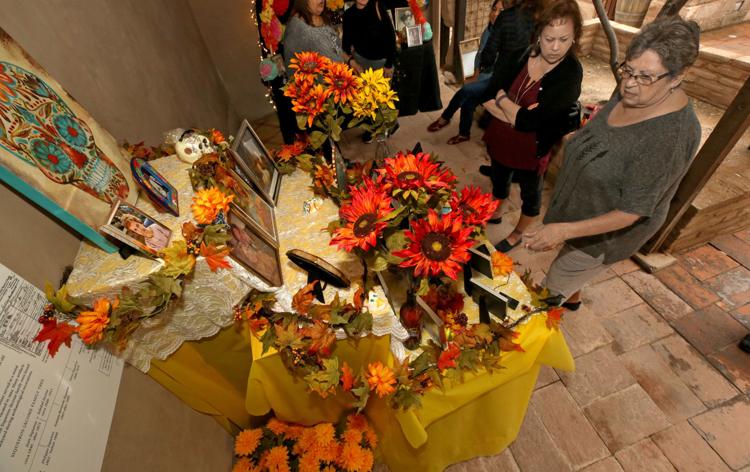 What: The Presidio Museum in Downtown Tucson is hosting its annual ofrenda exhibition, offering the community a chance to create an altar for a loved one or view the altars during a visit to the museum. For those wishing to build an altar, applications are accepted until Saturday, October 25. The public can also add their own photographs or mementos to contribute to ofrendas created by the museum honoring COVID-19 victims, veterans, former Pima County Supervisor Richard Elias and pets. Offerings can be dropped off at the museum, placed on the ofrendas during a visit or mailed to Kate Avalos, 196 N. Court Ave., Tucson, AZ. Avalos recommends contributing copies of photos and items that are irreplaceable instead of originals. If you would like your items returned be sure to leave your name and contact information when you send or drop off your item. Most of the ofrendas will be displayed outdoors under the museum's porch and will be available for viewing starting Oct. 29.  
On Saturday, Oct. 24, the museum is hosting its monthly Family Adventure Fourth Saturday event that will have a Día de los Muertos theme from 10 a.m. to 1 p.m. The event is geared toward families with children ages 4-7, but everyone is welcome. Kids can paint paper calavera masks, receive a goodie bag and come in costume.  
The museum is also hosting a Calavera and Craft Day celebration on Sunday, Nov. 8 from 10 a.m. to 4 p.m. with activities that include paper mask making and tinsmithing a ornament. This is the last chance to view the altars. 
When: Altars will be on display from Oct. 29-Nov. 8 during the museum's operating hours, 10 a.m. to 4 p.m., Thursday-Sunday. 
Where: Presidio San Agustín del Tucson Museum, 196 N. Court Ave. 
Cost: Admission to the museum is $5 for adults; $1 for children ages 6-13; children 5 and under are free. 
More info: Find more details about the exhibition and events and apply to build your own ofrenda on the Presidio Museum's website
---
Pascua Yaqui Paper Flower Making virtual tutorial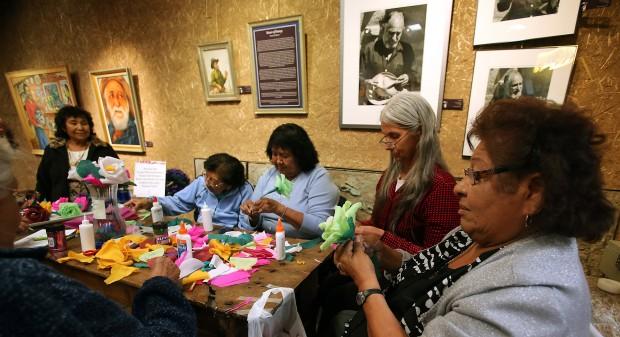 What: Pascua Yaqui traditional artists will be leading a virtual workshop on how to make paper flowers commonly used in Pascua Yaqui celebrations, memorials, fiestas, altars and Day of the Dead wreaths as part of the Tucson Meet Yourself festivities. 
When: Tuesday, Oct. 27 at 1 p.m.
Where: View the workshop live on Tucson Meet Yourself's website, or see the recording later here. 
Cost: Free
More info: Find more information about this workshop on the Tucson Meet Yourself event page.  
---
Día de los Muertos Paint Nite Fundraiser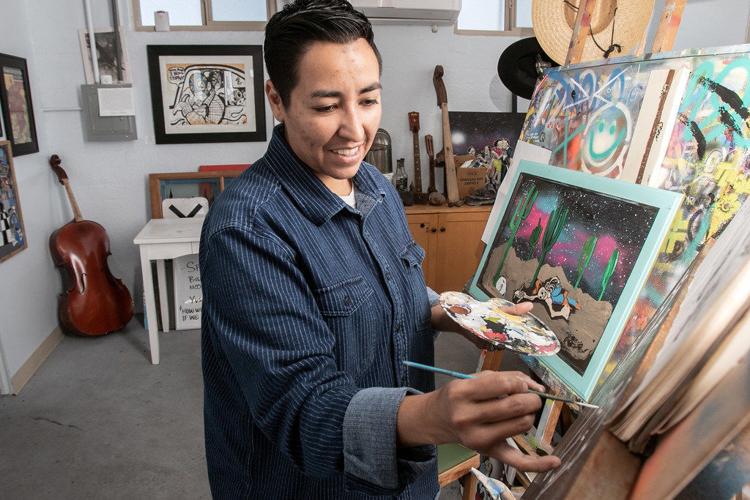 What: The University of Arizona student group, MEChA, and Galeria Mitotera are hosting a virtual paint night to raise funds for the Colibrí Center for Human Rights, an organization that works to identify migrants who have died on the border and to help research cases of missing migrants. Artist Melo Dominguez will lead a Día de los Muertos inspired painting tutorial on Facebook Live. 
When: Thursday, Oct. 29 at 6 p.m. 
Where: Facebook Live 
Cost: $40, includes pre-sketched canvas, paint and paint brushes. 
More info: Register online on Galeria Mitotera's website by Friday, Oct. 23 to order a paint kit. Galeria Mitotera is hosting a separate, virtual Muerto Barbie Craft Nite where participants can DIY a sugar skull Barbie on Oct. 23, however very few spots are still available. 
---
La Calavera Catrina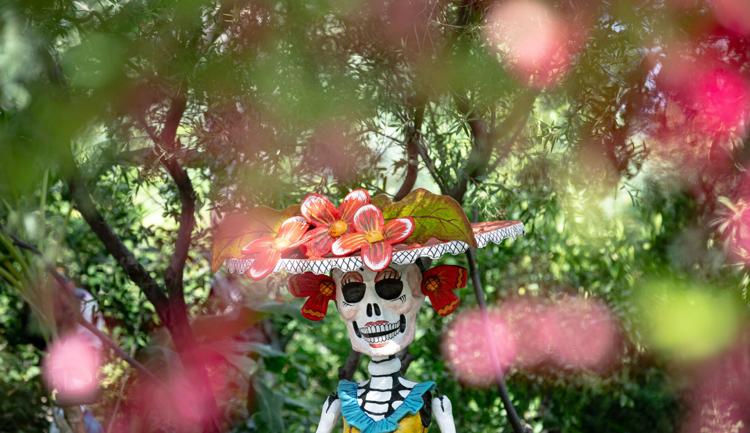 What: La Catrina, is one of the most iconic images associated with Día de los Muertos and los Angeles-based artist Ricardo Soltero has created towering Catrina sculptures each inspired by a different figure in Mexican culture as part of the exhibition La Calavera Catrina currently on display at the Tucson Botanical Gardens. You can visit the exhibit during the day or by night when the gardens are illuminated with colorful LED lights. A community ofrenda is on display where visitors can write a note for a loved one, or bring a memento or photograph to add to the altar. A giant tree made of potted marigolds, a traditional Día de los Muertos flower, is also part of the exhibit. 
When: The Tucson Botanical Gardens is open daily, 8:30 a.m. to 4:30 p.m. and Thursday-Sunday, 6-9 p.m. Tickets are sold for specific time blocks within those hours. The exhibit is on display through Nov. 29. 
Cost: $15 for adults; $8 for children ages 4-17; free for children under 4
---
Día de los Muertos livestream concert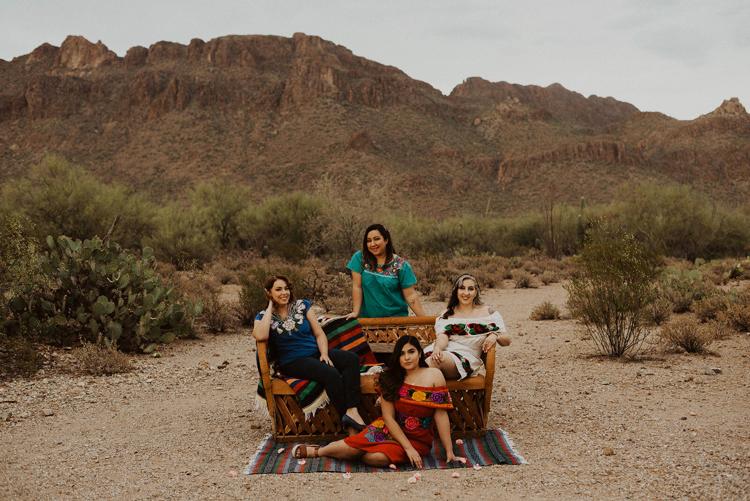 What: Las Azaleas, a new local all-female Latin music group, is hosting an intimate, outdoor concert to celebrate Día de los Muertos. Tickets to attend the event in person have sold out, but the concert will also be livestreamed on the group's YouTube channel. 
When: Sunday, Nov. 1, 6 p.m. 
Where: Sosa-Carrillo House, 151 S. Granada Ave. or livestreaming on Las Azaleas' YouTube page. 
Cost: Free livestream.
More info: Visit Las Azaleas' website for more information.