Melissa Mercilliott loves vending at local artisan markets. She meets new people, she shares her art, she plays tour guide to Tucson.
"I like seeing the people. I like seeing the connection," she says.
But that connection isn't limited to markets and pop-ups — she also sees it at Libra & Thorn, the metaphysical art shop she opened in August.
Mercilliott calls herself an art cheerleader and she's a die-hard fan of Tucson. While living in Alabama, her husband was offered a job here. They took a trip to Tucson for a mere 72 hours to see if this was the city for them.
"We went to El Charro three times, both Saguaro National Parks," she says. "We went halfway up Mount Lemmon, we did San Xavier. We were standing in front of San Xavier when we decided to move. I was like, I belong here."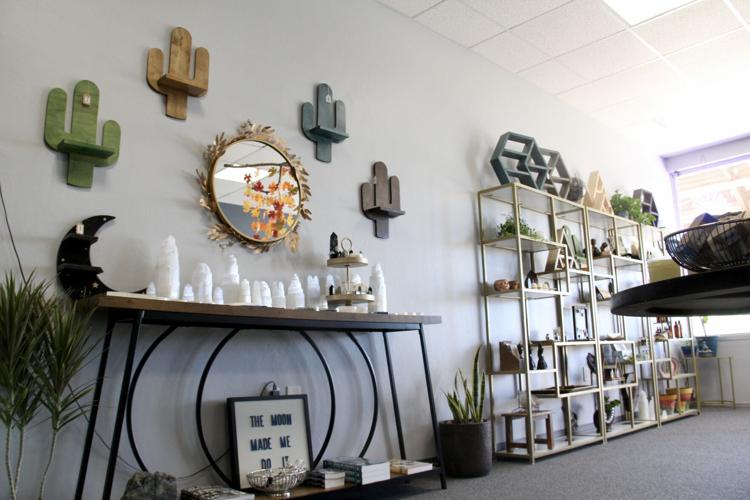 In the last couple of years, Tucson has seen an explosion of artisan markets and maker-owned shops chock full of goods made by artists around the city. Mercilliott says Tucson is a craft center, made possible by the creatives who live here.
"Someone said, it's so nice that you're supporting each other," Mercilliott recalls. "But the thing is, we all did craft fairs together — Torrie from Monsoon Mystics, Lulu from Yolia Botanica. We did a market at The Tuxon and it was all three of us in a row.
"If I can support other makers, if we can keep that growing and building, I want that," she says. "I want the arts to be visible and I want art to be local. You don't have to go to a craft fair and hunt it down, you can just find one of these shops."
Tucson is home to the OG maker shops we know and love — Pop Cycle, Creative Kind, Why I Love Where I Live, Galeria Mitotera and El Be Goods, to name a handful. But here are 10 local shops that have opened in the last two years — all of which are run by makers themselves.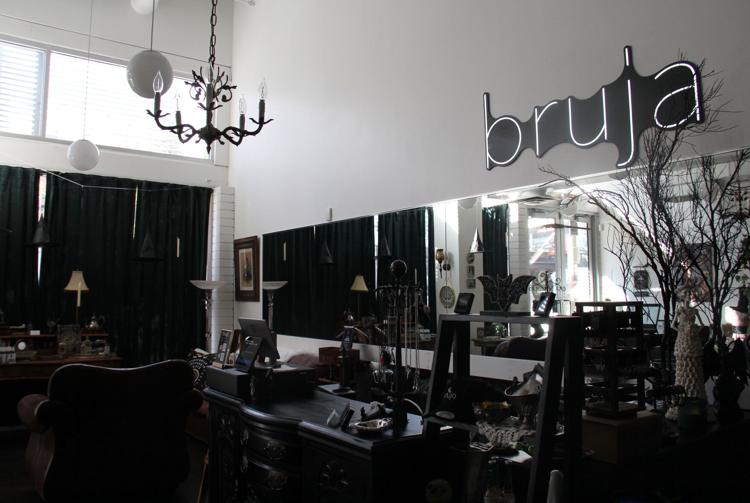 Bruja
Bruja — witch in Spanish — is Tucson's latest metaphysical store, but owner Lori Martinez doesn't want it to be known as just that. 
The store made its debut on Friday, Oct. 13. It's decorated with gothic Victorian-inspired decor, complete with floating witch hats and vintage furniture. When you walk in, you'll hear haunting music a la "Edward Scissorhands" and "Harry Potter."
The shop recently posted a meme that sums up the vibe: "Why be Barbie and Ken when you can be Morticia and Gomez?" 
With the help of her husband, Martinez makes tiny bottles of oils with labels like "let me go!" and "karma's a b—ch." The couple also makes powders with juniper and black salt, and they curate bruja boxes that center manifestation and clearing negative energy. The in-house namesake brand of candles and soap bars are made by Martinez's friend who lives in Benson.
Also on the lineup: tumbled stones, smudge sticks and skin-care products made by two local creatives. Martinez hopes to eventually feature more local makers, helping them promote their own shops along the way.
Hours: 11 a.m. to 5 p.m. Thursday, Saturday; 11 a.m. to 7 p.m. Friday; 11 a.m. to 4 p.m. Sunday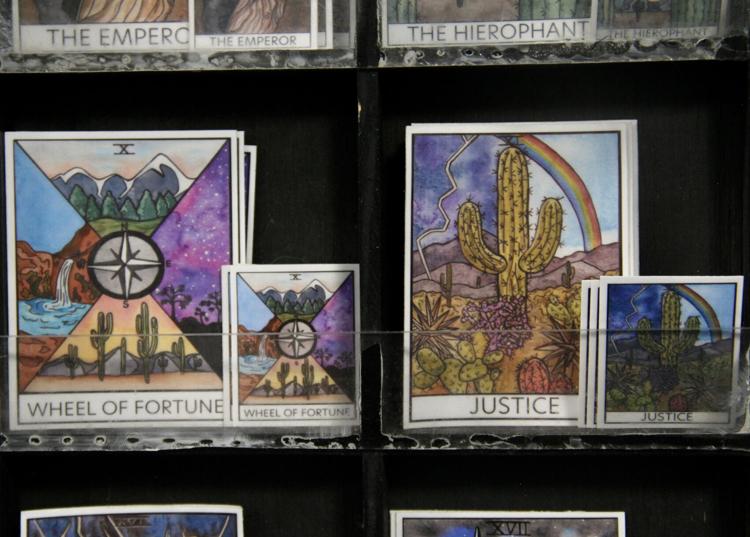 Libra & Thorn
If something doesn't exist, Melissa Mercilliott will make it.
When she couldn't find desert-themed tarot cards, she made them. When she couldn't find the perfect saguaro-shaped shelves to hold her crystals, she drew out a model on a cardboard box and her husband built them. When a metaphysical shop didn't exist on the east side, she opened one.
Libra & Thorn is home to crystals, essential oils, herbs, soaps, smudge sticks and Mount Lemmon scavenger boards all made by local makers. Mercilliott makes her own desert-themed tarot cards and stickers; she hand-paints planters. The shop also hosts events like floral crown workshops and tarot readings. 
Before popping up at artisan markets and starting Libra & Thorn, Mercilliott was an art teacher — but she wasn't feeling supported.
"I love art and I love helping people and teaching — I just felt like I was losing what I loved about it," she says.
She started vending at craft fairs under the name Two Deserts (the Sonoran Desert where she lives now and the Mohave Desert in Southern California where she grew up). She first sold stickers and cards when Bookmans took notice and began selling them in their stores.
"I'm a very shy and introverted person but I like the craft fairs and seeing people get excited about it," she says. "People see things like the pots and say, 'I can make that' and the art teacher in me is like, 'Yes, you can!' It makes me happy."
More than anything, Mercilliott is a big lover of Tucson. The desert is her inspiration.
"I love when I go somewhere and everyone has their phones out, taking pictures of the sunset," she says. "Think about monsoon season. It rains and everybody runs outside. It's not just this brown boring desert. I want people to see it as beautiful as it is. I want people to see it the way I do."
Hours: 10 a.m. to 6 p.m. Tuesday-Wednesday; 11 a.m. to 7 p.m. Thursday-Friday; 9 a.m. to 7 p.m. Saturday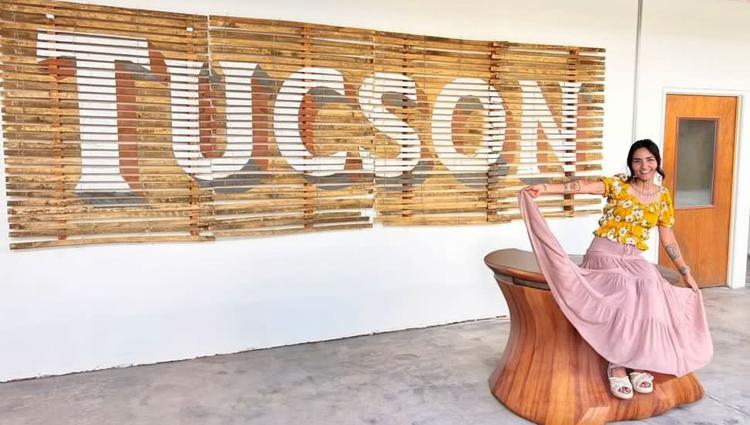 Yolia Botanica
After experiencing a series of hardships and lots of adversity, Lulu Tineo of Yolia Botanica dove headfirst into the world of spiritual and energetic healing.
She now handcrafts floral bundles, bath and body oils made with everyone's favorite creosote, multi-purpose home and energy cleaners and gemstone jewelry. She turned her business into a brick-and-mortar over the summer. 
"It's transformed a lot," she said in July. "It started off as one thing and then it just evolved into me finding my purpose and finding a meaning and a sense of belonging in a community that has felt the same way that I have." 
While Tineo hopes to one day move into a bigger space to provide larger hands-on healing practices, the ultimate goal behind the shop is to help people connect with their roots and culture, providing a sense of belonging to anyone who steps inside. 
Hours: 11 a.m. to 6 p.m. Wednesday-Saturday; Noon to 4 p.m. Sunday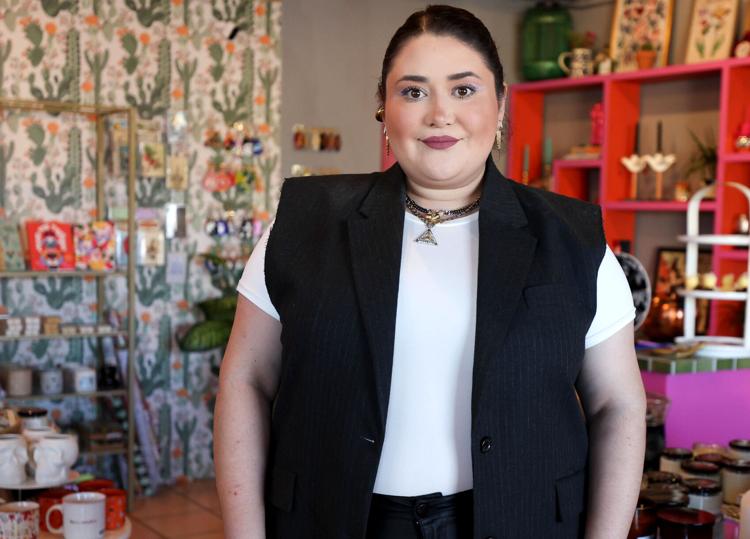 Di Luna Candles + Goods
Maria Jose Cortes, the maker behind Di Luna Candles, is known for her large (and beautifully decorated) candles scented like birthday cake and cafecito. In June, she opened a shop that not only sells her candles but also gift items from makers in Tucson and beyond.
You'll find dainty jewelry, novelty slippers and bottle openers shaped like cowboy boots. There are cactus-embroidered hats, millennial-themed lotería and funky candlestick holders. This story wouldn't be complete without the mention of Di Luna's hot-pink fireplace filled with disco balls.
Di Luna frequently hosts workshops where she teaches the community how to make candles and other crafts. She also hosts bilingual book clubs and offers the space to other makers, where they teach attendees how to make sunsets out of cake frosting or how to craft the perfect earring with polymer clay. Every weekend, Cortes also hosts Di Luna Saturdays where you'll find a handful of pop-ups selling everything from coffee to macrame. 
"I hope it's a space where everybody feels welcome and invited," Cortes said earlier this year.
Hours: 9 a.m. to 5 p.m. Monday-Friday; 10 a.m. to 5 p.m. Saturday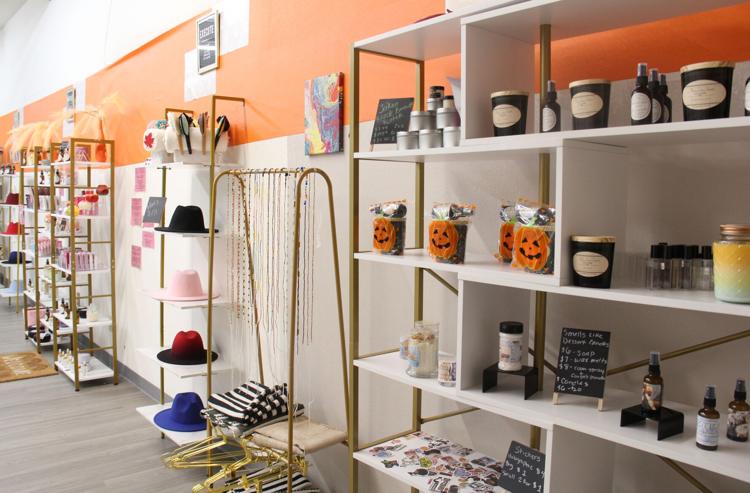 PureLotus Scents
PureLotus Scents opened its midtown shop just before summer hit. When you walk in, you're greeted with an orange balloon arch and a wall of scribbles answering a prompt to write down something amazing. 
The store is home to several shelves of creations made by about 10 other small businesses — cosmetics, waist beads, dessert-shaped candles, door mats and even Disney-inspired ears. But the first shelf shows off the work of owner Rachelle Faniel, who makes small and large candles in scents like orange dream, apple pie and vanilla spice, along with car sprays, body mists and body oils that smell like peppermint, rose, pineapple and teakwood. 
"Creating extraordinary scents for extraordinary individuals" is the PureLotus slogan.
The center of the brick-and-mortar is dedicated to workshops, which are something the shop tries to host nearly every weekend, teaching the community things like the art of candle-making and how to make body oils.
Hours: 1-6 p.m. Tuesday-Saturday; noon to 4 p.m. Sunday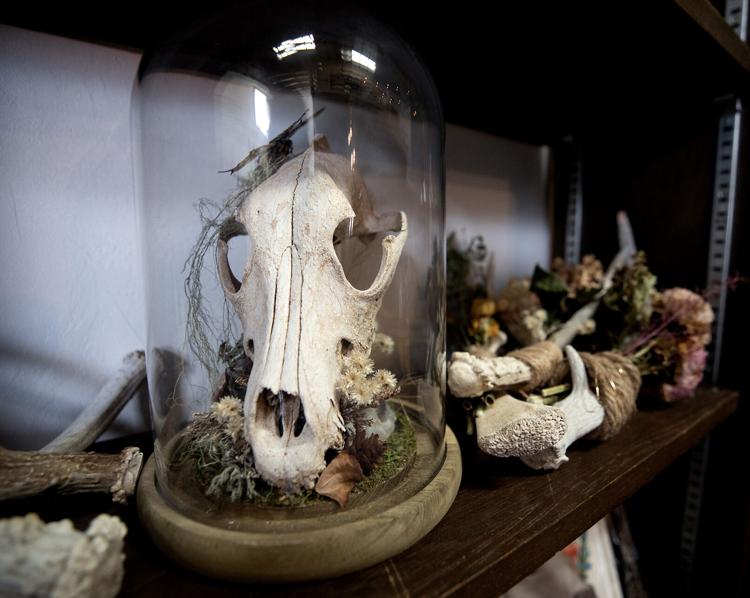 The Heathenry 
Some may call The Heathenry an oddities shop, but owners Alex Wolfe and Karolina Olivia prefer the term "curiosities."
The shop is built around their love for nature. It's where you'll find decorated taxidermy, frog-shaped shelf decor, zany stickers and earrings painted to look like moths. One of The Heathenry's most recognizable items are their glass domes filled with preserved skulls and dried plants. The shop is also part tattoo studio. 
"The foundation of The Heathenry is really a place for appreciating the beauty of nature, both in life and in death," Wolfe said earlier this year. "I'm a big advocate for respecting the natural process of life and death and finding beauty in that process. And honestly, I think my collecting of dead things was part of my own processing of that whole experience of like, 'Wow, things die, and we all die.' But it comes back new and beautiful and there's still so much to appreciate about it."
Like other shops on this list, The Heathenry frequently hosts events including markets, socials and workshops. 
Hours: Noon to 5 p.m. Friday-Sunday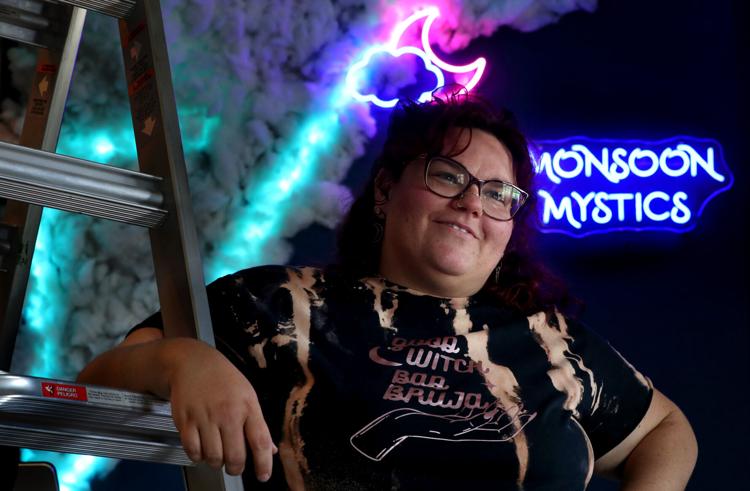 Monsoon Mystics
Just before The Heathenry opened its brick-and-mortar, witchy shop Monsoon Mystics had moved in next door. It's where you'll find white fluff shaped into clouds on the walls and a "Wizard of Oz"-like curtain leading to a small room for tarot readings. 
The shop recently expanded, allowing more space for workshops and get-togethers. 
The mystical store is courtesy Torrie Dueñas, who is also known at local markets as Desert Mystic Goods. She handcrafts spiritual items from plant-based skin-care products and intention candles to monsoon bath bombs and moon spell mists. Monsoon Mystics also carries items from other makers in the community and she hopes the shop is an inclusive, welcoming space for anyone who walks through the doors.
"This isn't just a place to make money," Dueñas said in spring. "This is the place to forge relationships and create bonds and to broaden people's perspectives on what community can be and how we can better help each other and ourselves at the same time."
Hours: 1-6 p.m. Monday, Thursday-Friday; 11 a.m. to 7 p.m. Saturday; 11 a.m. to 5 p.m. Sunday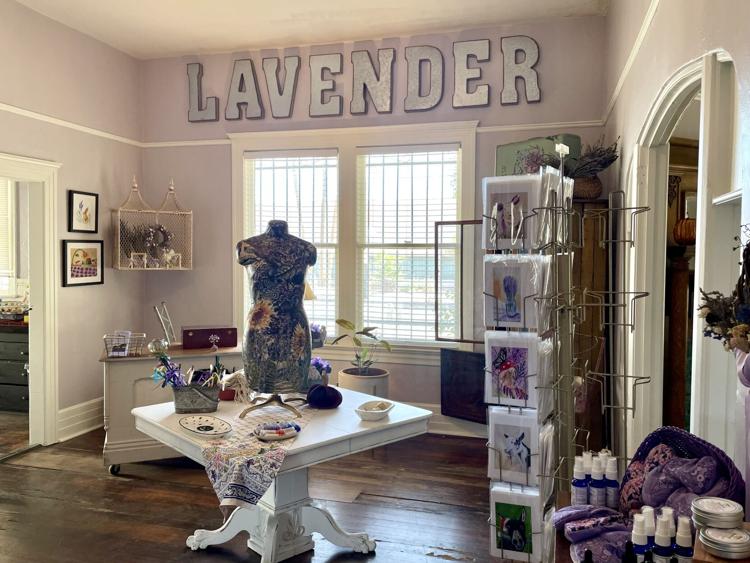 The Lavender Manor 
Carolyn Blair was in awe of the lavender fields in Washington State when she purchased nearly 3,000 lavender plants of her own. She's the owner of the Life Under the Oaks Lavender Farm in the tiny town of Oracle, just north of Tucson.
Last year, she made her way south, opening The Lavender Manor on our beloved Fourth Avenue. The shop sells soaps, lotions, lip balms and essential oils all infused with lavender from the farm. Blair is also an artist herself, selling paintings, cards, wreaths and lavender cornhusk dolls. 
"People are always asking, 'When are you going to have product in Tucson?' and 'We wish you were closer' and that kind of thing," Blair said last fall.
The Lavender Manor also hosts lavender-centric events from teas to workshops.
Hours: 11 a.m. to 5 p.m. Thursday-Saturday; 11 a.m. to 4 p.m. Sunday 
Arizona Poppy
Rosie Crocker opened Arizona Poppy more than a year ago, bringing '70s vibes and creations from more than five dozen makers to a space that was once home to a yoga studio.
The shop transports you into a haven of plants, colorful walls and a disco ball hanging in the center. You'll find disco tiles shaped into twirling saguaros, an endless supply of stickers, colorfully tinted dinnerware, the funkiest of earrings and hair claw clips shaped like seahorses and fruit. 
Arizona Poppy also serves as the studio for Crocker's Sonoran Rosie Herbal, which is home to monsoon-scented diffusers, hair and face oils, natural deodorant and cactus-shaped soap. Crocker also holds workshops in the space, like a popular one on bundling creosote. 
"I've always been so inspired by the local community and not just inspired but (also) believed in it," Crocker said last year. "I feel like that's where we all should focus our energy and time — is the local community."
Hours: Noon to 6 p.m. Wednesday-Saturday; 11 a.m. to 4 p.m. Sunday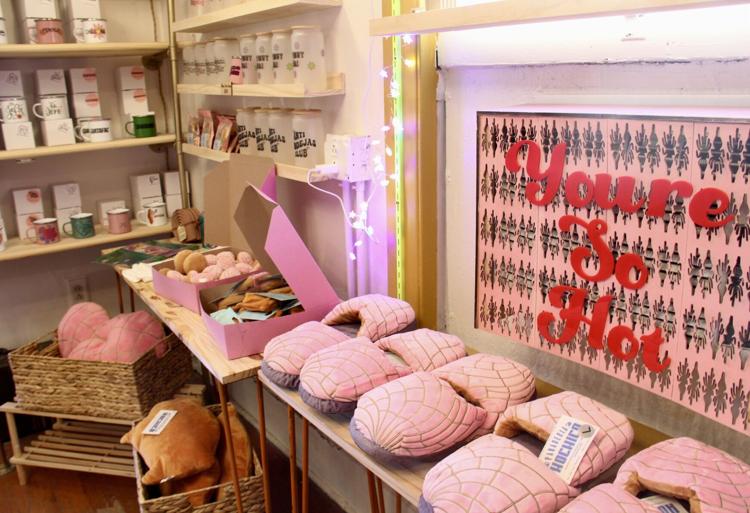 Hola Chingona
Hola Chingona is about to turn 2. The shop is truly the embodiment of good vibes, triggered by items with a Chicana flare.
A "te calmas o te calmo" sign hangs above the shop's archway, penned appropriately with a hand holding a chancla. There's a candle that smells like Fabuloso, slippers shaped like conchas, lip balm scented like horchata and cards with NSFW humor. 
The shop is owned by Maria Iturralde who decorates reusable cups (one says "cafecito y chisme") and handcrafts earrings and bolo ties. She recently brought back her Crafty AF Club, teaching crafts like piñatas and flower crowns for Día de los Muertos. 
The shop's name is written prominently on the door, along with a definition: "Chingona: a mujer who is intelligent, fearless and can get things done. Also see 'boss' or 'badass.'"
Iturralde loves when she can hear customers' laughter while scanning the shop.
"It's the laughter of good memories of their moms, of their tías, of their nanas, of their childhood," Iturralde said last year. "I'll be back there just laughing at other people laughing because laughter is so contagious. A few people have said that they felt seen or that they felt like this place was for them. (That) now is pushing me even more to make it more special for everybody where initially it was just to find a space for myself."
Hours: 11 a.m. to 6 p.m. Wednesday-Sunday