A local youth organization is tackling one of the most common pandemic-related issues — senior isolation and loneliness — through the power of music.
Notes of Hope Youth, a Southern Arizona organization founded and operated by teens, hosts monthly virtual and in-person music recitals at local senior-care homes and assisted living facilities across Tucson. The organization was founded in the winter of 2019 by sisters April and Hannah Zhang.
After a year of virtual recitals, the organization has returned to in-person recitals with a full schedule ahead for this fall, including Saturday, Nov. 20 at Fairwinds - Desert Point and Saturday, Dec. 11 at Amber Lights.
Before creating the organization, the sisters often volunteered at the Brookdale Oro Valley assisted living facility to play the piano and violin for the elderly residents on site.
"While we were going around our community, we realized that many of the seniors were lacking interaction and stimuli. And we thought it would be a good way to, you know, incorporate what we love doing, which is playing music and giving back to our community," said Hannah.
Once the pandemic struck, the lack of interaction and the feeling of isolation in the elderly community only continued to rise due to COVID-19 protocols that prevented visitors to senior homes.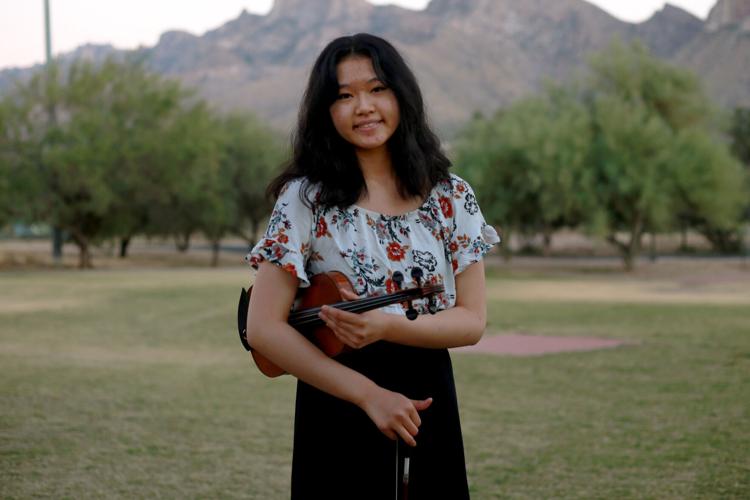 But when Notes of Hope Youth fell under the reign of co-founder Hannah Zhang after her sister April left Arizona to attend the University of California, Berkeley, she was determined to continue bringing music and joy to Tucson's elderly community.
Since the 17-year-old junior at Basis Oro Valley took the lead of the organization, Notes of Hope Youth has grown to 10 members, created its own YouTube channel that has over 1,000 subscribers and has collaborated with other local organizations such as Groundworks Tucson.
Hannah even coded the Notes of Hope Youth website all by herself.
The group features talented pianists, violinists, guitarists and singers from Basis Oro Valley and other schools like Ironwood Ridge High School that cover popular songs from Hans Zimmer, John Williams, Louis Armstrong and even recent tunes by Billie Eilish. 
"As long as we know that you're capable of playing, we want to incorporate musicians of all ages and all skill levels. We really wanted to make it pretty open to everyone. And you know, as long as you're passionate about your music, that's what we're looking for," Hannah said.
Many of the musicians in the organization said that participating in the monthly music recitals has helped them overcome their fears and anxieties about performing live.
Julianna Schrader, a 17-year-old pianist, said that the group is constantly elevating each other's spirits.
"Nobody's like, 'Oh, I think you could have done it better this way.' We just focus on what's good," she said.
One of the youngest members of the organization, 14-year-old pianist Jaden Wu, said that after performing, he enjoys sitting with the audience and listening to the other musicians play the pieces that they have worked so hard on. 
After the performances, the seniors will often chat with the musicians, which Jaden called "really sweet and really cool."
Overall, the responses from the senior community have been positive. Many of the musicians have received praises from senior members of the audience and Hannah has even received a heartwarming letter from a viewer of one of their live performances.
The letter, she said, included the following warm sentiment: "I must thank you and your sister for moving me to tears with your beautiful music and your passion for playing it." The writer then went on to include a famous quote from Plato, stating, "Music gives a soul to the universe, wings to the mind, flight to the imagination, and life to everything."
If you haven't heard of Notes of Hope Youth before, it may be because they had a different name until last year. They used to go by "Lighting Up Lives" until they were told that another organization had already taken the name. 
The inspiration behind the new name came from the "hope that music can bring everyone together," Hannah said.
Eventually, the group would like to expand from exclusively playing at senior-care facilities to playing for people of all ages across Tucson. Some members hope to collaborate with the Tucson Symphony Orchestra or put on a show at the Tucson Symphony Center.
As Hannah prepares to leave for college in a couple of years, she wants Notes of Hope Youth to be handed down to the group's younger members so the organization can continue to live on in Southern Arizona.
"The children of today are the activists of tomorrow and our hope for the future," she said. "So having the main focus of this organization be youth who are passionate about changing the world through their music plays a big role in our hope for the future."
For more information about Notes of Hope Youth or to join the organization, visit notesofhopeyouth.org.