Some people think of a cute, roly-poly critter when they say hedgehog. 
But not us. 
When you say hedgehog, we think cactus. 🦔🌵
And the echinocereus apachensis, or Apache hedgehog cactus, is blooming right now and can continue doing so all the way until May, says Adam Farrell-Wortman, the horticulture manager for the Tucson Botanical Gardens. 
Oh how we love spring in the desert. 
As you go hedgehog cactus hunting, here are a few things to consider. 
They can take the heat  
It's not that echinocereus apachensis looovveess those sky-high desert temps — it just knows how to deal with them.
That's why you're more likely to spot this particular variety of hedgehog cactus in the lowest, hottest parts of the desert, although it has a wide range and can go all the way into the desert scrub, Farrell-Wortman says.
"Most of the hiking that people do around town tends to be on the edges of the mountains, and then they go up," Farrell-Wortman  says. "Rarely do people hike through the desert valley floor. ... You would really see these in those areas where you don't go hiking — in the low desert, in the cholla and prickly pear zone."
They're showy little guys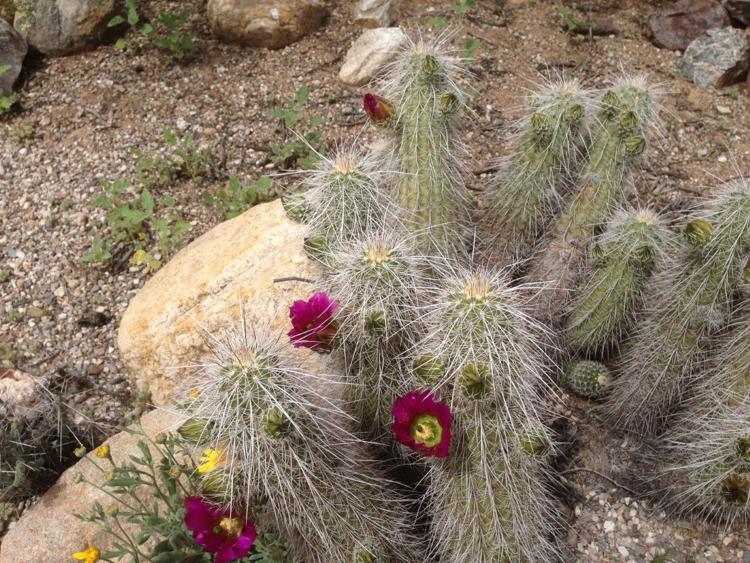 Like we already mentioned, this particular hedgehog blooms with magenta flowers near the top of the stem. Then they start producing red to orange fruits, Farrell-Wortman says.
Echinocereus apachensis grows in clusters of stems all clumped together — in a hedgehog-ish shape. These bunches can range from five to 30 stems, and the big ones can grow a foot or more tall. It also has long, bendy spines. 
They possibly aren't a unique species
The common name hedgehog cactus actually describes multiple species. 
"The echinocereus genus is sort of still up in the air right now," Farrell-Wortman says. "They're still sorting things out. So (echinocereus apachensis) used to be considered a stand alone species, but now they're saying it's a variety, like a hybrid" of another species — possibly echinocereus bonkerae.
Whoever you are, little cactus, we think you're pretty cute. 
Source: "Field Guide to Cacti and Other Succulents of Arizona" by Peter Breslin, Rob Romero, Greg Starr and Vonn Watkins.