With the glow of a neon purple sign bearing the Mjnailz Academy motto — "do epic nails" at their backs — last week five young women sat in silence at their nail stations awaiting their next set of instructions from Miranda Richardson, the owner of Tucson's only dedicated nail technician school which opened last fall.
Richardson was leading her latest group of students, who will complete the program next week, through a mock exam to help prepare them for state board exams to earn their licenses.
The exam includes a written portion and a seven-part practical exam which tests their knowledge on a variety of topics including safety and sanitation procedures and different nail techniques.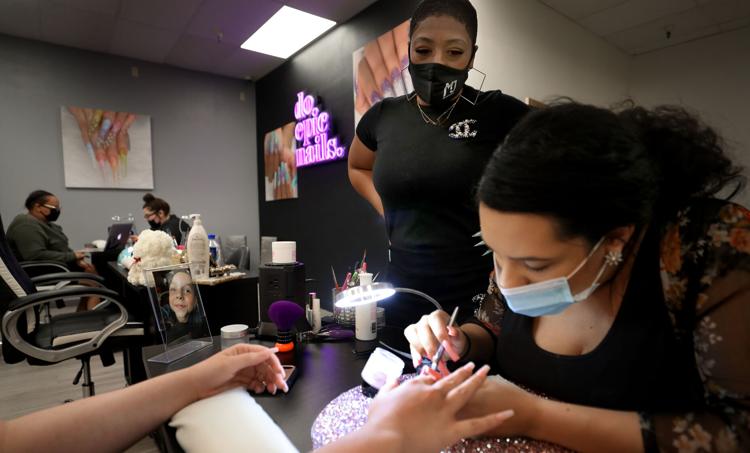 Like the real deal, the students worked carefully and quietly, surrounded by their neatly labeled nail tools and supplies. The silence amplified the scratchy sounds of the nail brush bristles, emery boards and other tools used to clean, buff and file the nails of their hand models.
They carefully sculpted long acrylic nails and gently trimmed them down while Richardson and an assistant monitored their work, taking mental notes about what kinds of things to review with the students after the practice test was complete.
When the group broke for lunch, Richardson reminded them to use some of their time to get a passport-sized photo taken at the nearby Walgreens, something they must submit when they apply for their exam.
In big and small ways, Richardson strives to make sure her students are as prepared as possible for their exams and set up for success when they begin their careers, things she says weren't part of her experience when she went to school and began her work in the nail industry in 2012.
"I feel like setting them up for greatness is going to make a huge difference when they get ready to go out on their own, whether it's from home or whatever they choose to do in the beginning, but it's going to help in the long-term," she says.
Her students learn all the technical and sanitation skills they need to know for the job, but Richardson also empowers them to be successful entrepreneurs during the 3.5 months her students are in the program.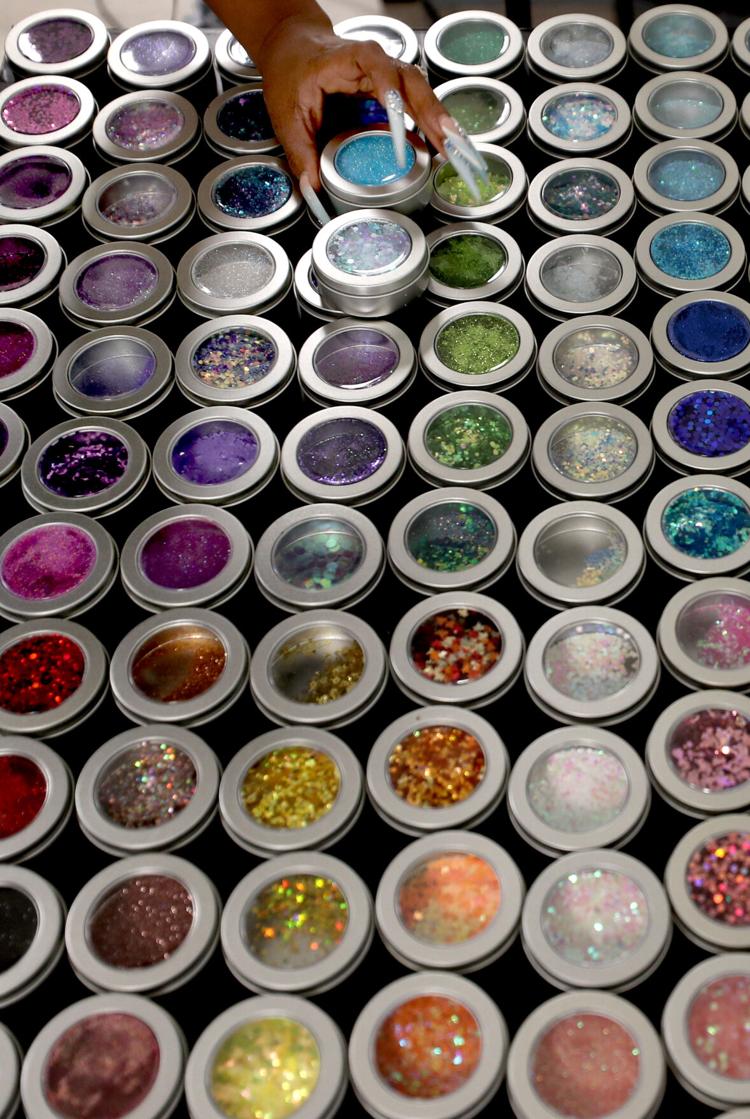 In addition to the mock exams, the students work at actual nail stations so they get used to setting up their work space with all their tools in the right places. She makes sure they have access to all the latest nail design techniques and products, including an array of polishes, gels, glitter, crystals and other embellishments in every shape, size and color imaginable so they can test them out without investing money in products that might not suit them.
When the latest group of students completes the program next week, Richardson will host a small graduation ceremony because she believes it's important their achievements are properly celebrated.
"It's an accomplishment, even though it's a short period of time, but you do receive a license so it's a trade and it's yours and you now establish yourself as a business owner," she says. 
The students will walk away not only with an Mjnailz Academy diploma, but also a business name, an LLC and an EIN.
"I think small businesses would do better and thrive and be more successful if you had people that really developed you personally," she says.
Giving her students individualized attention is one of the reasons she's capped her class sizes to 10 so far. 
"They all have situations and things going on — some of them have families already, some of them have come through a lot of obstacles in their life, some of them used to be foster children, " she says "I'm getting them pretty young, some are 18 or 19 and they're looking at me almost like a motherly figure in that sense like 'I need some guidance and help not just with this but life in general.'"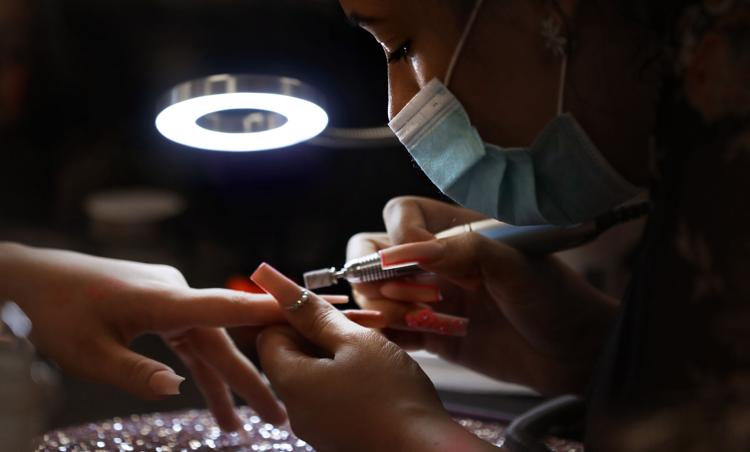 Olivia Akowski, 19, was one of the first graduates from the academy earlier this year and said her experience in nail school was much different from her previous experience earning her cosmetology license because of what she learned from Richardson.
"She taught us how to set up social media accounts, how to market ourselves to who we really want to do services for, how to run a business — the insurance, the accounting, she brought in her own personal accountant to break down what products cost, how to file these types of taxes," she says. "She really taught you how to start your own business, how to upkeep it, how to deal with people in the real world, because not all clients are very nice, but she walked us through every single step of running your own business."
Akwoski graduated with a list of clients she built from providing services as a student as well as a job at a salon owned by another of Richardson's mentees. She also frequently still stops by to chat with Richardson or calls her with questions when she's learning a new technique or working with a new product.
Richardson is always happy to oblige. She says when she graduated she didn't have mentor relationships, she had to figure it out on her own.
"I tell them that even though you're only with me this short period of time, I want to help you further than that if you want me to be there," she says. "If you want to contact me any time after this — whether personal, whether career-related — this is long-term because I want to be a mentor to you if I have the ability to, if we connect like that."
Richardson, who has a business degree, earned her nail technician license in 2012 after spending years working in the trucking and insurance industries. Her previous jobs provided a good income and benefits, but little in the way of fulfillment.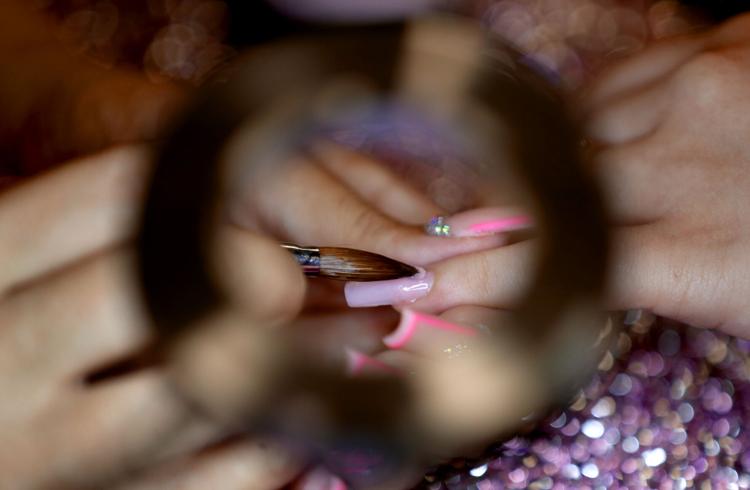 Her husband, a barber, encouraged her to follow her passion for nails and she immediately fell in love with the industry because it allowed her to be creative but also because she knew how it felt to get her nails done and wanted give others that same feeling.
"You can sit down and just talk and have a good time and just really have girls' time to hang out," she says about working with clients. "It was something that I didn't even know that I was really missing." 
It also provided a work environment she felt more comfortable in.
"(Trucking) was a male-dominated industry. At most of the locations I was at, I was the only female and the only Black (person), so I was around a bunch of white men all day long," she says. "So that changed completely because I'm around women of different nationalities, different lifestyles, different walks of life and I just really was able to feel more comfortable in that space."
Richardson says when she was a student, she was only taught the basics, just enough to pass her state board exams. But figuring out what came next was something she had to do on her own. This included spending time and money to learn the elaborate designs and techniques she's known for.
She spent years working at different salons or working from home growing her nail business, and her social media presence grew too.
She's amassed more than 113,000 followers on Instagram @Mjnailz.
Her feed is full of close-up photos of the thousands of detailed designed nails she's done over the years, all of which are far from your average manicure.
They are all works of art.
There are nails entirely covered in tiny crystals, marbled nails in hues of pink, purple and blue with tiny flecks of gold leaf, stiletto nails hand-painted with pop-art designs and nails encapsulated with tiny iridescent butterflies or colorful chunky glitter.
Each set is one-of-a-kind and no two are ever the same.
"I feel like nails in general have evolved a lot. It was very like, one color, very simple," she says. "But even back in the day even in the 1800s and 1900s when they were taking chalk and grinding things down or taking things out of sand or making use of the Earth to create colors and all that; they were doing a lot more even like using actual blood and just crazy things you wouldn't think to imagine they did, but they did."
Obviously we're not doing anything like that anymore but people are taking it to the next level for sure," she says. 
The responses she got on social media helped her realize her passion for teaching others and were another inspiration for starting her own nail academy.
"When I just put myself out there on social media people really enjoyed seeing my work and my posts and then people would ask me questions like 'how did you do this? How did you do that? Oh my goodness I'm trying to learn this, what products are you using?'" Richardson says.
She took the time to respond and share her expertise whenever questions came in. People were grateful that she even replied in the first place and that she explained the techniques so well.
"They were like, 'most people don't do that, they hold their information or they don't want to share their techniques or they didn't really explain it in a way that I could understand or it was so broad or general,'" Richardson says.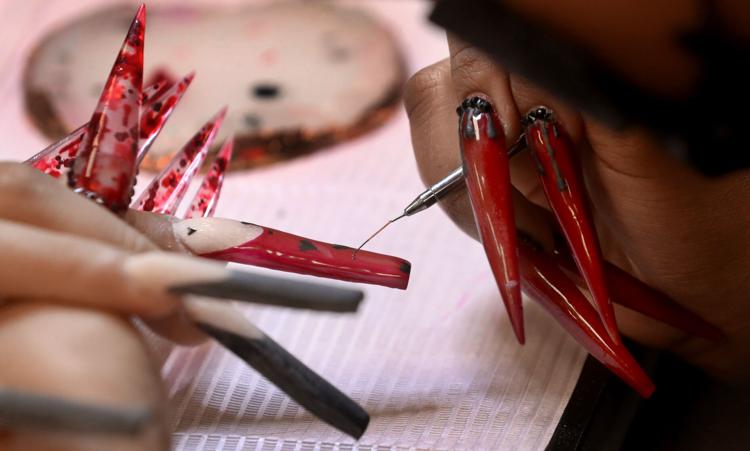 Her primary focus now is on teaching and running the school while working toward opening a nail salon she hopes to primarily staff with her graduates.
She's also working to find businesses and individuals willing to sponsor students through a partnership with the non-profit I Am You 360, to help low-income students attend the school, since she can't accept any financial aid for the first two years the school is operating because of federal regulations.
She says she doesn't want anyone's dreams or aspirations to be crushed because they can't afford it. "I feel like that's not fair," she says. "... Even if it's not for the whole ride, maybe they don't need all of it, they just need a portion of it, I would love to be able to do that."