There are really two important things to know about the delightful lavender bloom season, which starts at the end of May. 
The first is: Yes, lavender does grow in the desert. Actually it grows where "the desert meets the mountains" up in Oracle, a small former mining town turned artist community, that's about an hour's drive up Highway 77 north of Tucson. More specifically it's grown on the Life Under the Oaks Lavender Farm, run by Carolyn and John Blair with help from their two daughters. 
The farm is on 10-acres of land the couple purchased in 2019 just down the road from the smaller farm they opened in 2018 and quickly outgrew.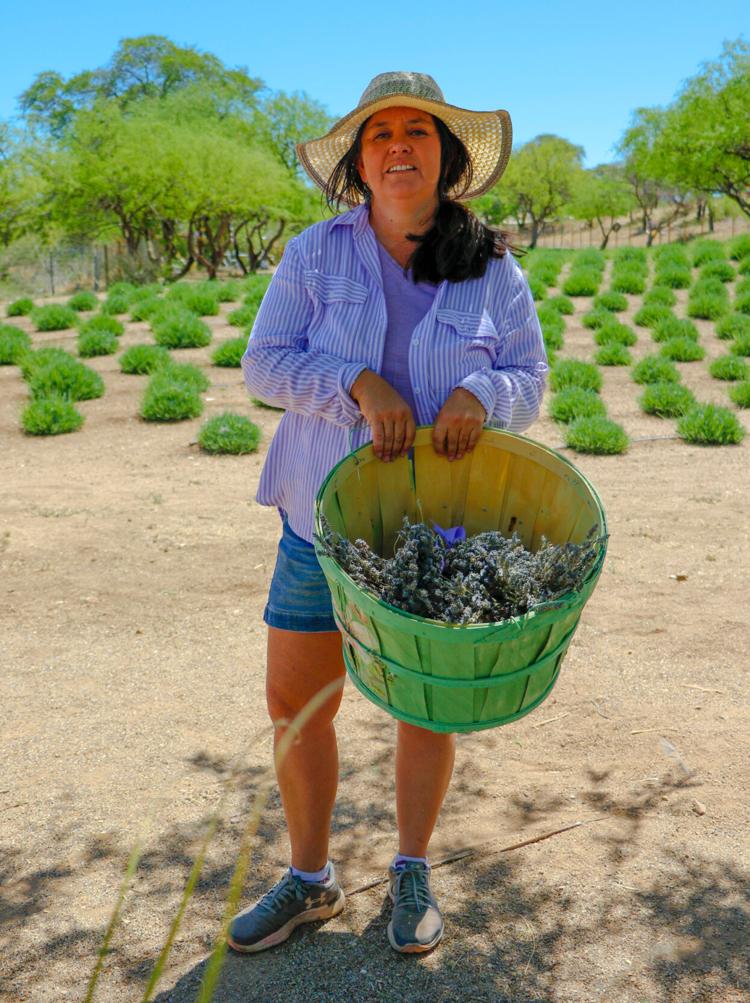 "It was kind of an experiment to see how it would do here, and it's just done really well," Carolyn Blair says. "People love it and it just makes my heart feel good when I see people come out and they're just enjoying it." 
The second important thing to know: Yes, the farm is absolutely enchanting and you should plan to spend a morning surrounded by nature, thousands of fragrant lavender plants, giant oak trees, and bumblebees and butterflies.
To help with No. 2, here are a few things to know about planning your trip to the farm. 
Get your tickets in advance 
The farm first opens for bloom season on May 29-30, and will be open Thursday-Sunday mornings in June and July. Capacity is limited each day so it's best to reserve your spot in advance on the Life Under the Oaks website. Admission to the farm is $15 per car. 
Some of the plants should be blooming at the end of May, but the height of the bloom will be around mid-June. 
The farm will start hosting it's U-Pick days in mid-June where you can actually pick bundles of lavender to take home. Bundles will cost either $7 or $15 depending on the size. 
The farm now offers picnic baskets, with lavender flavored foods if you want to have lunch on the farm, but you do have to order your basket in advance. 
You can go to a fairy festival or spend the night (kind of) 
The farm is hosting its first-ever fairy festival on Saturday, June 12. It's an event Blair has been looking forward to hosting for a while. 
Admission is $15 per car which includes small crafts, hunting for fairies and gnomes hidden throughout the property and a glass of lavender lemonade. 
Additional lavender treats and craft activities will also be available for purchase. 
Tickets have already been so popular that there are now two sessions, one from 8 a.m. to noon and an afternoon event from 5-7 p.m. Fairy wings and attire are welcomed. Find more information about the festival here. 
Another first-time event for the farm is the Lavender Bloom Season Retreat, a two-day girls' getaway on June 26-27. 
The weekend festivities include yoga in the farm, an indoor or outdoor massage from the neighboring spa with lavender-infused products, a lavender dinner and breakfast, tea, snacks and a lavender wreath-making workshop. 
You don't actually get to sleep in the farm, but you do get to stay just a short walk from it at the Rancho Robles Inn. The retreat is $240 per person for a shared room, or $290 for a private room. Space is limited, find more info about the retreat here. 
The farm will also host other craft workshops, yoga classes and special breakfasts and dinners throughout bloom season, check out the events page for all the details. 
"I feel like people feel our genuine love for being here and that we really love having people here, I think they feel that energy so they come out and enjoy it and have a good time," Blair says. "Kids get here and they don't want to leave, they have the best time."
You can pick three types of lavender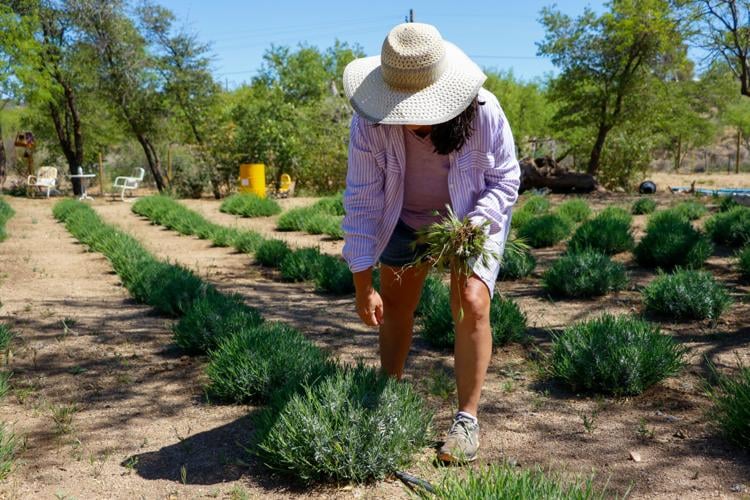 The Blairs, with help from several volunteers, planted 3,000 lavender plants over Mother's Day weekend in 2020, on a 1.5-acre parcel on the property. 
Some of the plants bloomed last year, but they were too small to pick, Blair says. Some plants are starting spike already and all the plants are expected to fully bloom this season, despite the dry year Oracle (and the rest of the state) experienced last year.
"Right now I call them teenagers, when they're fully grown they'll be 3 feet by 3 feet," says Carolyn Blair. "When they bloom you'll barely be able to walk through (the rows). It's crazy, they've probably grown 20 percent in the last two weeks and when we planted them they were as big as my finger, they were tiny little babies." 
There are three varieties of lavender grown on the farm: Royal Velvet, Provence and Grosso. 
While you can cook with all of them, Royal Velvet is mostly used for baking and Provence is used in savory dishes like chicken, Blair says. 
Grosso is what's used for essential oils and beauty products because it produces the most oil of the three. 
"It won't hurt you if you use it for cooking, it just has a lot more camphor, so it's a lot more stronger smelling and might be too strong for cooking," Blair says. 
There's always something new happening on the farm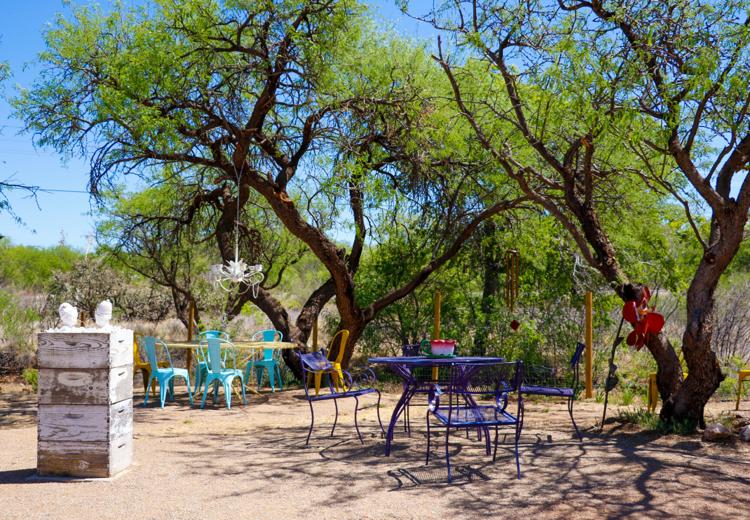 After the final winter frost when the lavender plants are trimmed, they require relatively little maintenance aside from weeding until they're ready to be harvested in the summer. But the Blairs are always working on other projects around the property. 
"That's what we're always telling people, every time you come it'll be different," say Carolyn Blair. 
Around 40 new trees were recently planted as well as bushes, vines and lady banks roses. 
There's also an ever-evolving collection of whimsical art in and around the farm, which give it some Alice in Wonderland vibes, including lampshades, chandeliers and tea kettles hanging from the trees, plus artwork made by Blair and other local artists. 
There is a children's area with cornhole, seating and other activities for kids, a Cinderella-esque carriage you can take your photo in and you can visit the farm's resident animals which includes ducks and a horse. 
Blair has future plans for planting sunflowers and an educational garden, building a permanent shop to sell the products produced from the farm's lavender, building a greenhouse to propagate lavender plants, an amphitheater and adding pergolas in different spots of the property.
Leave your flip flops at home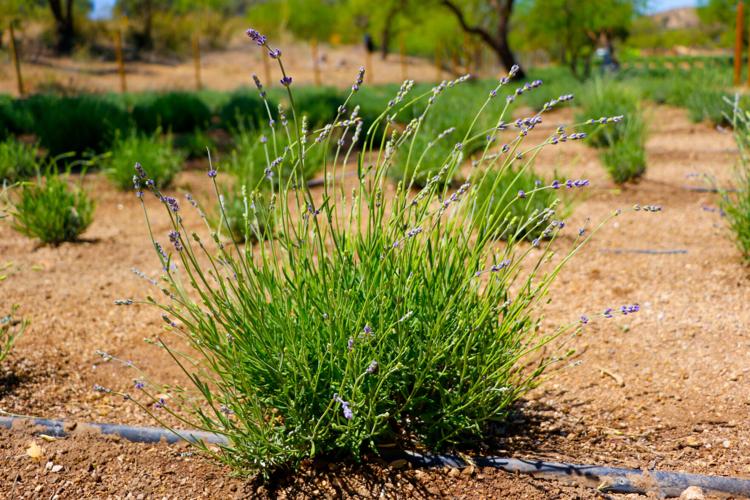 Flip flops are part of the summer dress code in Tucson, but you'll want to wear closed-toed shoes when you visit the farm. 
There are a few other things to bring with you on your visit too. 
Oracle is usually about 10 degrees cooler than Tucson, but be sure to still pack a hat, sunscreen and water.