There are three fundamental things we agree on: *NSYNC > BSB, photographing murals is much harder than it seems and lastly, everything is better with glitter. ✨
So we grabbed our floating glitter iPhone cases and sparkle-covered wallets, and set out to answer a question that anyone who enjoys a little razzle dazzle should know the answer to: where can you get a glitter-infused beverage in Tucson? Because after the year we've had, it's all about seeking out and appreciating the little things that bring a little sparkle to your daily life. 
And, just when we thought the glitter drink craze may have passed us by, we found there are still a few dreamy options that exist at Tucson tea shops, a lemonade stand and from a confectioner. 
The glitter doesn't change the flavor of the drink, it's just mesmerizing to look at. And, to be clear, we're talking about edible, food-grade glitter made for use in drinks, treats and other foods, not the stuff you'd use for arts and crafts projects — please don't eat or drink that. 
While not on the list below, we did hear that Borderlands Brewing plans to bring glitter beer back this summer and that The Neighborhood also does a glitter cocktail, they just happened to be out of glitter this week. 
If you know of other glitter drinks to add to the list, let us know!
The Scented Leaf
The staff at the Scented Leaf, which has two locations in town, really knows how to have fun. 
They're always creating new drinks mixed from the dozens of flavors of tea they have on tap or that can be brewed on the spot, to come up with seasonally-appropriate drinks like the Watermelon Sugar High or Lemon Mo-Ringue (named after a staff member named Mo). And, you're likely to find something that suits the weather or whatever flavors you're in the mood for. 
It's an option they added in the middle of the pandemic to offer something new and remind people they were still open, says Jessica Muiseke-Wilkison, manager of the Scented Leaf's downtown location at 308 E. Congress Street. 
You can add food-grade glitter, made from mica, to any drink and usually there are a handful of colors to choose from including blue, red, gold and silver. A few drinks Muiseke-Wilkison recommends are The Alchemist, a drink made with butterfy tea that changes colors and the Monsoon Gusher, which is layered with lemonade and three different colored and flavored teas.
Or you can leave your beverage order up to your tearista. 
"A lot of people will walk in and be like 'surprise me,'" Muiseke-Willkison says.
Which is exactly how one of Scented Leaf's most stunning glitter teas, Taste the Rainbow, a colorful tea layered with strawberry lemonade, four teas and a sprinkle of blue glitter, was created. 
(Editor's note: We ordered our drinks with extra, extra glitter so we could capture all the sparkles for our photos.) 
---
BlackJack Citrus Infusions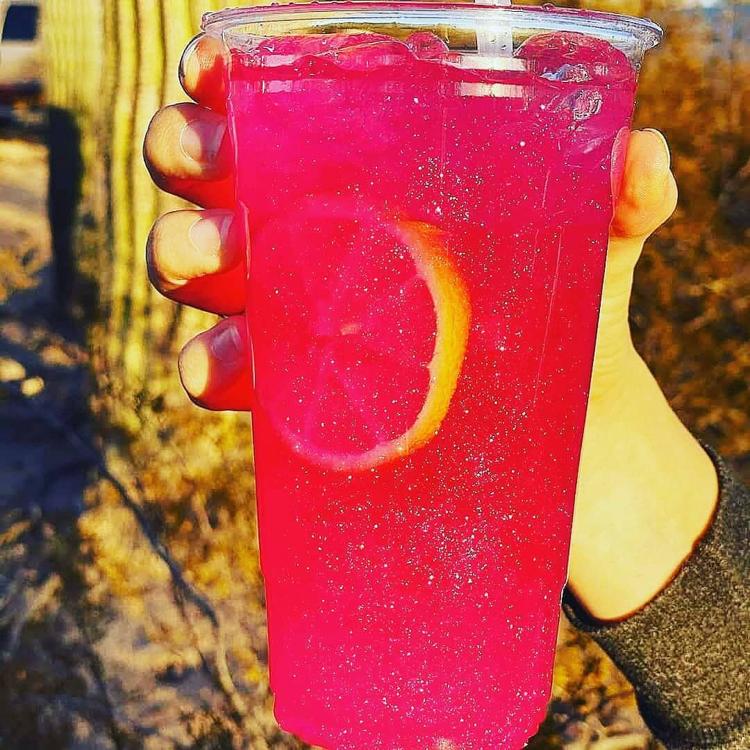 Owner Mary Sue Wood says there are more than 100 different drink combinations that can be made with the different infusions that come in flavors like: lavender, jalapeño and rose. At the end of 2020 she added glitter bombs to the menu, which she makes herself with cotton candy and gold, rose gold and silver baking glitter or Brew Glitter, and says people absolutely love them. 
"We wanted to have another experience added to creating your own infusion and make it exciting and fun for our customers," she says. Wood says that there's no better way to do that than adding a little glitter to the mix. 
You can add a glitter bomb to any lemonade, but Wood says the glitter is extra sparkly in those infused with red hues like prickly pear and hibiscus. 
Follow BlackJack Citrus Infusions on Facebook and Instagram for updates on community events, food truck round ups and other events the trailer will be popping up at. 
---
Wonder Wisps Creations
Amber Powell's pandemic pivot included buying something she always wanted: a cotton candy machine. 
With people shopping less, Powell saw sales slow through her Lularoe business, and decided to get into the confections game. She launched Wonder Wisps creations in November, which offers 21 different flavors of cotton candy, seasonal desserts and specialty treats. Things really took off during December's hot cocoa bomb craze and Powell knew that as temperatures started warming she'd need to add something equally "fun and whimsical" to her menu. 
"We started making sparkle bombs and people just absolutely rave about them," she says. 
Her sparkle bombs — luster dust and Brew Glitter encapsulated in an orb of cotton candy — can be customized with your choice of cotton candy flavor and 10 different sparkle colors.
Powell says the luster dust gives the drink an opal-like sheen and the Brew Glitter adds more sparkle. 
"Some people do one or the other," Powell says. "But, I'm extra, I do both."
She says the sparkle bomb is best used in a clear beverage like Sprite or sparkling apple cider for kids, or champagne for adults. She's had customers purchase them for gender reveal parties, birthday parties and other celebrations and the bombs can be tied to mini bottles of your beverage of choice as a favor. For beer-lovers she's created a bomb with jalapeno cotton candy, and filled with Tajin and white luster dust. 
Wonder Wisps' sparkle bombs are $4 each and can be purchased online or via Facebook. Powell also pops up at different events and posts her schedule on Facebook.
---
The Korean Rose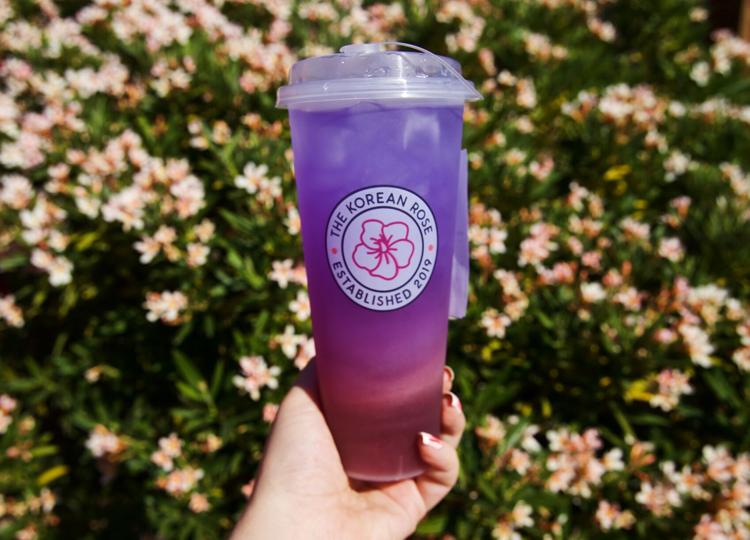 The Korean Rose — which hails from San Diego and opened its first Tucson location last year — has one drink that features glitter and it's appropriately called "Euphoria."
Called "luminous" on the menu, the drink is more shimmery than it is glittery but it's pretty nonetheless. It's described as a strawberry citrus butterfly pea tea refresher with "silver luster." 
Other fancy drinks that may make you feel equally magical — though without any glitter — are: A drink inspired by Disneyland's famous Dole Whip, a series of cheesecake smoothies, a couple drinks with popping boba, and two drinks that are only available in Tucson — a tropical drink and another drink called "Monsoon Breeze."