While Tucson artist Karolina Reyes considers abstract painting her home base, she's always dabbled in lots of mediums. Her newest creative venture will give others the chance to do the same. 
"I think that dabbling in a variety of different mediums helps liberate oneself from the stigma of having to stick to one dedicated practice, or style as an artist. I meet so many artists that say things like, "I would love to do that, but I think it would look weird to everyone else because it isn't my 'style,'" she says. "Ultimately, I want to normalize experimenting with different mediums, different styles, and let it be ok to not be perfect at them all."
This is one of the inspirations behind Good Things Tucson, a new creative space she and her husband Wylwyn Reyes (who is also an artist) are opening next week. 
Located at 2569 E. Fort Lowell Road, Good Things Tucson will host several art workshops, sell handcrafted items from emerging artists, and have a small space for art exhibitions.
There are several places in town to learn a specific skill or type of art, but Good Things Tucson will provide an opportunity for people with all levels of experience to learn from local artists and try a little bit of everything in a fun, relaxed environment, Reyes says. 
"We wanted to create a space where artists can come share the things that they've learned about their craft with the public, anything from jewelers to painters to DJs," Reyes says. "We really wanted to create an environment where people can learn a variety of skills without a long-term commitment to a course or a class, where people can come make their own art, their own home goods, have a good time and learn from these local artists." 
Good Things Tucson opens Saturday, May 8 with a macrame plant hanger workshop where participants will learn basic knotting techniques.
Other upcoming workshops include sign making, metal stamping, watercoloring, botanical dyeing, paper cutting and block printing, all taught by different artists.
Masks are required and for now, all workshops are limited to 12 participants.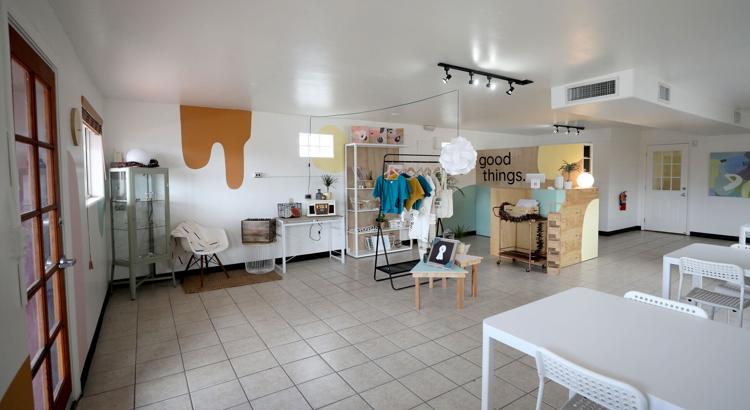 "We're working with teaching artists in various stages of their creative careers," Reyes says. "Some of our teaching artists are established educators who simply love to teach while others are creatives who have just discovered new interests during the past year and want to share what they've learned with others while making this an opportunity to practice their teaching skills." 
Reyes hopes the space will help build community among different artists and plans to host talks where they can learn from one another and other networking opportunities. 
Anyone interested in teaching a workshop can contact Reyes at info@goodthingstucson.com or on Instagram @goodthings.tucson. 
Visit goodthingsworkshops.com for more information and to see the workshop schedule, new offerings will be added frequently.