Parks and outdoor spaces have been one of the MVPs of the last year by giving us a place to stretch our legs, enjoy fresh air and take a break from being indoors while giving ample space to social distance. 
This year several city of Tucson parks will get new amenities and upgrades as part of a $225 million bond Tucson voters passed in 2018 to make improvements to the city's parks (like playgrounds and pools) and connections (think things like bike boulevards and greenways) over a ten-year period starting in 2019. 
Which means every year until 2028, we'll see new projects happening at parks and public spaces all throughout the city. If you want to see what's in the works at your favorite park, you can track all the bond-related improvement projects on the Tucson Delivers website. 
Tucson Parks and Recreation Deputy Director Greg Jackson gave us an update on lots of new projects happening at Tucson parks in 2021.  
We know some amenities continue to remain closed (pools and splash pads for example) because of COVID-19 safety precautions. But it's nice to know what will be waiting for us when conditions are right.
Here are a few to watch out for. 
A brand new park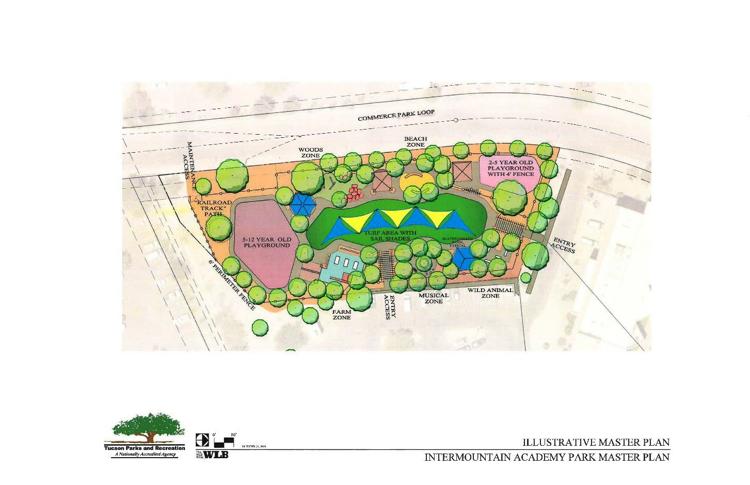 The first phase of the Intermountain Sensory Park, designed for children on the autism spectrum, is expected to be complete in late spring or early summer. The west-side park is being built on a vacant lot adjacent to the Integrated Care Center for Children, 401 N. Bonita Ave. The center houses a K-12 school and clinic for children with autism and provides health and therapeutic services for children with a variety of diagnoses.
The park is primarily funded by private donations and work is being completed in phases with new features added as funding becomes available. So far turf has been installed and fencing will be completed in 60-90 days, then a shade structure and playground equipment for children ages 2-5 will go in. 
Future plans for the park include a play area for older children and five different themed zones — beach, music, woods, wild animals and farm. 
A memorial plaza honoring the Buffalo Soldiers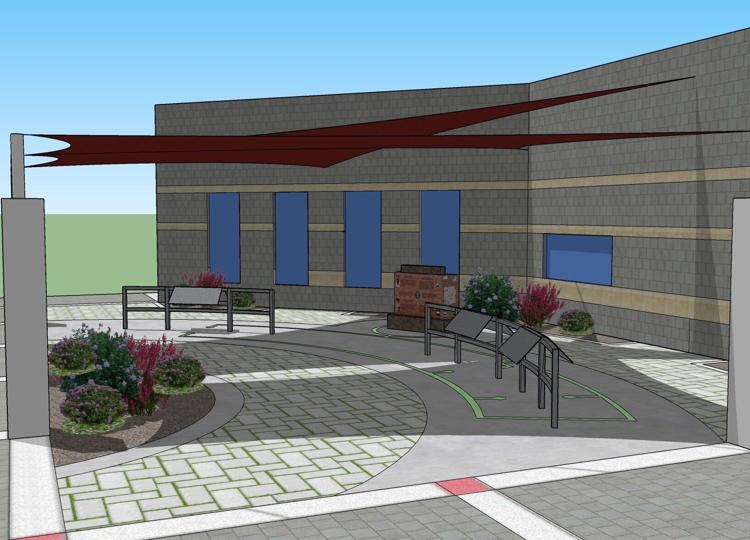 The Greater Southern Arizona Area Chapter of the Buffalo Soldiers, a group dedicated to preserving and sharing the history of the all-Black cavalry and infantry regiments, has been fundraising and working with the Ward 5 office and the city of Tucson for several years to build a memorial honoring the soldiers and their service. 
The monument will be the first of its kind in Tucson.
"At present time, there are no monuments or museums in Tucson representative of contributions Black soldiers made in settling Southern Arizona and the West," according to a city news release. 
The memorial plaza will be built in front of the Quincie Douglas Neighborhood Center, 1575 E. 36th St. The center is in the South Park Neighborhood, one of Tucson's historic Black neighborhoods.
The memorial will feature a granite monument that will include a snapshot history of the Buffalo Soldiers, a map of where the units served and locations of important events and short biographies of the three Arizona Buffalo Soldiers who earned the Medal of Honor, according to project documents. The plaza will also have benches and vegetation. Ground broke on construction of the memorial in October 2020 and work is expected to be completed by March or April. 
A huge grass dog park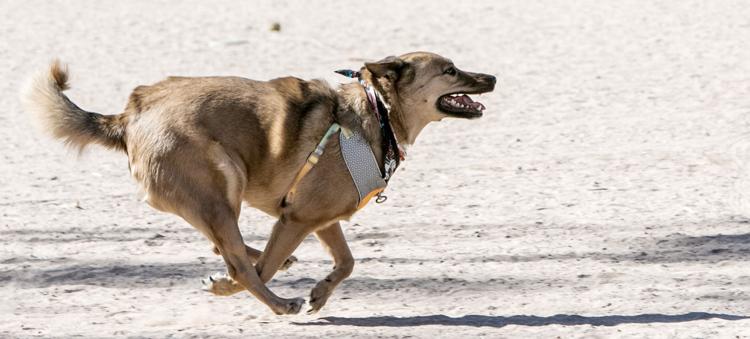 Lincoln Regional Park, 8116 E. Escalante Road, is getting a 4-acre grass-covered dog park this year. The park will be split into three different zones, with two sections in use at a time and one section closed for the grass upkeep and maintenance. Construction will start in the summer with the goal of being ready for pups by fall. 
Anza Park, 1000 N. Stone Ave., is also getting a smaller dog park (and a new bathroom for people) this spring. 
New ways to cool down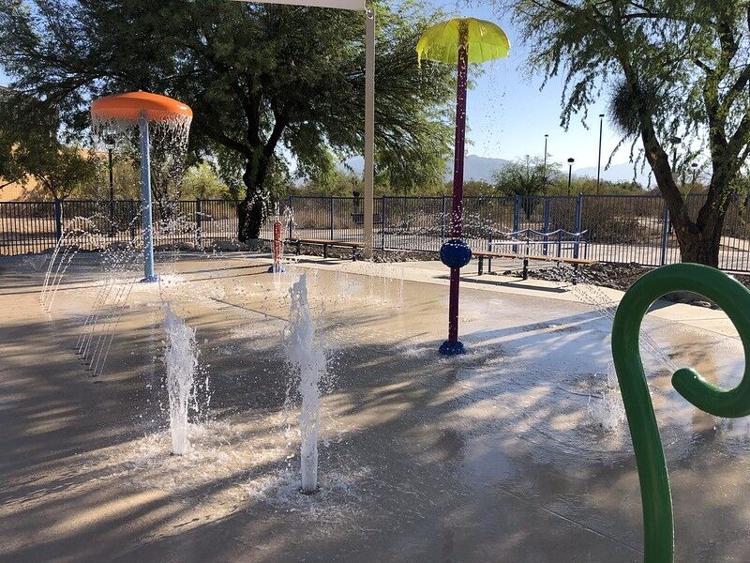 City splash pads and most pools have been closed (a few are open for lap swimming only) since spring of 2020 because of COVID-19 safety measures and while its unknown when they will reopen, here are a few new features to check out when they do. 
A shaded splash pad at Lincoln Park was completed at the end of summer 2020, but has yet to open so still we're counting it as a 2021 highlight.
A new splash pad at Morris K. Udall Park, 7290 E. Tanque Verde Road, is in the design phase and might be ready to open sometime in 2021. 
A brand new twisty slide is being installed at Freedom Park Pool, 5000 E. 29th St., which has been without a slide for about 10-15 years when the old one was removed. A preliminary design for the open flume slide shows it will be 181-feet long and 26-feet tall. It should be ready for riding by the summer pool season, if city pools re-open for recreational swimming.
Work on a mega splash pad at Reid Park and smaller ones at Purple Heart Park and Jesse Owens Park will start this year, but they won't be ready to open until 2022. 
New playground equipment and shade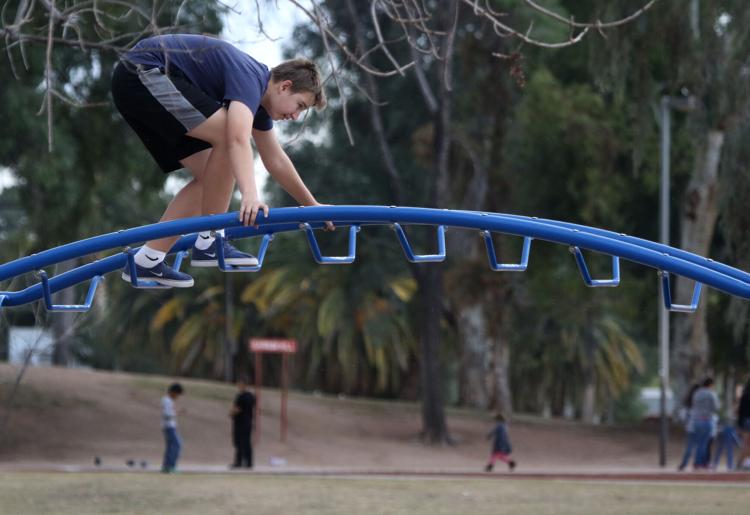 Tucson kids will be able to play on new or replaced playground equipment being installed at several parks this year. Parents and caregivers will be excited to know that all of the playground upgrades include shade structures. 😎
Playground updates should be completed in May or June at the following parks: 
Reid Park
Wilshire Heights Park
Mesa Village Park
Desert Aire Park
Harriet Johnson Park
Conner Park
Swan Way Park
Linden Park
Cherry Avenue Park
Shade structures will also be installed over the existing playgrounds at these parks:
Case Natural Resource Park
Freedom Park
Jacobs park
Merle J. Toumey Park
New courts and paths
After some organizing by residents who live near Himmel Park, the park will be getting a bocce ball court this year funded by one of the neighborhood residents. A new ramada is also being installed at the park. 
People who enjoy daily walks around Cherry Avenue Park, will be excited to know that the walking path they've worn simply from high use will be widened and filled with a granite composite making it a formal walking path. The park is also getting shade over its basketball court. 
Four tennis courts at Morris K. Udall Park will be converted to pickleball courts this year. 
Paths at Case Natural Resource Park and Toumey Park will also be renovated.