We've long considered the bahidaj and blossoms that grow atop the towering saguaros each year as a kind of crown for the Sonoran Desert's most majestic cactus. 
So it seems fitting that famed Tucson artist Ted DeGrazia chose to tell the story of the traditional Tohono O'odham saguaro harvest on a stunning, bejeweled crown.
The dazzling diadem is on permanent display at the DeGrazia Gallery in the Sun Museum and can usually be found in a corner case in the mueum's Gold Room. But through Feb. 27 it's being featured in the gallery's "DeGrazia's Saguaro Harvest" exhibit, a collection of the artists' works depicting the Tohono O'odham tradition. 
The crown is made of silver, enameled silver, gold, glass jewels and turquoise stones. Circling the crown, between jewel-encrusted saguaros, are enameled copper figures showing different scenes from the saguaro harvest.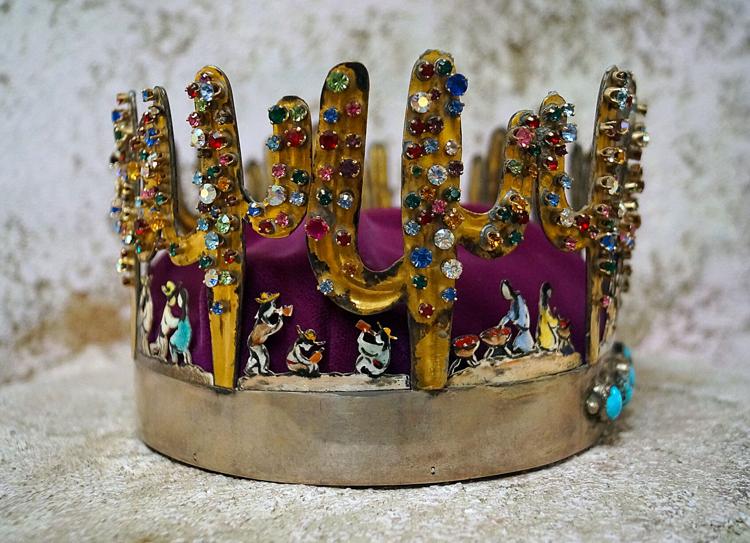 The scenes include people using poles made of saguaro ribs called ku'ipad to knock the ripe fruit off the top of towering saguaros, gathering the fruit in baskets carried atop their heads, cooking the fruit down into a syrup, and drinking a traditional wine made from the syrup.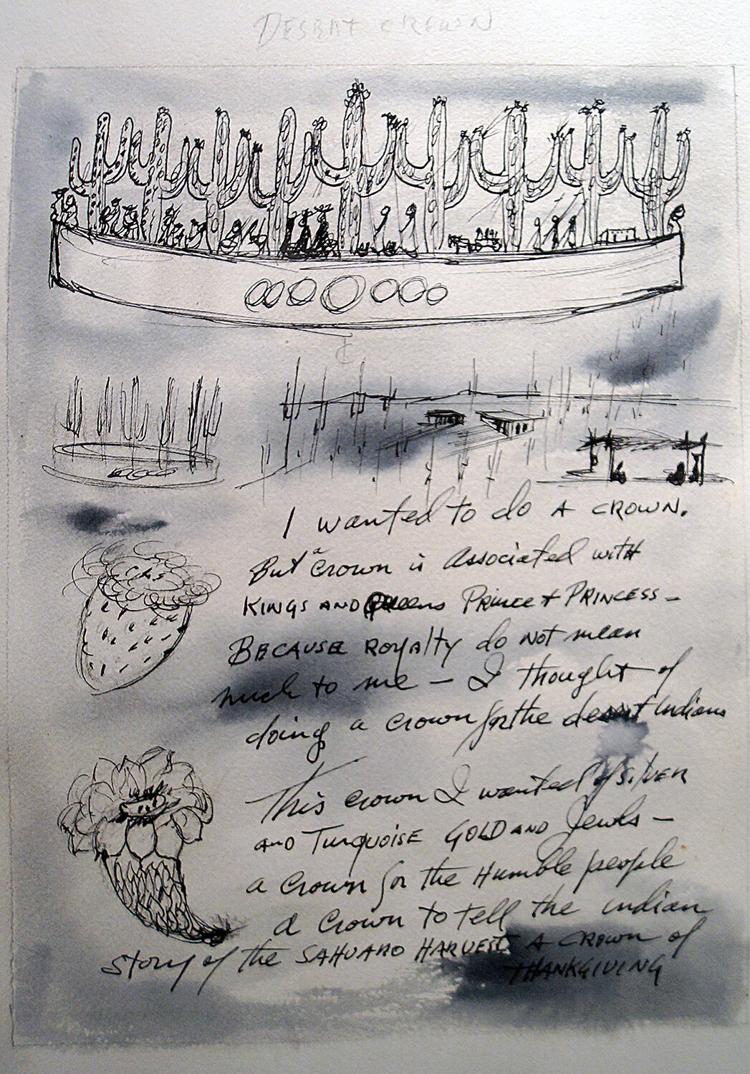 A sketch of the crown including a handwritten note from DeGrazia shares the artist's inspiration for creating it. 
"I wanted to do a crown. But a crown is associated with kings and queens, prince and princess — because royalty does not mean much to me — I thought of doing a crown for the desert Indians," DeGrazia wrote. "This crown I wanted of silver and turquoise, gold and jewels. A crown to tell the story of the saguaro harvest, a crown of thanksgiving."
Although DeGrazia is mostly known for his paintings and ceramic work, he also made a fair amount of jewelry and accessories including earrings, bracelets, pendants and two other crowns that are on permanent display in the gallery, says Lance Laber, executive director of the DeGrazia Gallery in the Sun. The butterfly crown is heavily encrusted with jewels and stones and the bird crown features a blue bird painted on metal.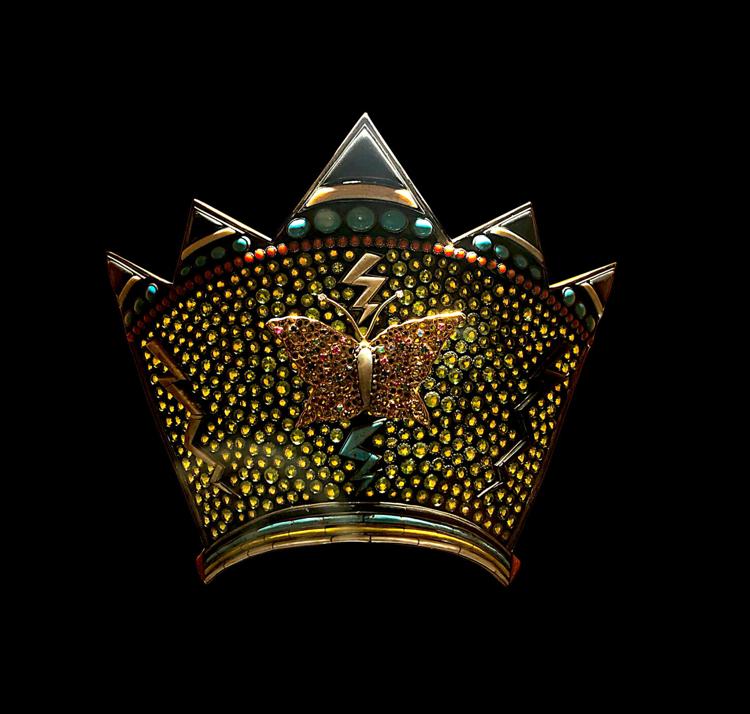 DeGrazia is well-known for his art inspired by the landscape, culture and people of the Sonoran Desert, particularly from the Pascua Yaqui and Tohono O'odham tribes in Tucson whom he loved, says Laber. 
Laber says DeGrazia came from a humble background in Morenci, a copper mining town, and the Indigenous people were whom he most enjoyed socializing and working with. "That's who he wanted to spend his time with for the most part, they were the people he cared about," Laber says.
If You Go
When: The museum is open daily from 10 a.m. to 4 p.m. 
Cost: $8 for adults; $5 for children ages 12-18, children under 12 are free. 
More info: Face masks are mandatory and visitors are asked to maintain 6 feet of distance between each other. Find more information about the museum at degrazia.org.