Even after Pima County Public Library branches closed in March, Anna Szivek's neighbors still had access to free books. 
In 2018, Szivek opened a Little Free Library in her neighborhood near the Finger Rock trailhead. She keeps one shelf stocked with books for adults and the other full of titles for kids of all ages. 
Since the start of the COVID-19 pandemic, Szivek says she has seen more people borrowing books from her Little Free Library. The premise is simple. Take a book to read and bring one back to share. 
"We saw it get used more because regular libraries were closed," she says. "It's always been used by the local community." 
Szivek's library — Potato's Little Free Library — is a memorial to her daughter, who was stillborn at 37 weeks. Now, in honor of her, Szivek wants to share a love of literature with others.
In addition to keeping the shelves stocked daily, Szivek keeps a stash of mini hand-sanitizers in the library and wipes it down at the beginning and end of each day to keep it clean for her patrons. 
"There's been a discussion about how to handle (Little Free Libraries) during the pandemic, because there is a need for resources, but also a concern about whether you could be adding to the spread of all of this," she says.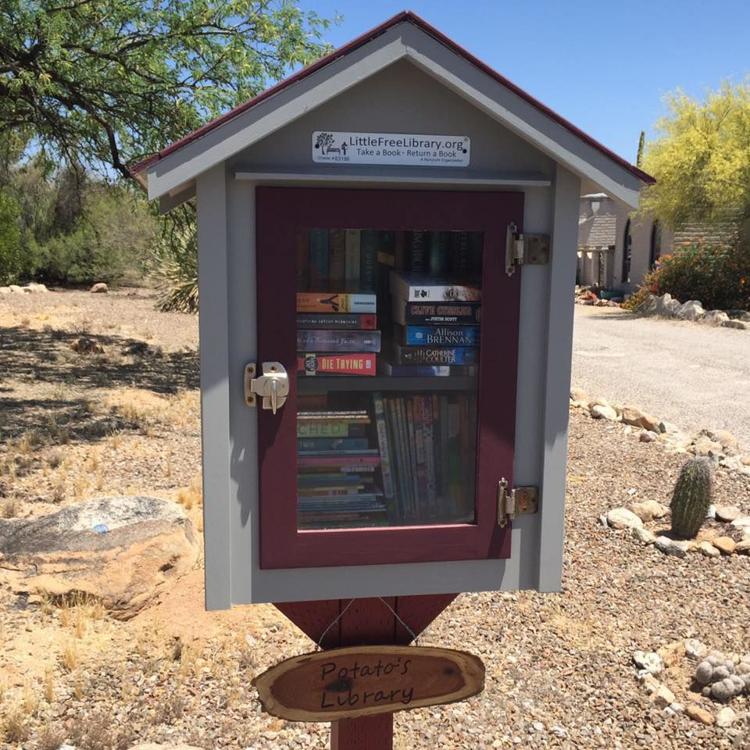 The Little Free Library organization offers best practices for stewards in considering whether to keep book boxes open or close them. Guidelines include washing your hands before opening the Little Free Library, wiping the entire thing down with disinfectant wipes and even cleaning books with microfiber cloth or disinfectant wipes. Then, of course, wash your hands again. 
The organization defers to the judgement of individual library stewards, noting that "if your community is a hotspot for coronavirus activity, you should temporarily suspend service at your library." 
And, of course, stay up-to-date with current CDC guidelines, which note that COVID-19 spreads primarily person-to-person, though touching contaminated surfaces is still possibly a method of spread. 
Szivek chose to keep her library open to the community amid school and library closures because it doesn't get much traffic and no one ever congregates there. She says she probably serves about one or two people a day. And that makes it easy to stay on top of keeping the library clean. 
"It's a hidden library compared to some in town," she says
That's why Andrea Rodriguez chose to temporarily close her box, Alex's Little Free Library. The cabinet of books and surrounding artwork is a bit of a neighborhood institution. Rodriguez says it usually gets 20 to 30 visitors a day — way too many people. At first, she tried putting out hand sanitizer, but it disappeared. 
It broke her heart, but the family removed the books and shuttered the library over spring break.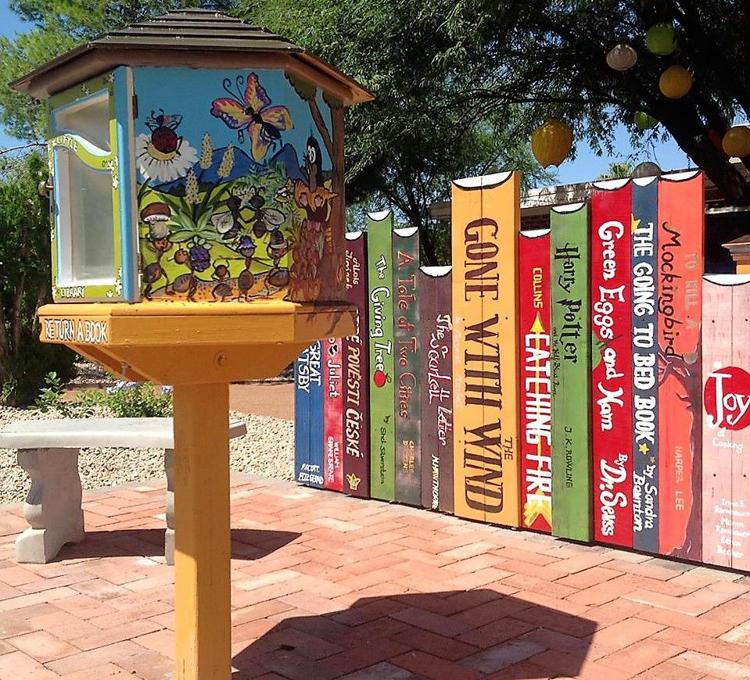 "I couldn't guarantee the safety of people, because the exchange of books is so frequent," she says. Instead, she has devoted the energy she normally puts into the library into organizing a Tucson group that is sewing thousands of cloth face masks. 
She hopes to open the library again as summer temperatures rise. When it does open, Rodriguez says she will include guidelines for keeping books clean. 
"Everybody has different feelings about what they should do," says Rose Veneklasen, another Tucson Little Free Library steward. "Some people feel like it's necessary to continue to offer reading materials, especially when libraries were closed, and other people are not comfortable with having that. It's really just whatever you feel best for your own particular library." 
Several months ago, she converted Rose's Little Free Library in the Rincon Heights neighborhood into a tiny pantry where her neighbors could share food. Now, little library shelves that once held books carry pasta, canned goods and the occasional roll of toilet paper.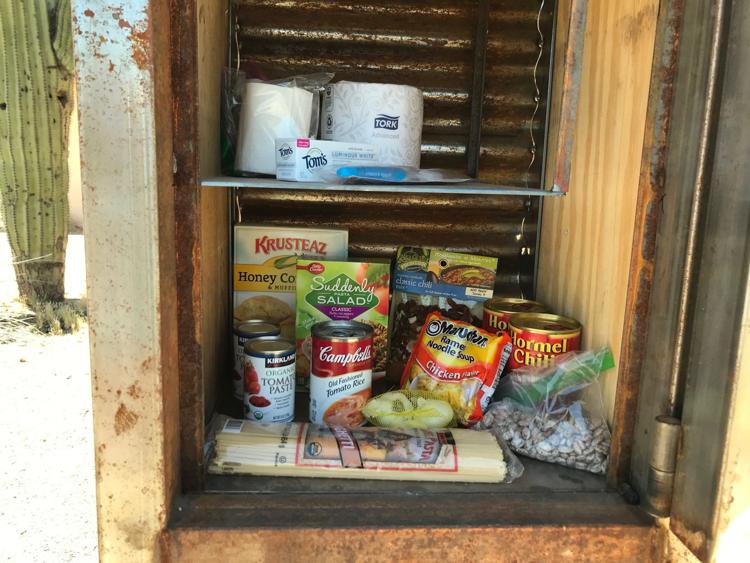 Every few days she checks the pantry, and if it's empty, puts a call out to her neighbors, asking for people to help stock it. 
"It's being used," she says. "I was really surprised to see that it's constantly being used." 
She suspects the pantry gets more use than her little library did. It's one of several in the neighborhood, three of which were installed as part of an Eagle Scout project. 
He says the small pantry meets an immediate need. 
"There is hunger in our midst," he says. "I like that (the pantry) is right here. I can think about hunger in my neighborhood, and people in my neighborhood who need this, and it makes the personal connection that much stronger." 
Veneklasen says she dabbled with the idea of temporarily closing her library, but when she saw other little libraries converted into pantries, she decided to do the same. Canned goods, she felt, were essential during this time and easier to wipe down. She posted a sign with health tips and how the free pantry works. 
"This is my little way of helping out," Veneklasen says. "Every little bit helps."